Ukraine granted possible path to EU
Share - WeChat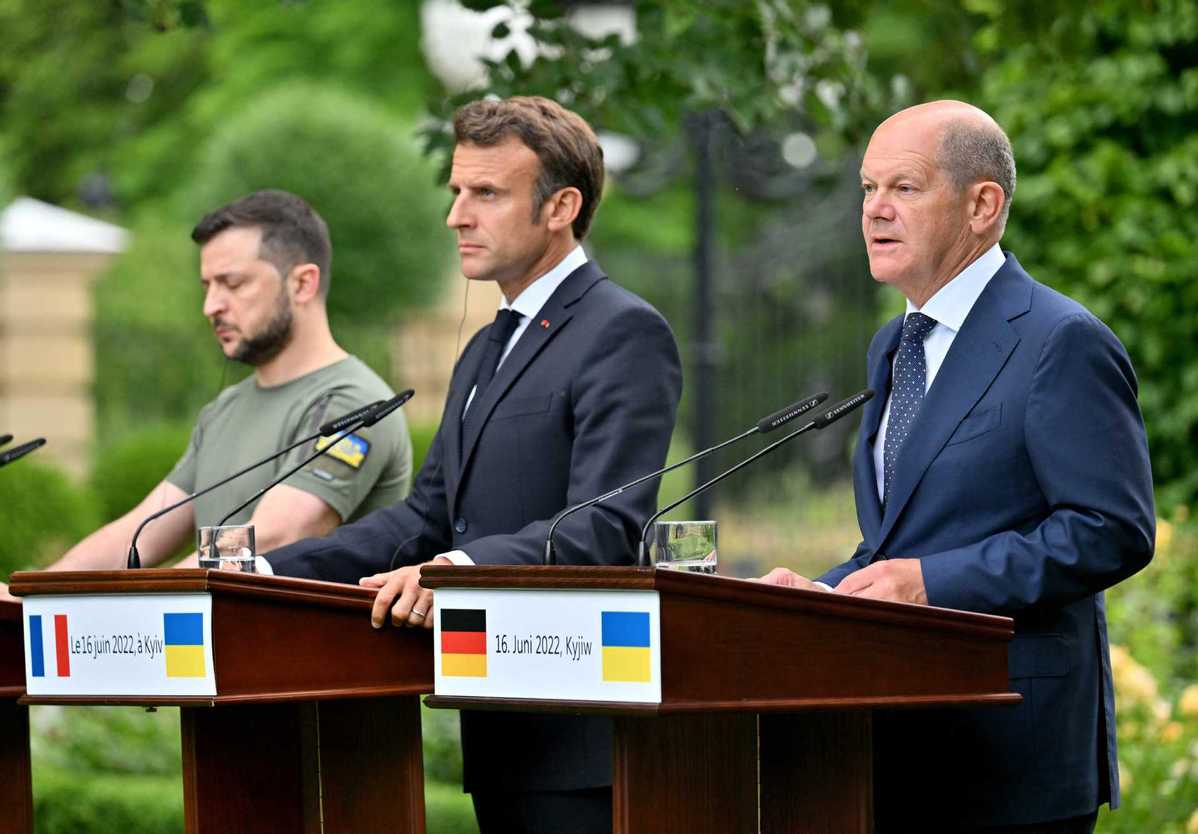 But it's only the first step in a process that could take decades
The European Commission proposed on Friday to give Ukraine and Moldova candidate status for the European Union membership just a day after several leaders of its member states paid a visit to Kyiv.
In its fast-track decision, the commission emphasized that it was based on the understanding that the two countries will carry out a number of reforms.
"Ukraine has clearly demonstrated the country's aspiration and the country's determination to live up to European values and standards,"European Commission President Ursula von der Leyen told a press conference on Friday.
Leaders of France, Germany, Italy and Romania voiced their support for Ukraine's EU candidate status during a visit to Kyiv on Thursday.
French President Emmanuel Macron said: "We all four support the immediate EU candidate status."
Granting Ukraine candidate status is "a strong, quick expected gesture of hope and clarity that we want to send to Ukraine and its people",Macron told a joint press conference after a meeting with Ukrainian President Volodymyr Zelensky.
He added that it would be accompanied by a "road map" that would include "conditions".
Candidate status is not the same as EU membership. It is just the start of an often lengthy process toward formally joining the EU, which could take years or even decades.
German Chancellor Olaf Scholz expressed that his government backed Kyiv's bid for EU candidate status.
"We came to #Kyiv today with a clear message: #Ukraine belongs to the European family. Germany wants a positive decision in favor of Ukraine as a #EU candidate country," Scholz wrote in a tweet on Thursday.
This was Scholz's first trip to Ukraine. He had earlier cited Ukraine's decision in April not to welcome German President Frank-Walter Steinmeier as "standing in the way" for his trip to Kyiv.
"We are at a turning point in our history. The Ukrainian people defend every day the values of democracy and freedom that underpin the European project, our project. We cannot wait. We cannot delay this process," Italian Prime Minister Mario Draghi said.
Draghi, Macron and Scholz arrived in Kyiv after a 10-hour train ride from Poland, a surprise trip that was not announced beforehand.
All 27 EU members must agree unanimously in order for the candidate status to be granted.
Peace deal with Russia
Ukraine is also expected to reach a peace deal with Russia before any talks with the EU could go ahead.
Meanwhile, NATO Secretary-General Jens Stoltenberg expressed that he was unsure of an exact timetable for Finland and Sweden to join the security alliance, a legacy of the Cold War against the Soviet Union.
In a news conference on Thursday after a NATO defense ministers meeting, Stoltenberg reiterated that the concerns raised by Turkey need to be taken seriously as it is a major member state and important ally.
He said he aimed to find a solution to Turkey's concerns as quickly as possible, responding with the word "soon" when asked when a solution could be found.
Turkey has accused both Sweden and Finland of supporting and harboring Kurdish militants and other groups that Ankara labeled as "terrorists". Turkish President Recep Tayyip Erdogan has vowed to veto their NATO membership if the issues are not resolved.
Turkey's demands also include lifting restrictions on arms exports to Turkey and extraditing members of certain Kurdish organizations that are opposed to Erdogan's government.
Huseyin Bagci, director of the Turkish Foreign Policy Institute, told Finnish President Sauli Niinisto at an event in Helsinki that Finland would not receive NATO approval from Turkey before or during the NATO summit in Madrid at the end of this month. But he added that Turkey is not stopping Finland's NATO bid, but rather delaying it.
Agencies contributed to the story.
chenweihua@chinadaily.com.cn