Vice-FM: Summit ushers in bright future of BRICS
Share - WeChat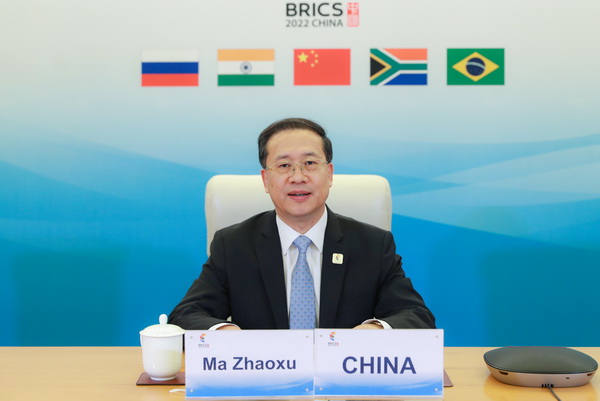 The 14th BRICS Summit hosted by China on Thursday "kicked off a new journey of BRICS cooperation and demonstrated the bright future of the BRICS mechanism", Vice-Foreign Minister Ma Zhaoxu said.
Ma made the comment at a briefing after the virtual summit that brought together leaders from five leading emerging economies — Brazil, Russia, China, India and South Africa.
The meeting on Thursday was very successful and could be said to be a milestone, Ma said.
Parties at the summit said that under the strong leadership of President Xi, China, as the BRICS chair country this year, has earnestly responded to complex situations, risks and challenges, and has achieved fruitful results in promoting BRICS cooperation, according to Ma.
These efforts "have deepened the strategic partnership of the BRICS countries, enhanced the influence of the BRICS countries, and made new contributions to maintaining world peace and promoting global development," Ma added.
The Thursday meeting passed the Beijing Declaration of the 14th BRICS Summit.
The summit "demonstrated the BRICS countries' commitment to major global international and regional issues such as multilateralism, international fairness and justice, cooperation on fight the pandemic, and the 2030 Agenda for Sustainable Development," Ma said.
At the same time, the summit brought together many achievements of BRICS pragmatic cooperation and made plans for the next stage of BRICS cooperation, he added.
The BRICS countries are an important symbol of the rise of developing countries, Ma said.
"The BRICS cooperation has gone through 16 years and has become a model of solidarity and cooperation among emerging market countries and developing countries," Ma said.
This year, China holds the chairmanship of the BRICS for its third time.
The "BRICS China Year" enjoys many highlights, as a number of practical cooperation results have been achieved in various fields such as global economic recovery, epidemic prevention and control, digital economy, sustainable development and cultural exchanges, Ma said.
It can be said that BRICS cooperation has reached a new level in terms of quantity and quality, he said.
"We have made Chinese contributions to promoting the high-quality development of the BRICS," he added.