Cangyuan villagers carve out road to prosperity
Share - WeChat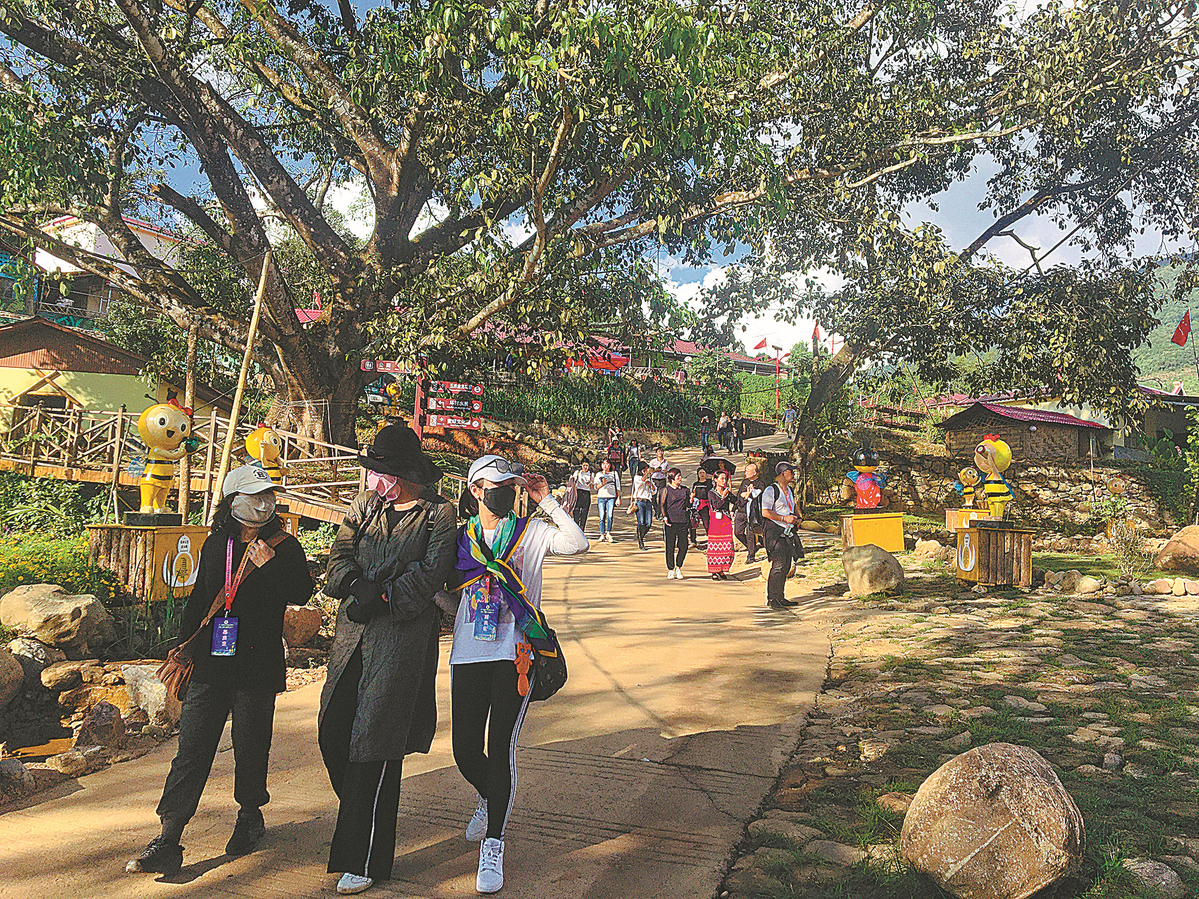 After decades of financial difficulty, 67-year-old Zhao Sanmuga is happy to see that his efforts have helped villagers climb out of poverty and live happier lives they never dreamed possible.
Zhao, a member of the Wa ethnic group, used to be the Party chief of Palang village of Banlao township, located in Cangyuan Wa autonomous county, Yunnan province.
From 1984 to 2004, he led villagers to build roads and schools and develop industries, striving to make their lives better.
In the 1980s, the only road that connected Palang with the outside world was narrow, slippery and bumpy. A round trip between the village and the local town by foot took three days.
As soon as he became Palang's Party chief in 1984, Zhao began mobilizing villagers to build roads. At first, many thought it was an impossible task, as the village was so remote.
A determined Zhao led the villagers, who carried dry food and tools with them to work in the mountains to dig a road. It took them five years to create a 30-kilometer dirt road between Palang and other villages.
"We were all very excited, and some of the people even cried on the day the road opened," Zhao said. "At that time, the village was really poor, relying on the little grain in the fields all year round. It was not enough to eat, let alone escape poverty."
Later, Zhao realized that some industries needed to be established to help the villagers prosper.
"By actively striving for projects, we have successively introduced 18 companies from Cangyuan to invest in coffee and rubber," he said.
In April 2019, all residents in Palang were officially lifted out of absolute poverty by taking a green and sustainable development approach. By last year, the village had grown 83 hectares of bamboo, 489 hectares of rubber, 39 hectares of tea and 148 hectares of Queensland nuts, with an annual per capita income of 12,632 yuan ($1,900). At the same time, all residents joined the nation's social security and health insurance program.
Palang is a microcosm of the development of Cangyuan, which borders Myanmar and is the largest county inhabited by the Wa people in China. The county is one of the main portals connecting Yunnan province with South Asia and Southeast Asia, with a borderline of about 150 kilometers.
The forest coverage rate stands at about 73.3 percent in the county, and there are also hundreds of animals and plants under national-level protection. Tea and tobacco planting are widespread.
Cangyuan has 800 hectares of tea gardens, 43 tea-related cooperatives and multiple tea brands. By the end of last year, the total output of raw tea leaves in the county was about 9,720 metric tons, and the total industrial and agricultural output value was about 398 million yuan. The per capita net income of farmers is 1,834 yuan from the tea industry.
"The tea industry plays an important role in promoting agricultural efficiency, increasing farmers' incomes and increasing rural greenery. It has kept promoting local economic development and affects the production and life of 60 percent of the farmers in the county, especially people who live in the mountain area," said Cao Hongfang, deputy head of the county's industrial development service center.
Cangyuan has continuously strengthened scientific and technological training in the tea industry, which has covered cultivation, pruning, picking and other related aspects to protect the environment and promote the industry, she said.
"We use green and preventive technologies to reduce pollution, prohibit the use of highly toxic pesticides in production, promote the use of farmyard manure, and plant grass to control soil erosion," Cao said.
Furthermore, with the progression of the Belt and Road Initiative and the construction of the radiation center, Cangyuan has continued to improve cooperation and exchanges with other nations, contributing to a broader vision and greater efforts to boost bilateral development. It has jointly built domestic and overseas industrial parks locally and in Myanmar to promote local economic development.