How pandemic in US hit Chinese students hard
By CHANG JUN in San Francisco and KAYLA MA in New York | China Daily | Updated: 2022-07-04 07:42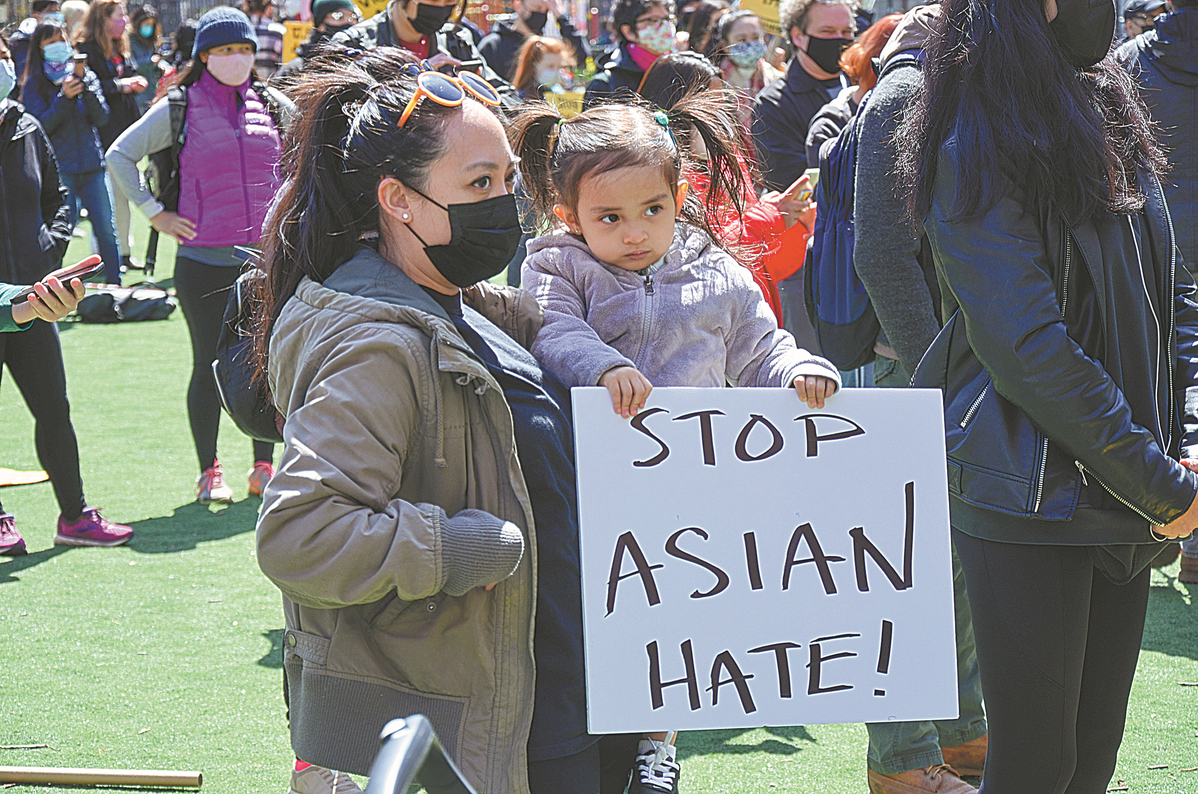 Far from home and vulnerable, their lives on and off campus are fraught with uncertainty
Editor's note: China Daily takes a look at the plight of Chinese students in the United States, separated from their families, hobbled by online learning and often falling victim to hate crimes.
It has been more than two years since COVID-19 first hit the United States. Among the many individuals who have suffered for various reasons, including the loss of loved ones, financial stress and job insecurity, there is a group whose collective image is vague, their voice indistinct.
They are Chinese students, about 317,000 of them, studying at US colleges and universities, according to the Open Door 2021 Report on International Educational Exchange, published in November.
The challenges they have grappled with daily during the pandemic have been real and excruciating. They were given little notice about school closures and had to switch to online learning overnight. Their families have been on the other side of the Pacific Ocean. Then there have been crimes targeting Asians.
All of this has left them scarred physically and mentally. Some retreated; some were left traumatized; others chose to fight on and achieve their goals.
William Zhang, a San Francisco Bay Area community leader, was awakened at 3 am on May 13 by a call from Beijing. The caller was Sam Gao, an acquaintance he had met at a business dinner several years earlier.
"Gao told me that his daughter Jiawen, 21, at Clark University in Massachusetts, had been missing in San Francisco for more than a week," Zhang said. "Jiawen was supposed to take a direct flight back to China from San Francisco, but she had cut all contact with parents since May 6."
Jiawen was admitted to Clark University last autumn amid the pandemic. "However, as excited as she was, she didn't adapt well to the new environment," Gao told China Daily.
Jiawen felt isolated because she did not get along with her peers, and she could not keep pace with online learning. Her plight worsened within two months after several poor test scores and poor academic performance, and she failed to meet the school's requirements.
Gao and his wife took turns to make themselves available 24 hours online, hoping to help their only daughter overcome her difficulties.
"What we saw in the video is Jiawen's exhaustion," Gao said. "She became more and more silent until one day we found she was pale and sweating, rambling nonsense." She was said to be melancholic.
Around spring break in March Jiawen told her parents that the school was considering asking her to withdraw.
"It sounded like end-of-the-world news to her," Gao said. The family immediately decided to let Jiawen drop out of the program.
"We can't afford to lose her. I booked her a flight to Seattle, then to San Francisco, where she was supposed to follow government instructions, securing an international ticket to return to China."
Jiawen landed in San Francisco on May 6 and in a video call told her parents she had arrived safely. "She looked OK but told me that she had lost her credit card," Gao said. "But she didn't have much cash left, so that worried me."
After that chat, her parents tried unsuccessfully to reach her through calls, emails and WeChat.
"It had been one week since her last appearance," Zhang said. "In the end, it was a race for life."
As soon as he received the SOS call from Gao, Zhang brought in a volunteer team of 130 members. Police were informed that Jiawen was missing, and the team combed the airport without success. They also checked shelters and homeless centers and brought in a professional tracing service to help find her.
Eight days later there was good news: San Francisco police had found Jiawen, alive but in critical condition. She was taken to a hospital and admitted to intensive care.
The Jiawen case is one of many relating to Chinese students in crisis that Zhang has been involved in during the pandemic.
"I kept receiving calls from parents, from different places in China. They asked me to help their troubled children in the US, some of whom are having academic difficulties, some of whom were trapped in unstable relationships."
In 2020, the KnowYourself group conducted a survey among more than 10,000 overseas Chinese students in which almost 84 percent of those surveyed said they had experienced "mental breakdown", and almost 45 percent said they had thought of "giving up".
In addition to coping with academic pressure and adapting to foreign environments, international students struggled with psychological stability, economic independence and identity recognition.
"Often we see the frustration (of a person) on the outside," said Julia Xie, a school psychologist in San Francisco. "On the inside, however, the victim has long been feeling devastated and powerless. Parents and educators need to understand the vulnerability of these young people."
Exposed to two different cultures, international students are rethinking and exploring their cross-cultural identity, values, orientations and interpersonal relationships, the KnowYourself report said.
That exploration inevitably includes psychological stress that could be alleviated by regular reunions with family and friends, being in a romantic relationship or simply developing a new hobby.
However, the pandemic has deprived many students of the option of visiting their families regularly, and e-learning has made face-to-face dating and other social activities difficult to arrange.
"It has been two rough years for all Chinese students," Zhang said. "I feel sorry for them."
He had acted as a family representative arranging funerals for two Chinese students who had committed suicide, he said.
"Both were in their 20s and in top-ranking universities. A great loss."
For many Chinese students, the most horrific experience during the pandemic has been Asian hate crimes, well covered by mainstream media. Contributing to this atmosphere were comments by then-president Donald Trump and his supporters that included the terms "kung flu" and "the China virus" in referring to COVID-19.