Teacher from HK finds opportunity in Guangzhou
By LI WENFANG in Guangzhou | China Daily | Updated: 2022-07-05 09:38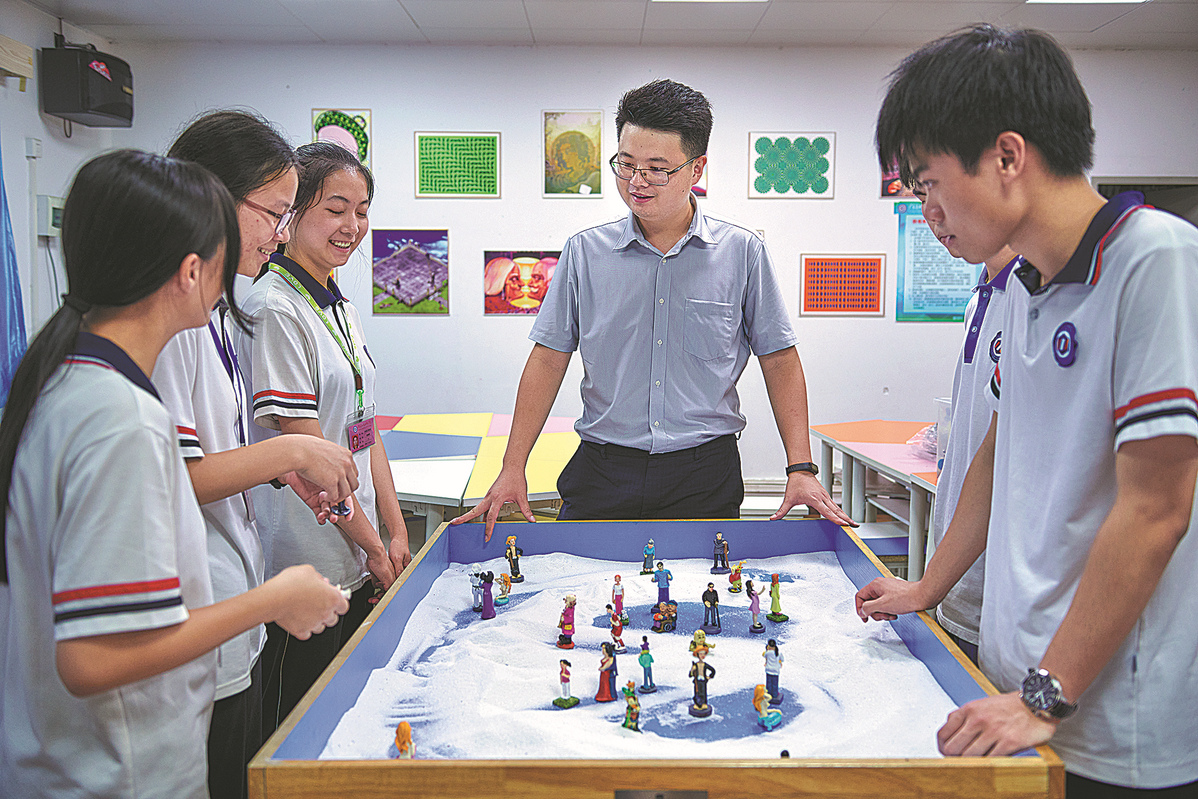 Fung Fu-wing was born in Kaiping, Guangdong province, in 1989 but moved to the Hong Kong Special Administrative Region when he was 15. After completing high school four years later, he returned to the Chinese mainland to go to university.
Based on his experience, he believes that job opportunities here are attractive to other young Hong Kongers.
"Economic development should be viewed in a dynamic way," he said. "I have seen the changes to the mainland's economy. We are such a big country, and there are so many economic sectors for us (Hong Kong people) to try."
Fung got his bachelor's in management at Guangzhou's Jinan University and later earned his master's in applied psychology at Peking University.
After graduation, he found a job training staff in Chongqing. Then, just over a year later, he moved to Guangzhou to be closer to his parents, who are Hong Kong residents and still live in the SAR.
He now teaches psychological health at Guangdong Machinery Technician College, thanks to a policy launched in 2020 that allows people from the SARs of Hong Kong and Macao to apply for posts at public institutions in nine mainland cities in the Guangdong-Hong Kong-Macao Greater Bay Area.
The 14th Five-Year Plan (2021-25) pledges to facilitate employment and startups for Hong Kong and Macao youth in the nine cities, and a series of policies have been rolled out in support. The Outline Development Plan for the Guangdong-Hong Kong-Macao Greater Bay Area, issued in 2019, also includes similar goals.
Fung teaches about 200 students and is also involved in group counseling, psychological consulting and other collegewide activities.
"My students are agile thinkers and good at using their hands. I tend to use games to communicate with them and plan interesting activities," he said.
Fung also helps students lacking in self-confidence.
"I ask students who talk less to speak up during activities to teach them about courage. This is a very important step, but it should be done in an appropriate way. They are reluctant to speak up at first, but I encourage and praise them in class to gradually raise their self-confidence. Later, they become more proactive," he said. "Their IQ scores do not vary much, but the difference lies in whether they dare grab the opportunities before them."
Colleagues have helped Fung get used to the workflow at the college, teaching him class management skills and improving his ability to teach. He is now a deputy class adviser.
"As a new teacher, Mister Fung works hard to prepare his classes and help his students," said Guo Chunrong, one of Fung's colleagues. "He teaches in many different ways, like coming up with games to liven up classes, which the students welcome. Sometimes, he shows videos and analyzes them with the students. His classes are not boring."
With a mainland residence permit, Fung has access to social insurance and finds life increasingly convenient for Hong Kong people in Guangzhou. He plans to join a psychology program to deepen his knowledge.
Inspired by the work of the Communist Party of China, Fung has applied to become a member.
"At university, my schoolmates and teachers were accomplished in their academic fields. I felt their feelings for the Party and their sense of contribution to the country," he said.
A number of Fung's friends from Hong Kong are also working in Guangdong, either running startup businesses or working as employees.
Through targeted policies, cities such as Guangzhou, Shenzhen and Zhuhai offer a number of opportunities for Hong Kong and Macao youth, Fung said, adding it would be to their benefit to match their talent and aspirations with what is offered.
Qin Yifei contributed to this story.