Trip lifts hopes for more bilateral interactions
By ZHAO HUANXIN in Washington | China Daily Global | Updated: 2022-07-13 10:16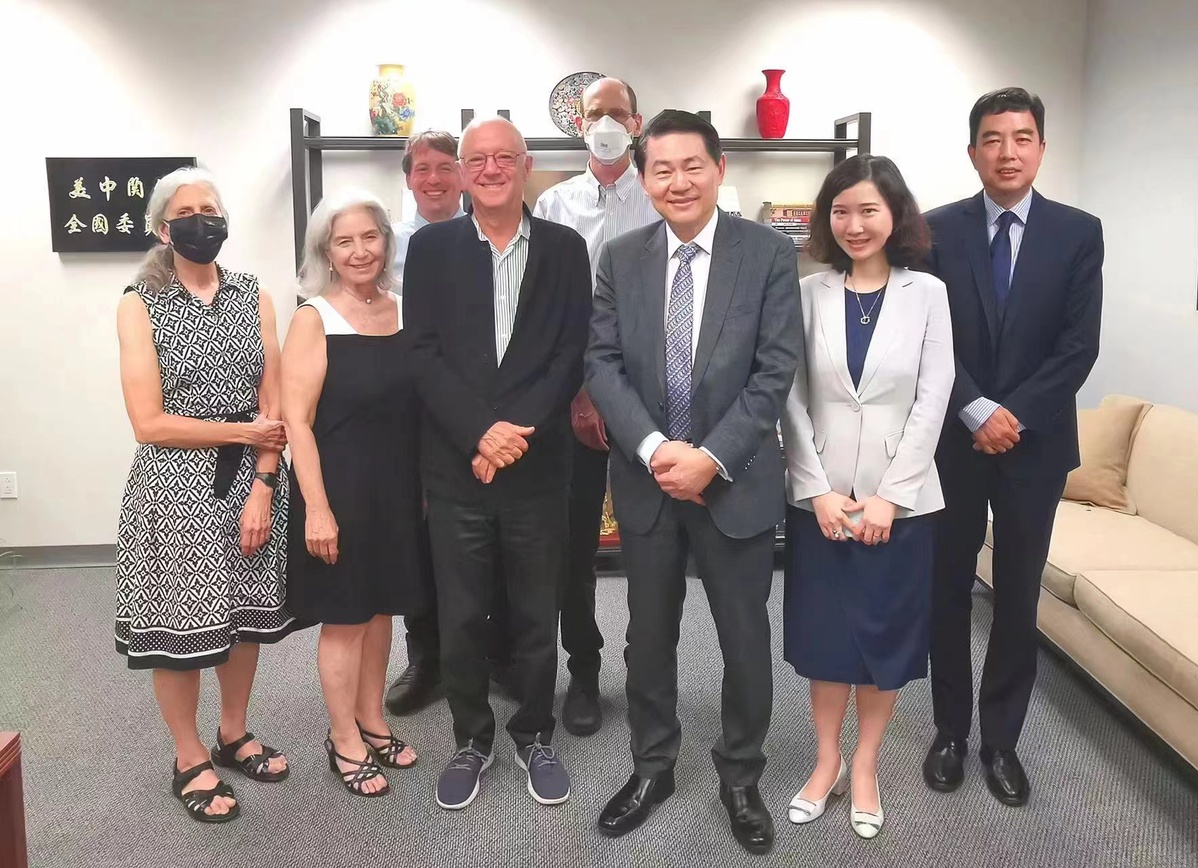 When Wang Huiyao, chief of the Center for China and Globalization, met Stephen Orlins, president of the National Committee on US-China Relations, in New York on June 30, they found they both had more gray hair.
In what appeared to be the first trip by a Chinese non-governmental organization to the US since the outbreak of COVID-19 pandemic almost two and half years ago, Wang found that it was not only many "China hands" aging, but the fabric bonding the two countries had become more frayed and calloused.
"There is huge space to be filled in terms of communications; we met large numbers of business executives and researchers. Some now have more misunderstandings about China and had grievances to air; others would stop me for an hour for questions about China," Wang said in Washington before flying to Europe on Friday.
The people-to-people exchanges, once like a stream between China and the US, had begun to trickle during the Trump administration, when bilateral relations plunged to their lowest point since the two countries forged diplomatic relations in 1979.
Then they came to a virtual stop during the pandemic, only to have ripples with a few online events.
Without field trips to China and exchanges with those from China, many China hands in the US lack the authentic channel to understand the country firsthand, according to Wang.
That scenario, plus the passing of some veterans like Ezra Feivel Vogel, a Harvard professor perfectly fluent in Chinese, mean the team of those who really know about China is shrinking.
"I hope the first tour of the Chinese delegation will send a signal that people-to-people exchanges between the two countries are back in the fold, and our visit will be followed not only by more Chinese groups coming to the US, but also our US counterparts going to China," he said.
In his meeting with Chinese Ambassador to the US Qin Gang last week, Wang learned that the envoy had traveled to many US states for outreach efforts with local businesspeople, residents and students, and that the ambassador encouraged him to deliver the message that Beijing welcomes more interaction between businesses and institutions.
The ambassador actually shared the concerns about the caliber of China experts, who may become a source of misunderstanding for their lack of China knowledge.
"Some China experts cannot speak Chinese at all. They know very little about China. They only rely on second-hand information and even disinformation," said Qin in a trip to Texas on May 31. "So our relations had been deeply misled by the lack of understanding as a result of widespread disinformation, secondhand, even thirdhand information."
Wang had a tight schedule for his 10-day trip in the US that started on June 29. He and his colleagues had met representatives from 30 US institutions, including Wendy Cutler, a former US trade negotiator and now vice-president at the Asia Society Policy Institute; John Hamre, president and CEO of the Center for strategic and International Studies; and Craig Allen, president of China-US Business Council.
One of the hot topics they had was when the worsening of the bilateral relations will bottom, an indication that there is anxiety for the status quo of the relations between the world's top two economies, according to Wang.
In addition, they had expressed hope that US students could return to campus in China rapidly, and cross-border travel would soon resume.
On July 6, Maurice Greenberg, chairman and CEO of C.V. Starr & Co, published an op-ed in The Wall Street Journal titled, "We want to rebuild US relations with China", in which he announced he and 13 other US business leaders had formed a group aimed for "resurrection of the bilateral mechanisms of exchange that existed for decades".
The group also hopes to "re-establish a constructive bilateral dialogue based on mutual respect and understanding".
Wang said he had met five members of the new group, and during their meetings, they hoped both countries would initiate tariff relief and ramp up the mechanism for control of crisis.