Visiting S. Korea foreign chief keen to boost Japan ties
By WANG XU in Tokyo | China Daily | Updated: 2022-07-19 09:44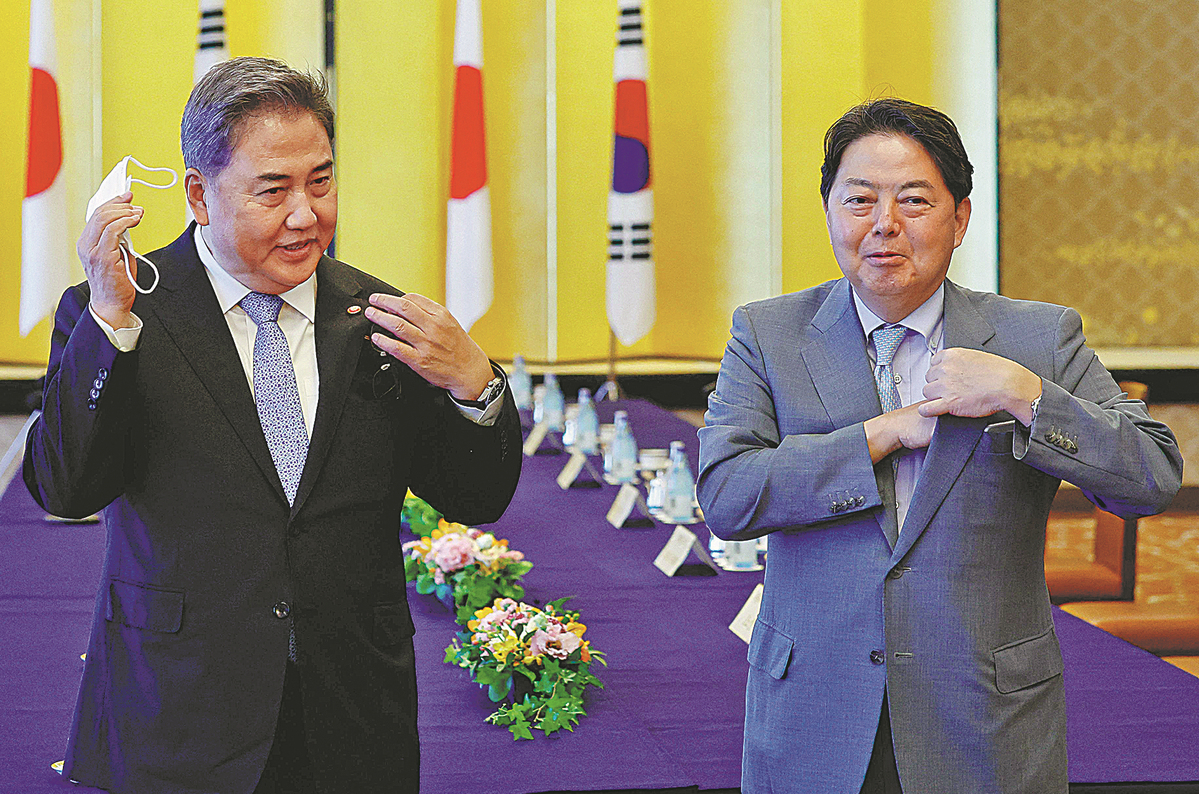 Political sensitivities related to history and territory were on top of the agenda when South Korean Foreign Minister Park Jin met his Japanese counterpart Yoshimasa Hayashi in Tokyo on Monday, the first such encounter in almost three years.
"I plan to convey that President Yoon Suk-yeol has strong willingness to improve the South Korea-Japan relationship," Park told reporters before his departure, adding that he thought his trip would be "very meaningful".
Park smiled as he bumped elbows with Hayashi during their meeting, a sharp contrast with his predecessors Kang Kyung-wha and Chung Eui-yong. The mood also differed from Defense Minister Lee Jong-sup's meeting with his Japanese counterpart Nobuo Kishi in Singapore a month ago.
Yun Duk-min, South Korea's new ambassador to Japan, was quoted by Japanese media as saying that Yoon told him to "restore South Korea-Japan relations as soon as possible".
The relationship between Seoul and Tokyo dropped to its lowest point following South Korean Supreme Court rulings in 2018 that ordered Japanese companies to compensate forced laborers during Japan's colonization.
The dispute quickly escalated when Tokyo insisted that a 1965 treaty between the two countries had resolved all claims related to the Japanese occupation, after then Japanese prime minister Shinzo Abe tore up the diplomatic playbook and took the spat to the economic sphere, slapping export controls on chemicals vital to Seoul's semiconductor industry.
"South Korea and Japan are the most important partners that share strategic benefits and I will do my best to build a future-oriented relationship," Yun said.
However, Yun said pressing issues like wartime labor "cannot be resolved by the power of just one country".
"If we work on them by cooperating with each other, any issue can be resolved, no matter how difficult that is," Yun added.
Wang Qi, a researcher of East Asian studies at the Chinese Academy of Social Sciences in Beijing, said though Seoul and Tokyo express willingness to improve ties, political sensitivities like historical recognition and territorial disputes are real and cannot be dismissed.
"For Tokyo, they think the onus should be on Seoul to repair the frayed relationship because they think former South Korean president Moon Jae-in was responsible for bringing up the issue. While for Seoul, Tokyo never sufficiently reflected on its past atrocities, including wartime labor and sex slaves, or comfort women," Wang said.
"Given that the South Korean Supreme Court is expected to hand down its final verdicts on the liquidation of assets held by two Japanese companies involved in forced labor in the country as early as in August, a mutually satisfactory resolution will be hard to reach."