Missiles destroy Odessa's military ware, Russia says
China Daily Global | Updated: 2022-07-25 09:38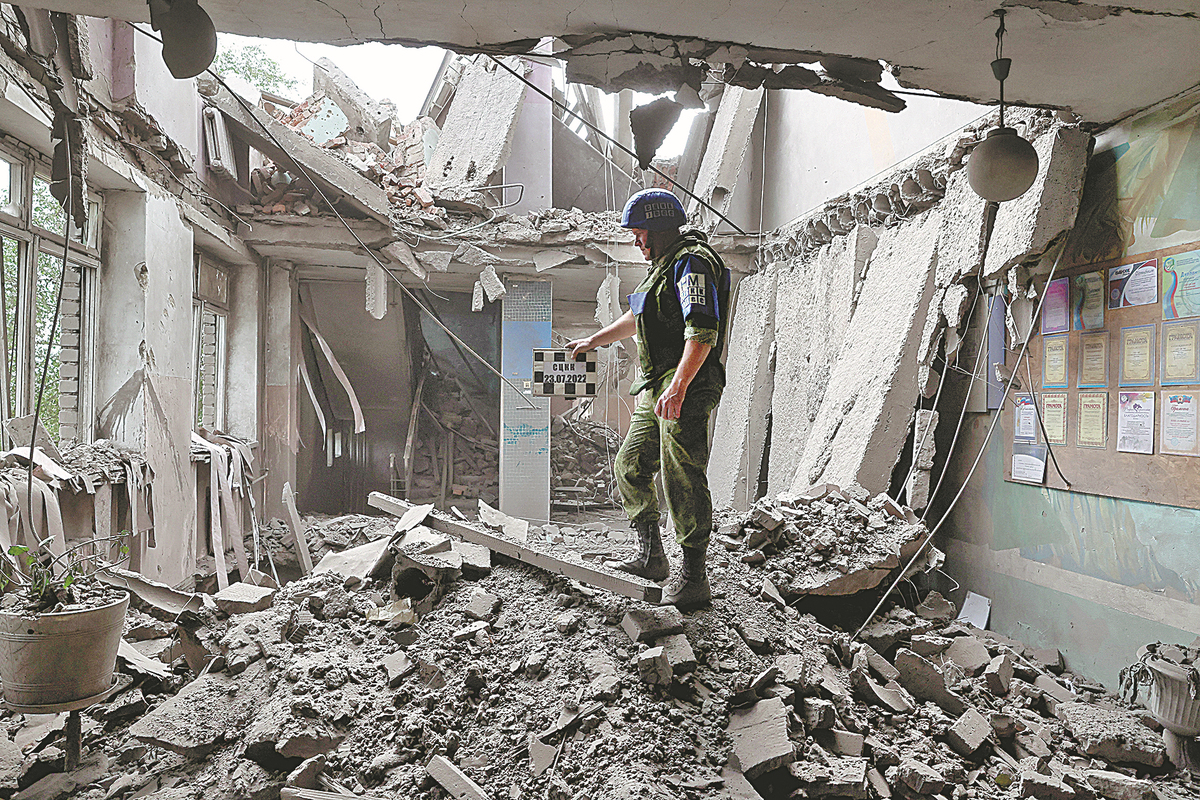 KYIV-Russia said on Sunday that its cruise missiles had struck the military infrastructure of Ukraine's Odessa port, destroying a military boat a day after Moscow reached a grain deal with the United Nations, Ankara and Kyiv.
"Kalibr missiles destroyed Odessa port's military infrastructure, sending a Ukrainian military boat to the Kyiv regime's favorite address in a precision strike," Foreign Ministry spokeswoman Maria Zakharova said on Telegram.
Ukrainian President Volodymyr Zelensky said the strike indicated that Moscow could not be trusted to implement the deal. However, public broadcaster Suspilne quoted the Ukrainian military as saying the missiles had not caused significant damage, and a government minister said preparations have continued to restart grain exports from Black Sea ports.
The deal signed on Friday by Moscow and Kyiv and mediated by the UN and Ankara was hailed as a breakthrough after nearly five months of conflict. It is seen as crucial to curbing soaring global food prices by allowing grain exports to be shipped from Black Sea ports including Odessa.
Suspilne quoted Ukraine's southern military command as saying the port's grain storage area was not hit.
Infrastructure Minister Oleksandr Kubrakov said on Facebook that "we continue technical preparations for the launch of exports of agricultural products from our ports".
Ukraine could export 60 million metric tons of grain in eight to nine months if its ports were not blockaded, but Russia's strike could make things not be that easy, said an economic adviser to the Ukrainian president on Saturday.
Ukraine could earn $10 billion by exporting 20 million tons of grain in silos in addition to 40 million tons from its new harvest, economic adviser Oleh Ustenko said on television.
Ukraine will need 20 to 24 months to export those volumes if its ports are not functioning properly, he said.
Egypt ties
Russia's Foreign Minister Sergey Lavrov was in Cairo for talks on Sunday with Egyptian officials as Moscow seeks to break diplomatic isolation and sanctions by the West.
Lavrov landed in Cairo late on Saturday, the first leg of his Africa trip that will also include stops in Ethiopia, Uganda and the Democratic Republic of the Congo, reported Russia's state-run RT.
The Egyptian Foreign Ministry said Foreign Minister Sameh Shoukry held talks with Lavrov on Sunday morning.
Lavrov was scheduled to meet later on Sunday with Arab League Secretary-General Ahmed Aboul Gheit. He was expected to address the permanent representatives of the pan-Arab organization, RT reported.
In an article posted on the Russian Foreign Ministry website, Lavrov rejected the West's accusations that Russia is responsible for the global food crisis, as "another attempt to shift the blame to others".
Seeking to rally African nations on his country's side, he hailed what he called "an independent path "such nations took when they refrained from joining the West in sanctioning Russia.
Agencies Via Xinhua