Philippine president sets out growth path
By PRIME SARMIENTO in Hong Kong | China Daily | Updated: 2022-07-26 09:40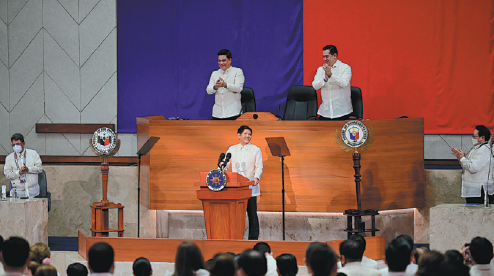 Philippine President Ferdinand Marcos Jr will prioritize the country's recovery from the pandemic as he laid down a comprehensive economic plan on Monday during his first State of the Nation address.
His administration is also seeking to be a friend to all in foreign policy, Marcos said in what was the first State of the Nation address to be delivered in person by a Philippine president since the pandemic started in 2020. That meant full attendance in the legislature by all members of the government and the Congress since the pandemic started in 2020.
In the speech given at the opening of the 19th Congress, Marcos said that his administration aims to achieve GDP growth of 6.5 to 7.5 percent for the country in 2022 and an average of 6.5 to 8 percent annual growth during his six-year term. He also vowed to reduce the poverty rate to 9 percent and cut the fiscal deficit to 3 percent by 2028.
He said lockdowns will no longer be imposed as the government aims to balance the need to protect public health without hurting the economy. He promised to build more hospitals, as well as a vaccine institute and a center for disease control and prevention.
Marcos said his administration will continue the infrastructure development plan of his predecessor, Rodrigo Duterte. Building more infrastructure is "a very high priority" and will remain a growth driver.
"Once again, I will not suspend any of the ongoing projects as those have already been shown to be of benefit to the public that they serve," Marcos said. He also stressed his administration's independent foreign policy, with the national interest as "our primordial guide" and that the Philippines will remain "a friend to all and an enemy to none".
Herman Joseph Kraft, chairman of the political science department at the University of the Philippines, said Marcos' foreign policy stance means that he intends to "intensify diplomatic approaches" to any international issue.
"His presentation of what needed to be done was followed by the legislation that needed to be passed. And it covered quite an extensive area of concern," he said.
Priority bills
In his one-hour-plus speech, Marcos listed 19 priority bills under his administration. These include the National Government Rightsizing Program, Tax Reform Bill, the E-Commerce Law and a bill that will create the Virology Institute of the Philippines.
He said tax reforms will be implemented to improve revenue collection, while a new value-added tax on digital service providers will be imposed. The new tax is expected to raise 11.7 billion pesos ($210 million) in 2023 alone.
Marcos, who is also serving as the acting secretary of agriculture, also vowed to boost farm productivity by building more farm-to-market roads, expanding credit access and providing cheap farm inputs such as fertilizers and pesticides. Marcos is also pushing for a law that will waive unpaid amortization and interest for the beneficiaries of agrarian reforms.
"A moratorium will give the farmers the ability to channel their resources in developing their farms, maximizing their capacity to produce, and propel the growth of our economy. The civil society organizations also support this because it will unburden the farmers of their dues and be able to focus on improving farm productivity," Marcos said.
Michael Ricafort, chief economist at the Manila-based Rizal Commercial Banking Corp, said Marcos' proposal for agriculture indicates the government's plan to intervene more in the agricultural sector, and he hopes that this will reduce farm costs and rein in food inflation.
prime@chinadailyapac.com