Talk draws line for bilateral ties
By ZHANG YUNBI/ZHAO HUANXIN | China Daily | Updated: 2022-07-30 08:22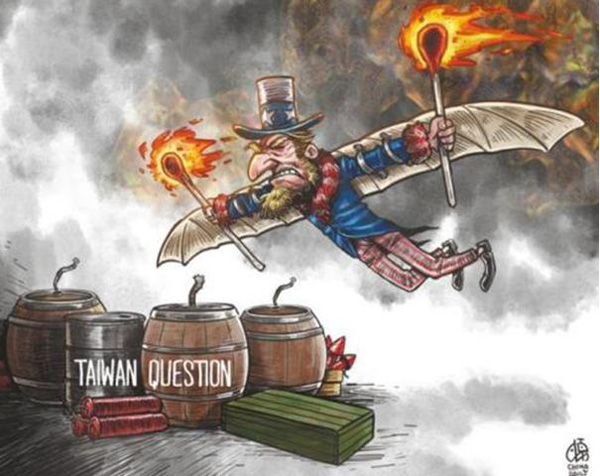 China calling on the US to take actions to eliminate potential for major risks
Beijing issued a stern warning on Washington's backpedaling on the Taiwan question during a phone conversation between the two heads of state on Thursday, with China urging the United States to take quick action to secure two-way collaboration on key global issues, observers said.
The conversation between President Xi Jinping and his US counterpart Joe Biden is their fifth direct conversation since Biden took office in January last year.
Officials from both sides called the discussion "candid" and "in-depth".
Prior to the conversation, bilateral tensions had run high due to the plan by the speaker of the US House of Representatives Nancy Pelosi to visit Taiwan in August during her Asia trip.
According to a news release by the Chinese Foreign Ministry, Xi criticized Washington's use of strategic competition to define its ties with China, called for securing collaboration on key global issues and economic sluggishness, and stressed leaving no space for "Taiwan independence" forces of any form.
"Public opinion cannot be defied. Those who play with fire will perish by it," Xi said when asking the US to honor the one-China principle and implement the three landmark China-US joint communiques "both in word and in deed".
"During the Thursday phone conversation, Beijing voiced strong opposition to the US choice of engaging in strategic competition with China, and made clear that a proper perception of two-way ties should be win-win cooperation rather than strategic competition," said Diao Daming, an associate professor at the School of International Studies, Renmin University of China, in Beijing.
Xi's remarks "sent a stern and solemn warning to some individuals back in the US over the Taiwan question. China was calling on the US to make the right choices as soon as possible and take action to stabilize bilateral ties and eliminate the potential for major risks," Diao said.
He added that the Thursday conversation further highlighted the role of top-level contacts in navigating the relationship, increasing contacts and managing misunderstandings.
Tom Watkins, an adviser at the Michigan-China Innovation Center, said, "It is important for the Chinese and US people and all of humanity to reduce tensions, minimize miscommunications and assure that disagreements between our two nations do not trip into a confrontation, or worse yet, an armed conflict."
In recent days, spokespersons and officials with authorities such as the Chinese Foreign Ministry and the Ministry of National Defense have sent stern warnings about Washington's backtracking on its promises stated in the one-China principle and the potential consequences of Pelosi's planned visit.
During the Thursday conversation between the two heads of state, Biden reiterated that the one-China policy of the US has not changed and will not change, and that the US does not support "Taiwan independence".
Su Xiaohui, deputy director of the China Institute of International Studies' Department of American Studies, said the clamor of Nancy Pelosi's planning to visit Taiwan has dealt some blows to the relations, and Biden's comments "will work to help cool tension and prevent the tension from spiraling out of control".
At the talk, the two presidents agreed to stay in touch and instructed the two teams to keep up communication and cooperation.
"Both sides have underscored the important role of contacts and communication and they have displayed readiness to maintain such contacts, which is good news for the ties," Su added.
Cheng Li, director of the John L. Thornton China Center and senior fellow of foreign policy at the Brookings Institution, said that the Xi-Biden conversation is of "extreme value" at a time when the relations have yet to step out of their historical lows.
"We hope that the countries could ramp up mechanisms to prevent crises from spinning out of control on some major issues, while building up confidence and goodwill by working together in areas including energy, nuclear non-proliferation and global economic stability," Li said.