Teeing off a new journey
Share - WeChat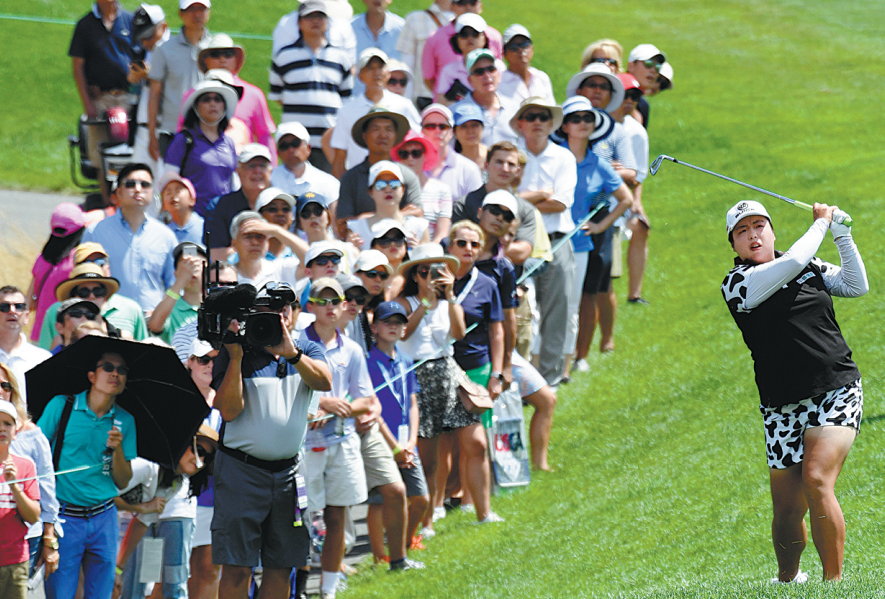 Former world No 1 Feng Shanshan's announcement on Tuesday that she is calling time on her competitive career came as a surprise to many.
However, the 32-year-old says she is treating her retirement more as a new beginning than an end and will continue working in her beloved golf community.
"I actually made a 10-year deal with myself when I first turned professional. My plan was to retire in the 10th year of my professional career," said Feng, whose lengthy list of accolades includes a bronze medal for Team China at the 2016 Rio Olympics.
"However, golf has given me many surprises, and I had great momentum during my 10th year when I was world No 1 and had just won an Olympic medal. At that time, I felt one bronze medal was not enough to help Chinese golf to earn more attention and help. So I decided to keep playing.
"I continued through the Tokyo Olympics, which was postponed of course, and then I extended my 10-year deal. Now, I've decided to make a change in my life, and I will start a new journey in golf."
For over a decade, Feng has been the highest-profile Chinese golfer-either man or woman.
She is the first player from the Chinese mainland to become a member of the LPGA Tour, which she joined in 2008. With 10 victories on the tour, Feng became the first player from the Chinese mainland to win a major, the LPGA Championship in 2012.
Four years later, she bagged bronze at the Rio Olympics. From November 2017 to April 2018, she topped the world rankings.
With good reason, Feng is immensely proud of all these achievements, saying she rates her career at"100 percent".
"I was actually asked this question many times before, and previously I would say 85 to 90 percent, so I could always give myself some room for improvement. Golf is a sport that you need to keep pushing your limits," said Feng.
"When I first started playing, my goal was to enter the LPGA, and then I just kept refreshing my goals and now I've reached this point. I'm very proud of my career, and right now I would give myself full marks, like 100 percent."
Next on the agenda for Feng is a move into coaching. She has already been installed as the coach of the Chinese women's team as it prepares for the postponed Asian Games, which will be held in Hangzhou in September next year.
"The national team contacted me last November to discuss my future. Actually I have already led the national team training camp twice, and I realized my experience could really help the younger players," said Feng.
"I will continue to use my experience to build a training system for Chinese golfers which can complement the structures currently in place. To maximize the preparations, I will try to arrange the best time for the players to train based on their personal schedules.
"I'd like to see more young players develop their games on elite-level foreign tours and I hope to see a Chinese player as the next world No 1 and next Olympic medalist, or even champion."
Guiding light
Encouraged by her father, Feng first picked up a golf club when she was 10 years old. Quality tournaments and coaches were hard to come by in those days, making it difficult for Feng to pursue her dreams on the greens and fairways.
Dedication and hard work were, therefore, key to her breakthrough on the global stage, as she ultimately became the most iconic Chinese female golfer of all time. Her influence on the next-gen is clear to see, with many youngsters now keen to follow in her footsteps.
"I've watched Feng Shanshan play since I was a girl. It was big sister Shanshan that opened up all these possibilities for me," said current Chinese women's No 1 Lin Xiyu, who is ranked 32nd in the world.
"She's the one that showed us that Chinese players can also shine in the LPGA, win a major championship and claim an Olympic medal. Looking back on my career, it was Feng Shanshan who has always encouraged me. She played a very important role in my career."
Thanks to the sport's development in China over the years, the country's current crop of players now enjoy a much better golfing environment with a lot more opportunities. However, Feng sees massive potential for further growth of the game in China.
"Golf is still a very young sport in China. There is still a lot more work to be done for my generation and younger players in the future. I want to let more people know about this sport and realize the full potential of Chinese players," added Feng, who is also planning to establish a golf academy.
"I have a wealth of experience from playing on foreign tours, and I have learned comprehensive and advanced training methods. I want to apply some of these experiences to China and, shaped by the research work of my team, build a talent-nurturing system.
"At the same time, I will keep focusing on junior tournaments. At the end of this year, there will be a Feng Shanshan Academy Cup junior golf championship. I hope to build more platforms for the younger generation to grow and shine."