BAIC Bluepark sees operating revenue soar in first half
chinadaily.com.cn | Updated: 2022-08-05 15:24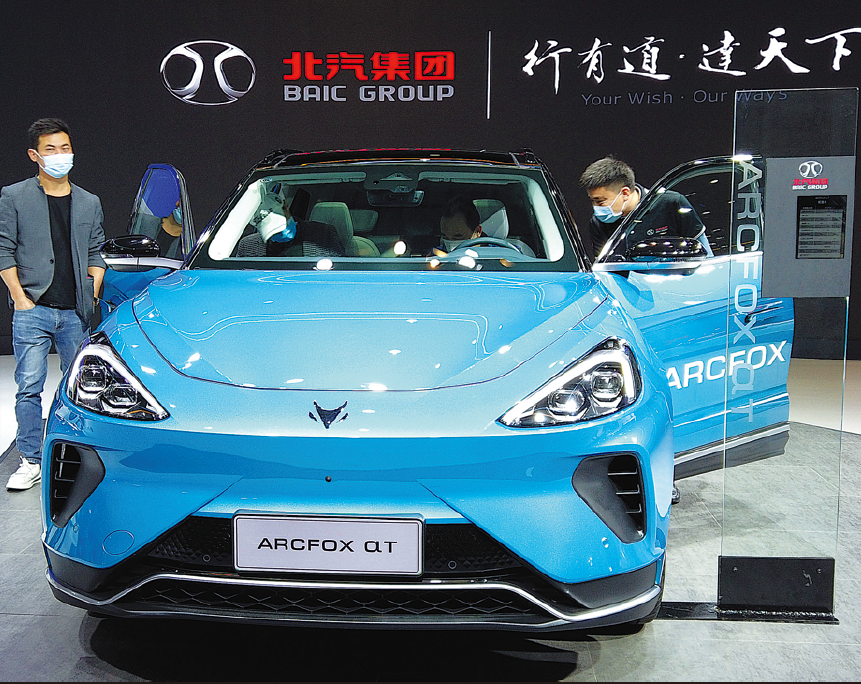 BAIC Bluepark, a Shanghai-listed subsidiary of State-owned carmaker BAIC Group, is showing signs of recovery, with its operating revenue in the first half growing 42.76 percent year-on-year.
The company's operating revenue rose to 3.48 billion yuan ($515.7 million) from January to June, from 2.44 billion in the same period last year, according to its first-half financial statement released on Thursday.
It sold 17,010 vehicles in the first half of the year, up 144.43 percent year-on-year.
Yet its net loss in the first half slipped to 2.18 billion yuan, from 1.81 billion yuan in the same period last year.
Dai Kangwei, president of BAIC Bluepark, said the growing popularity of electric models and the company's investment in research and development will speed up its pace towards profitability.
Statistics from the China Association of Automobile Manufacturers show that a total of 2.6 million electric vehicles and plug-in hybrids were sold in the first half, up 120 percent year-on-year.
The association expects such vehicles' sales to reach 5.5 million for the whole year.
Arcfox, Bluepark's premium electric brand, saw its sales soar in the first half. Over 6,000 Arcfox vehicles were delivered from January to June, up 476.1 percent year-on-year.
The Acrfox Alpha S HI sedan, the world's first to feature Huawei's operating system and autonomous driving solutions, are expected to further drive up the brand's sales as its deliveries started in July.
Dai said the company will launch two sub-compact Arcfox models in 2023, which will further enrich the marque's lineup.
Wang Qiufeng, president of Arcfox, said the brand is expected to have 186 showrooms and dealerships by the end of this year. By the end of June there were 154.
The figure will rise to over 380 by 2025, available in over 100 cities in the country.