Texas clashes with DC, NYC on busing of migrants
By MAY ZHOU in Houston | chinadaily.com.cn | Updated: 2022-08-09 11:30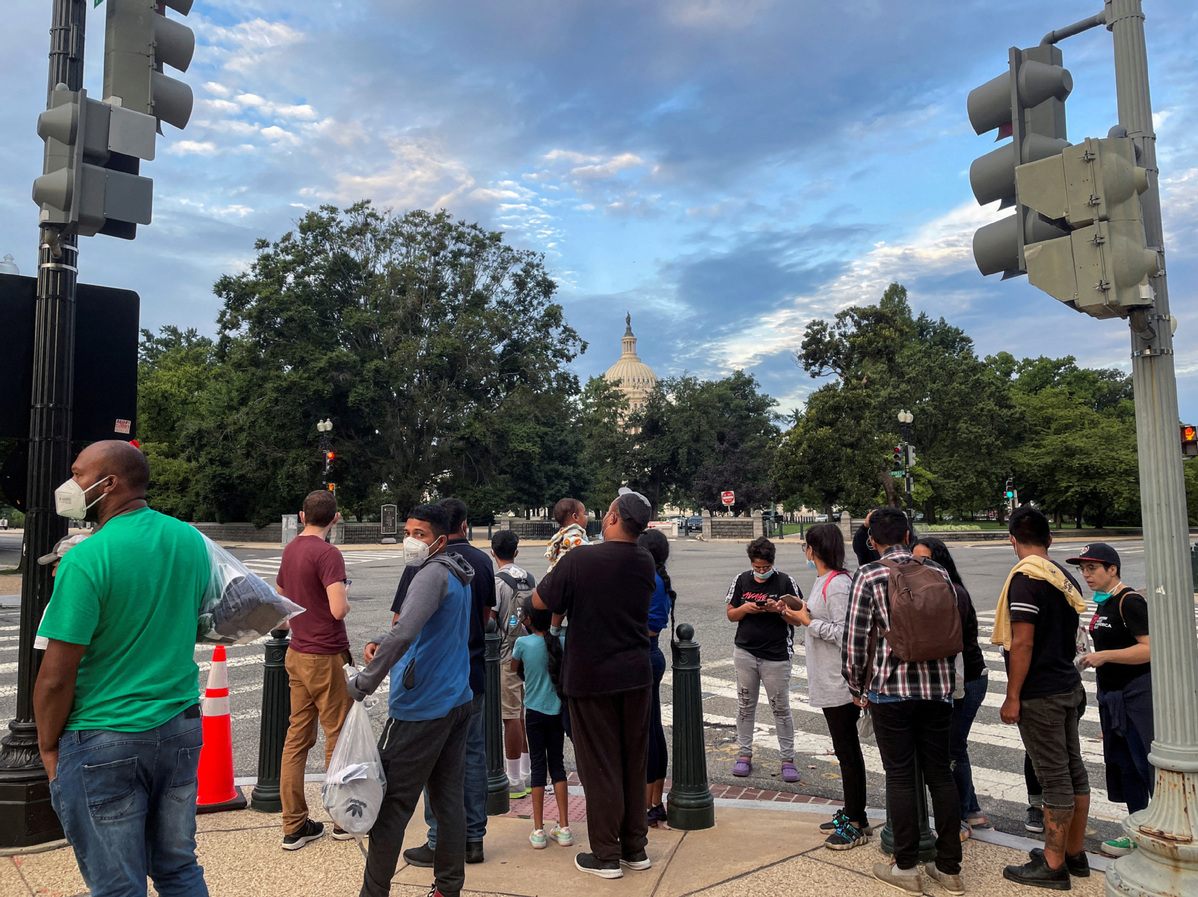 After busing about 6,500 migrants from the Texas border to Washington DC since April, Texas Governor Greg Abbott began to send some of them to New York City over the weekend.
About 50 migrants arrived at the Port Authority Bus Terminal on Aug 5. When a second bus arrived on Sunday, New York Mayor Eric Adams greeted the migrants.
About 40 migrants had boarded the bus, but only 14 arrived in New York after traveling for three days. Some left the bus along the way at unknown locations.
While Abbott claimed that he was busing only migrants who agreed to go, Adams said otherwise.
Some migrants "wanted to go to other locations and they were not allowed to do so", Adams said Sunday. "They were forced on the bus with the understanding that they were going to other locations that they wanted to go to, and when they tried to explain, they were not allowed to do so."
The Republican governor who is running for reelection this year said that Texas border towns are overwhelmed by migrants and he wanted sanctuary cities to share the burden.
Washington and New York City are ideal destinations for the migrants because they "can receive the abundance of city services and housing that Mayor Adams has boasted about within the sanctuary city", Abbott said in a statement last week.
"I hope he follows through on his promise of welcoming all migrants with open arms so that our overrun and overwhelmed border towns can find relief."
In an Aug 1 letter to Washington Mayor Muriel Bowser and Adams, Abbott invited them to visit the border and meet with local officials "who like yourselves, realize this matter deserves immediate federal action. I also ask you to join me in requesting President Biden secure the border and put an end to this disastrous crisis".
Adams declined the invitation.
"Instead of a photo-op at the border, we hope Governor Abbott will focus his energy and resources on providing support and resources to asylum seekers in Texas as we have been hard at work doing in New York City," Adams' press secretary, Fabien Levy, said in a statement.
Adams announced an emergency procurement declaration last week to rapidly obtain shelter and other services for people seeking asylum with the intent to seek reimbursement from the federal government.
According to Adams' office, approximately 4,000 asylum seekers have entered the city's shelter system since late May, the primary driver of a 10 percent increase in the city's homeless population. Currently, the city's shelter system is receiving more than 100 additional asylum seekers looking for housing, according to city officials.
In Washington, mostly nonprofit organizations are helping migrants from both Texas and Arizona with a $1 million fund secured from the Federal Emergency Management Agency. Bowser has requested that the federal government deploy National Guard troops to support helping the migrants, but the Pentagon denied the request.
"The migrant crisis facing our city and our country through cruel political gamesmanship from the governors of Texas and Arizona must be dealt with at a federal level," she said in a letter to the White House in late July.
Currently, many migrants have been turned away at the border under the Trump-era pandemic-related order that prevents them from entering the country on asylum claims.
Some migrants, primarily from Venezuela, can't be turned over to Mexico and have entered the country. The number of Venezuelans has swelled at the border, with more than 110,000 in the first nine months of fiscal year 2022.