Doctor's love is best medicine
By Yang Feiyue | China Daily | Updated: 2022-08-13 11:04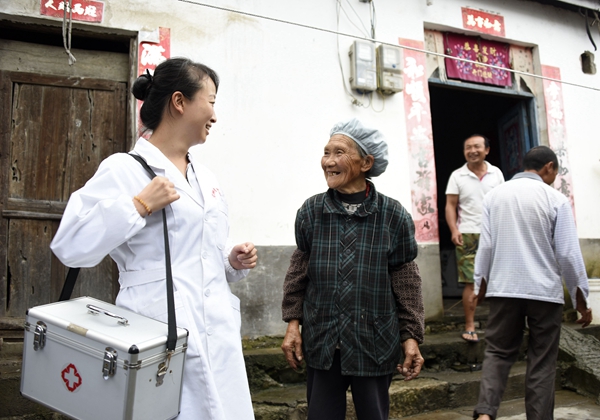 When a young physician appeared in a village to set up practice, she ran into a wall of distrust. Fourteen years on, the locals treat her as one of their own, Yang Feiyue reports.
Two pairs of old-fashioned black shoes with rugged cotton soles stand out among an array of items, including awards certificates that exemplify Zhong Jing's work in improving rural health over the past 14 years.
The shoes are by no means finely finished and point to the arduous manual labor of a 90-year-old villager who touched Zhong's soul and made her decide to put down roots in Longhe village, Longchang town, Qianxinan Bouyei and Miao autonomous prefecture in Guizhou province.
"I've never been able to get over how she must have struggled across several kilometers of rough mountain roads just to send me these shoes,"Zhong says.
The anecdote is one of many that tell of the bond between Zhong and the village's 3,000 or so residents.
Rain or shine, Zhong opens the door of her clinic in the village no later than 7:30 am each day.
The clinic is the only place where the villagers can see a doctor and have their ailments tended without trekking further afield.
Zhong, 39, knows every one of her patients and their conditions, so her diagnoses are dispensed efficiently, with prescriptions that almost always seem to do the trick.
When villagers are on their work breaks, Zhong makes calls to some who have chronic diseases, such as high blood pressure, rheumatoid arthritis and diabetes.
"I need to remind them to come to have their blood pressure and blood sugar tested," she says.
If they can't make it, Zhong visits them.
"Patient visits to the clinic have become less frequent in recent years, thanks to the increasingly better health awareness of local villagers."
When Zhong settled down in Longhe in 2008, villagers' worries of having nowhere to turn to in a medical emergency evaporated.
"I live in the clinic, so they can see me at any time of the day, even in the middle of the night," Zhong says.
For the past two years, Zhong has made a point of making more house calls to those with chronic health conditions.
"This way they don't have to move around during the special (COVID-19) times," she says.