Okinawa views overridden on bases
By WANG XU in Tokyo | China Daily | Updated: 2022-09-14 07:19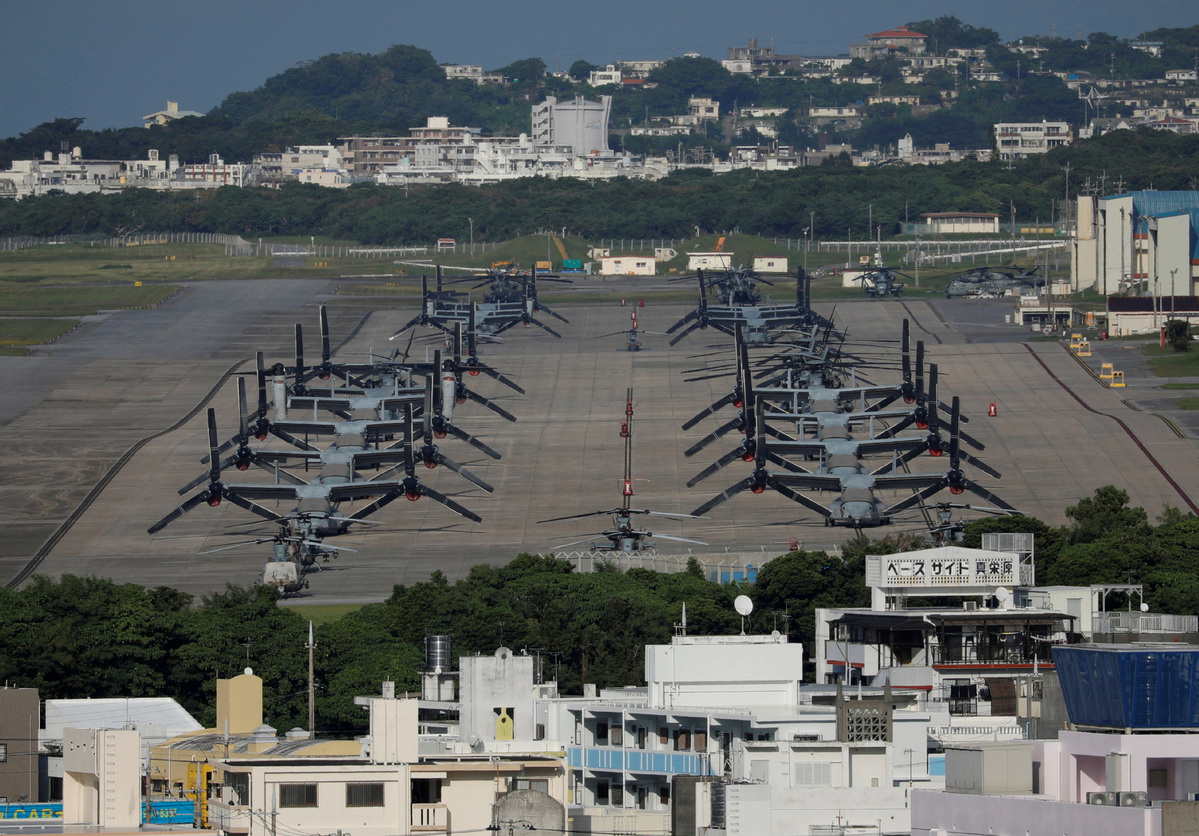 Ignoring long-standing grievances of Okinawans, the Japanese government has decided to continue with plans to move a key US base within Okinawa even as Okinawans reelected a stalwart opponent of the US military presence in the region as their governor.
On Monday, Japanese Prime Minister Fumio Kishida reiterated his intention for the relocation though Governor Denny Tamaki was elected for a second term a day earlier.
Hiroshi Moriyama, election chief of Japan's ruling Liberal Democratic Party and a close aide of Kishida, quoted the prime minister as saying that the government will continue to move ahead with the relocation plan.
Meanwhile, Chief Cabinet Secretary Hirokazu Matsuno told a news conference on Monday that the relocation plan is the "only solution to alleviate the burden on Okinawa", adding that the central government is firm on its position.
The strife further underscored a deep rift between the island and Japan's central government.
The heavy presence of US military bases and the behavior of the personnel stationed in Okinawa have been a long-standing source of tensions between the government and Okinawans.
"People in Okinawa have not wavered in their wishes (of halting the plan) even one bit," the 62-year-old Tamaki said after his win.
"It is an undeniable fact that I was elected by the people who oppose the relocation plan, meaning the Okinawans' true feelings have not changed."
Tamaki said he would go to Tokyo to urge the central government to abandon its plan and suggested he may use other means, including dialogue with the international community, to persuade the government.
Okinawa was returned to Japan in 1972 after the United States established its military base there following World War II.
Today, more than 70 percent of US military presence in Japan is concentrated in Okinawa with almost 15 percent of its main island still occupied by US military bases. Among them, the Marine Corps air station at Futenma is particularly problematic because it is built in an urban area, and the 1995 rape of a Japanese schoolgirl involving three US soldiers from the base sparked Okinawans' frustrating efforts to get the US military out of Okinawa.
"Okinawa people had experienced bloody fights and that's why I think they understand heavy military presence cannot create peace," said Wang Qi, a researcher of East Asian studies at the Chinese Academy of Social Sciences in Beijing.
"Their justified demand should no longer be ignored and the tragedy of using Okinawan people and building Okinawa as a military fortress should not be repeated."
wangxu@chinadaily.com.cn