Sisters are a glass act honoring heritage
By Wang Ru | China Daily | Updated: 2022-09-22 07:58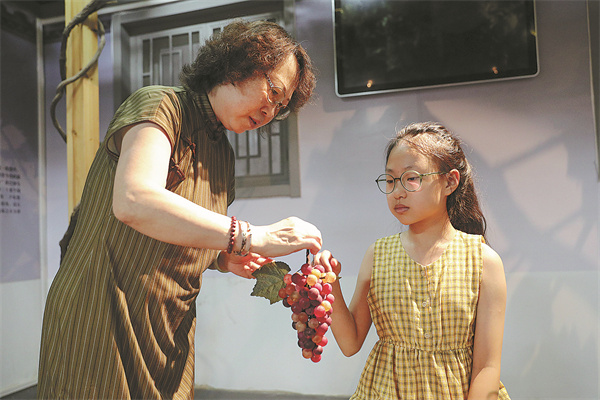 China Daily profiles ordinary people doing incredible things in the cultural sphere as the country has advanced over the past decade.
Chang Hong, 60, remembers when she was younger, she went to a shop to buy cloth with her grandaunt Chang Yuling, a craftswoman. But what happened next would have a profound effect. When Chang Yuling wanted to touch a piece of cloth to feel the texture, she was discouraged from doing so by the salesperson. Her hands bore the hallmarks of her trade, and the salesperson thought they might stain any item she touched.
Chang Hong felt humiliated, and made up her mind that in the future she would not engage with the ancestral craft, which often used dye and damaged the hands as protective gloves were not as prevalent at the time.
But, as the skills required for the craft seemed to decline, Chang Hong had second thoughts. She realized the value of it and resolutely shouldered the responsibility to retrieve and inherit it.
This particular part of the story started in 2003 when Chang Hong read a report, which claimed that some traditional crafts had disappeared into the mists of history, including the Chang family's grape-making. This has nothing to do with the vine, but is a handicraft that makes glass grapes and was invented by Chang Hong's ancestor.
In the Qing Dynasty (1644-1911), Chang Hong's great-great-grandfather, who was originally responsible for making glass pearls as eyeballs for stuffed toys, came up with the idea to make glass grapes and offered his work as tribute to the imperial family.
Chang Hong heard from her family that in the late autumn of 1894, when Empress Dowager Cixi (1835-1908) went to a theater building at the Summer Palace in Beijing, she noticed a bunch of grapes positioned by the stage. Surprised at seeing "fresh" grapes at that time of season, she demanded to taste them, but was told they were artificial.