Wang calls on US to reject zero-sum game
By CAO DESHENG | CHINA DAILY | Updated: 2022-09-24 06:55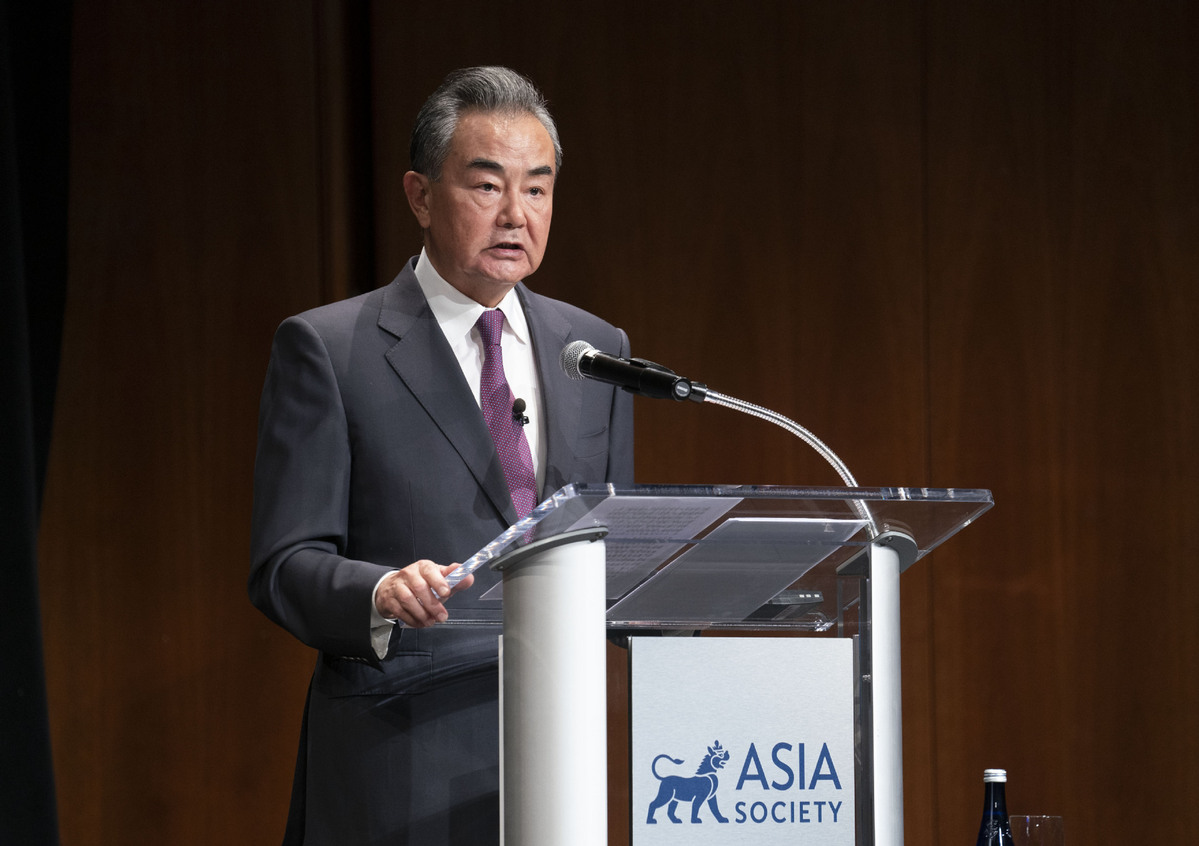 Foreign minister reiterates that Taiwan question center of China's core interests
State Councilor and Foreign Minister Wang Yi warned that if Washington plays a zero-sum game in dealing with its relations with Beijing and keeps using "political correctness" to misguide its China policy, Sino-US ties will trend toward increasing confrontation.
Wang made the remark in a speech delivered at the Asia Society in New York on Thursday on the sidelines of the United Nations General Assembly. He also stressed that the Taiwan question has increasingly become "the biggest risk" in China-US relations, and if mishandled, it will disrupt bilateral ties.
Wang's warning came amid further deterioration in bilateral relations following US House Speaker Nancy Pelosi's visit to China's Taiwan region in August, which triggered strong countermeasures from China, including suspension of military exchanges and climate cooperation with the US.
It also came ahead of a planned meeting between Wang and US Secretary of State Antony Blinken in New York. The meeting is expected to take place on Friday, Reuters reported, quoting sources from the US Department of State.
Referring to the underlying problems in Sino-US ties, Wang said the US has misconceptions about China, about the world and about itself. Its attempts to instigate "all-around confrontation" with China or its definition of bilateral ties as being of a "strategic competitor" nature are all things that veer off the right track of China-US relations, he said.
During a video summit with President Xi Jinping in November, US President Joe Biden made the commitment that the US does not seek a new Cold War with China, does not aim to change China's system, and does not support "Taiwan independence". Biden also said the revitalization of US alliances is not targeted at China and that it has no intention of seeking conflict with China. However, Beijing has blamed the US on many occasions for the latter's provocative moves that run counter to Biden's commitments.
In addition to spreading its flawed "democracy vs authoritarian" narrative to stoke ideological confrontation with China, the US conducted official exchanges with and arms sales to the Taiwan region in recent months. Recently, the US Senate Foreign Relations Committee passed the "Taiwan Policy Act of 2022".
The US side has continuously challenged China on issues concerning its core interests and development rights, and at the same time, it claims that it wants to maintain stable relations with China and avoid conflict and confrontation, which are contradictory both in logic and reality, Wang added in the speech.
He reiterated that the Taiwan question is at the center of China's core interests, the one-China principle is the political foundation of China-US relations, and the three China-US joint communiques are the most important "guardrails" for bilateral ties.
However, supported and connived by Washington, "Taiwan independence" forces are growing on the island, which poses the biggest threat to the peace and stability across the Taiwan Straits, Wang said."'Taiwan independence' is like a highly disruptive gray rhino charging toward us that must be stopped resolutely."
He added that the right way for both countries to develop their relations is to adhere to mutual respect, peaceful coexistence and win-win cooperation.
Wang urged the US to abandon its "Cold War" mentality, saying that its attempts to contain and repress China with geopolitical games, including its Indo-Pacific strategy, are doomed to fail.
Hamzah Rifaat Hussain, a former visiting fellow at the Stimson Center in Washington and former assistant researcher at the Islamabad Policy Research Institute, said that historical sensibility and strategic foresight are missing from Washington in terms of Sino-US relations.
The correct trajectory of bilateral ties depends on the US administration changing course on subjects such as Taiwan and upholding historical precedents for a brighter future, Hussain said in an op-ed piece published on the China Global Television Network.
caodesheng@chinadaily.com.cn