China, Japan enjoy fruits of cooperation
By WANG XU in Tokyo | China Daily | Updated: 2022-09-30 07:03
Significance highlighted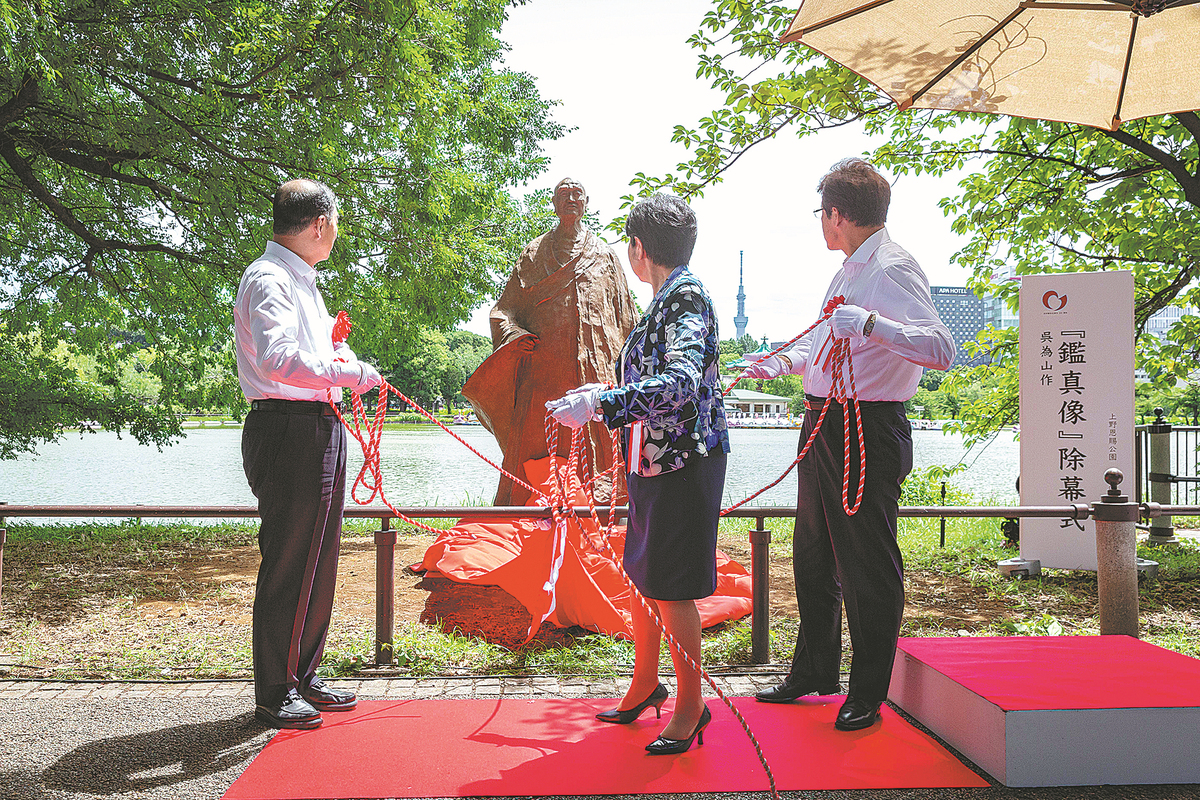 Commenting on the significance of the visit and the diplomatic statement, Chinese Ambassador to Japan Kong Xuanyou said: "The China-Japan Joint Statement put a complete end to the postwar confrontation and isolation between Beijing and Tokyo, ushering in a new historical chapter.
"As we commemorate the 50th anniversary of the normalization of Sino-Japanese diplomatic ties this year, it is a right occasion to honor the strategic vision and political courage of the older generation leaders, and also the firm conviction of the two peoples to pursue peace and development."
Relations between the two countries enjoyed a honeymoon period in the 1970s and 1980s, when Japan used its expertise gained from rapid economic growth, along with government loans, to help China develop its infrastructure and pursue industrial projects.
The Baoshan steel plant in Shanghai and similar projects became symbols of this cooperation, marked by win-win outcomes in the way they promoted the flow of talent, skills and technology from Japan while laying the foundation for Japan's huge presence in China's industrial and consumer markets.
The two countries managed to maintain somewhat good political relations in the 1990s. But they began to sour in the 2000s when Japan's then-prime minister Junichiro Koizumi repeatedly visited the notorious Yasukuni Shrine, where 14 Class-A war criminals are honored in Japan.
The shrine is regarded as a symbol of Japan's past atrocities and militarism worldwide and its Yushukan, a war museum inside the shrine, espouses Japan's right-wing narrative of its militaristic past.
The ties then entered a downward spiral a decade ago following Japan's unilateral change of its policy and the status quo concerning China's Diaoyu Islands by illegally "nationalizing" them in 2012.
The trade conflict initiated against China by US president Donald Trump in 2018 saw a further erosion of the China-Japan relationship. In line with the US' actions, Japan heavily politicized economic activities between it and China, including effectively banning communications equipment from China's Huawei Technologies and ZTE imposed that year.
The administration of US President Joe Biden is also focused on using economic security as a political weapon and is urging its allies to join in with such efforts against China. Tokyo, which has been caught up in the rivalry, has appeared more enthusiastic than ever to align itself with the US in terms of regional geopolitical and economic confrontation, at the expense of its economic ties with China.
"Japanese Prime Minister Fumio Kishida's government has been aggressively promoting the so-called economic security concept, with the Japanese parliament in May passing an economic security bill aimed at guarding technology and reinforcing critical supply chains," said Wang Qi, a researcher of East Asian Studies at the Chinese Academy of Social Sciences in Beijing. Such actions have led many to believe that the Japanese government is using economic security as an excuse to shut out China, Wang said.
However, despite efforts by some Japanese policymakers to bring about what amounts to an economic decoupling with China, a gap is apparent between the rhetoric of these policymakers and how companies are going about their business in China. In spite of the noise in some quarters, economic ties between the neighbors remain robust — arguably stronger than ever.