Chinese literature club launched in Tokyo
By Yang Yang | China Daily | Updated: 2022-10-12 08:14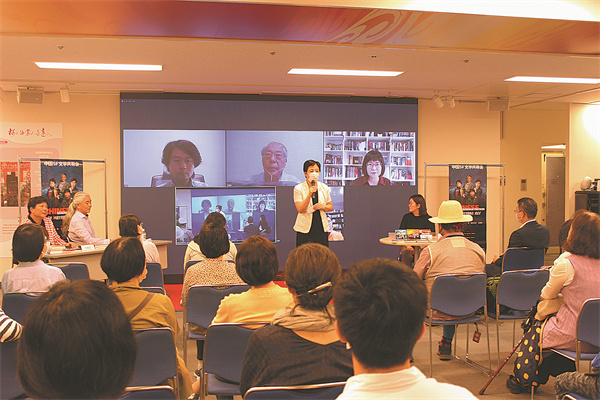 Starting from Chinese writer Lao She's Cat Country, Japanese guest speakers talked about their experience of reading Chinese science fiction. For them, Chinese sci-fi literature has developed quickly in the last 10 years, and works like The Three-Body Problem are profound, with splendid views of the world and impactful themes, and thus have attracted a lot of Japanese readers.
Chinese science fiction burgeoned at the start of the 20th century, when writers like Liang Qichao and Lu Xun tried to popularize science among Chinese people by introducing science fiction. After 2000, especially in recent years, Chinese science fiction has made great progress with the rise of excellent writers such as Liu Cixin, Wang Jinkang, Han Song and He Xi, as well as a new generation represented by Hao Jingfang, Chen Qiufan, Bao Shu and Qi Yue. In recent years, China has published, on average, more than 500 sci-fi novels annually. In 2023, Chengdu in Southwest China's Sichuan province will host the 81st World Science Fiction Convention.
Initiated by the Chinese Writers Association and readers from different countries, the Chinese Literature Readers' Club is to introduce more Chinese literary works and writers to overseas readers. Launched in August 2021, the club has set up branches in 22 countries and has hosted more than 40 reading events.