Xi, Scholz to expand 'pie' of shared interests
Share - WeChat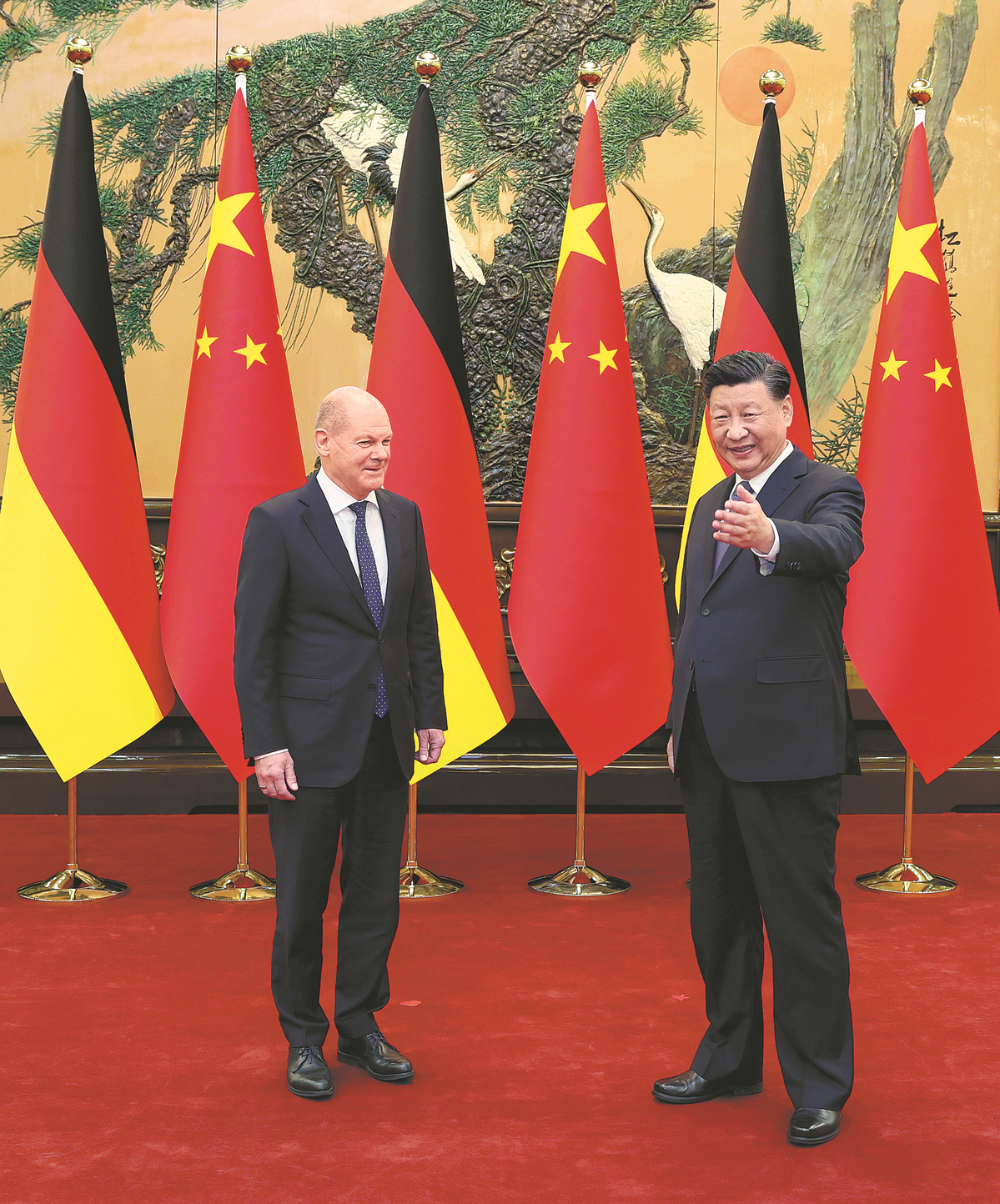 Leaders pledge to uphold economic globalization, resist bloc confrontation
China and Germany have reaffirmed their commitment to stabilizing and consolidating bilateral ties as well as promoting China-Europe cooperation, and vowed to expand the "pie" of their shared interests and work together to uphold regional and global peace and security.
During their meeting in Beijing on Friday, President Xi Jinping and German Chancellor Olaf Scholz, who was in China on an official visit, pledged to further develop Sino-German cooperation in trade, economy and investment, strengthen the countries' coordination and partnership in international affairs and global challenges, and jointly uphold economic globalization while opposing bloc confrontation.
While exchanging their views about the ongoing Ukraine crisis, Xi urged the international community to support every effort to help peacefully resolve the crisis, jointly oppose using or threatening to use nuclear weapons to prevent the Eurasian land mass from seeing a nuclear crisis, and make efforts to ensure the stability of industrial and supply chains.
Scholz was the first European and G7 leader to visit China in about three years. Joining him on the whirlwind one-day visit was a team of German industry executives.
During their meeting, Xi underscored the need for China and Germany, two major influential countries in the world, to work together in times of change and instability, and contribute more to global peace and development.
He briefed Scholz about the 20th National Congress of the Communist Party of China, which elected a new CPC Central Committee with Xi at the core, and explained the Chinese path to modernization, saying that the country always upholds and promotes world peace and development with its own development.
China will firmly promote high-standard opening-up, adhere to the right direction of economic globalization, continue to push for the building of an open world economy and widen the convergence of interests with other countries, Xi said.
In terms of Sino-German ties, Xi said both countries should take mutual political trust seriously. Both countries should respect each other, take into account each other's core interests, uphold dialogue and consultation as well as jointly prevent bloc confrontation or the tendency of pan-ideologies from influencing their relations.
Saying that China maintains consistency and stability in its policy toward Germany, Xi expressed his hope that Germany would pursue a positive China policy to seek mutual benefit and win-win results.
This year marks the 50th anniversary of the establishment of diplomatic ties between China and Germany. Over the past five decades, the two countries have witnessed a deepening of their pragmatic cooperation with bilateral trade volume having increased by about a thousandfold, Xi said.
He urged both countries to continue to expand the "pie" of their common interests, and boost bilateral cooperation in the new fields of new energy, artificial intelligence and digital economy while tapping cooperation potential in traditional sectors.
China is willing to continue to intensify aviation cooperation with Germany and other European nations, Xi said.
He also expressed his hope that Germany would work along with China to resist protectionism.
In terms of China-Europe relations, Xi said China considers Europe as a comprehensive strategic partner, and that it supports the EU's strategic autonomy and insists the Sino-European relationship should not target or rely on any third party or be subjected to a third party.
China stands ready to strengthen coordination and cooperation with Germany and the European side in international affairs, and work together to find solutions to global issues including climate change, biodiversity protection and food security, he added.
Scholz expressed his appreciation for China's important role in coping with global challenges, and he assured Xi that Germany firmly supports trade liberalization and economic globalization and opposes economic "decoupling".
Germany stands ready to continue to intensify trade and economic cooperation with China and supports two-way investment, he said.
The German chancellor said his country opposes bloc confrontation and is willing to play a due role in promoting Europe-China ties.
Xi expressed China's support for Germany and Europe in facilitating peace talks regarding the Ukraine crisis, and said that the international community should urge relevant parties to exercise rationality and restraint, start direct engagement as quickly as possible, and create conditions for the resumption of talks.
The international community should work together to keep global industrial and supply chains stable and forestall disruption to international cooperation in energy, food, finance and other areas and consequent damage to global economic recovery, especially the economic and fiscal stability of developing countries, he said.