Internet empowers WIC
By MA ZHENHUAN in Hangzhou | China Daily | Updated: 2022-11-08 10:11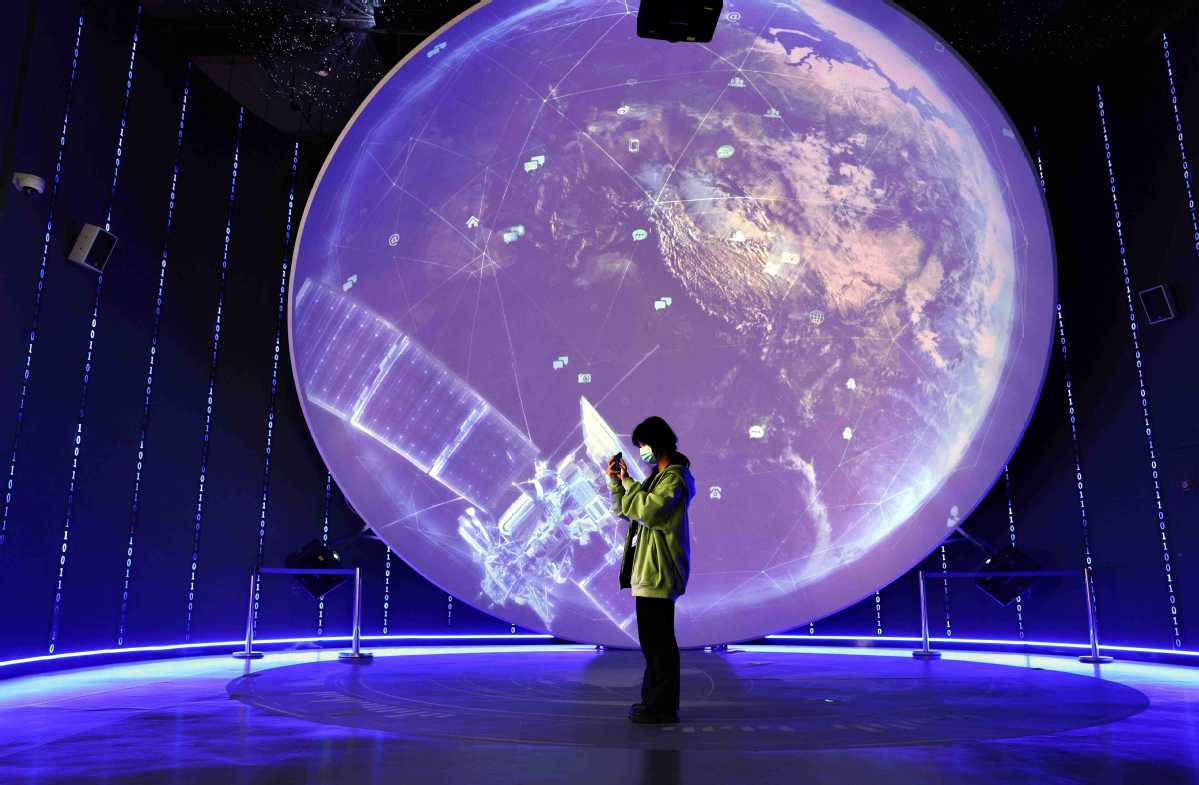 Latest achievements across industry on display in bustling conference
The 2022 World Internet Conference Wuzhen Summit is scheduled to take place from Nov 9 to 11 in Wuzhen, East China's Zhejiang province.
Under the theme Toward a Shared Digital Future in a Connected World — Building a Community with a Shared Future in Cyberspace, this year's summit will be empowered by artificial intelligence, cutting-edge technologies, and big data.
The summit is not only a feast to present the latest achievements in the internet industry but also a chance to show the comprehensive application of high technologies.
Intelligent applications
Many cutting-edge technology applications, such as AI, metaverse, augmented reality and virtual reality, are being employed to provide visitors with an interactive experience in conference venues, exhibition areas, scenic spots, and townships during the summit.
Autonomous driving is to be realized through the development of an applet, called Wuzhen Summit One Stop, integrating Baidu's ApolloPark intelligent vehicle-road collaboration system.
The applet focuses on the basic needs of guests, such as eating, living, and traveling, and has set up 12 sectors to provide convenient services for them.
To achieve the coverage of 5G signals, 40 10-gigabit optical cables are to be connected during the summit. Compared with the first WIC in 2014, visitors can fully feel the fast development of the internet.
A total of 2,165 5G base stations were built in the city, of which 279 are located in Wuzhen. To ensure the internet bandwidth capacity, the bandwidth capacity in important places has been doubled, and all kinds of media have live broadcast broadband for thousands of their gadgets.
It is expected that more than 400 domestic and foreign companies from 40 countries and regions will display their latest products through on-site and online exhibitions. The new products and technologies include digital infrastructure, digital common prosperity, and cyberspace governance.
To provide a platform for companies that cannot participate in offline exhibitions, the conference initially launched the Internet Light Cloud Exhibition Hall.
On Nov 6, the finals of the Straight to Wuzhen Competition were held with seven competitions in digital medicine, digital "carbon peaking and carbon neutrality goals", AI, industrial internet, internet-connected cars, network security, and digital common prosperity.
A total of 1,110 projects from 23 countries have signed up for the competition, including 106 overseas projects.
Meanwhile, the conference will also feature a series of supporting activities, including closed-door meetings of the investment community.
This year's conference will highlight the characteristics of Zhejiang, which will be supported by three main activities, including the Digital Economy Industry Cooperation Conference, the Digital Empowerment and Common Prosperity Demonstration Zone Exhibition, and the Yangtze River Delta Integrated Digital Civilization Seminar.
These activities aim to provide a platform for enterprises, capital and local governments to promote industrial exchanges and cooperation in the field of the digital economy, further undertake the spillover effect of the summit, and allow more regions to enjoy the dividends of the WIC.
To ensure the legacy of the summit, regular research and a series of news interview programs will be conducted throughout the year. In addition, with the mascot "Xiao Hu "as the prototype, the related derivative products will also be unveiled during the summit.
Service improvements
At the Wuzhen branch of Tongxiang public security bureau, the Wuzhen Summit Global Governance Integrated Application System, the Multidimensional Early Warning Platform and other management and control systems are steadily being operated, which connect data from different departments, such as the big data bureau, public security bureau, and disease control center, to provide precise information on things like epidemic control.
More than 400 people have received training in the summit's service, including etiquette, job specification, and especially refined training for different guests to provide high-quality services.
In terms of accommodation and dishes, guests are going to stay in the Xizha Scenic Area and other high-quality hotels. The media and invited audiences will stay in hotels or homestays. Special dishes across the 11 cities in the province will be served.
For transportation, several guest reception points were set up to ensure the pickup and drop-off services for 24 hours at the Hangzhou Xiaoshan International Airport, Hangzhou East Railway Station, and Tongxiang High-Speed Railway Station.
The people, cars, and equipment for power supply are ready for 24 hours. More than 4,500 kilometers of natural gas pipes have been inspected and 156 construction sites around the surrounding natural gas facilities have been handled in Wuzhen.
Fang Xiaoying contributed to this story.