National security high on Customs' agenda as new hires head to mainland for training
Share - WeChat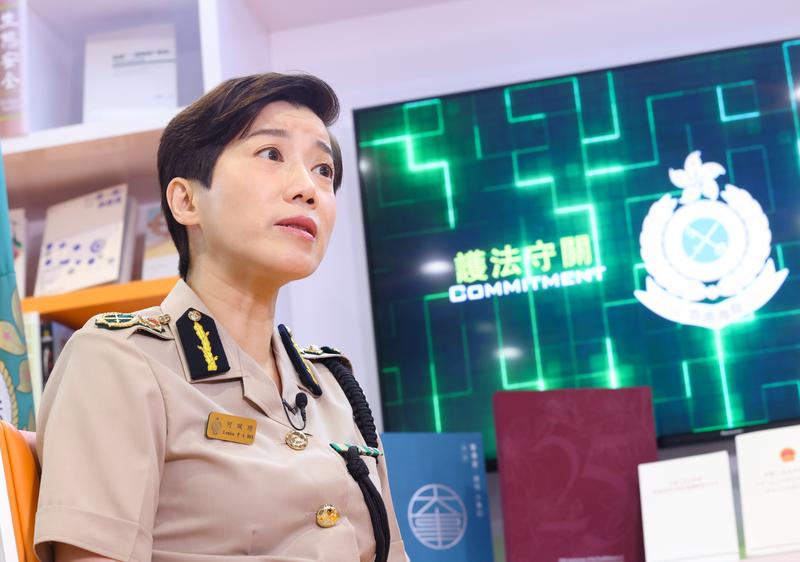 The Hong Kong Customs and Excise Department plans to send new hires to the Chinese mainland during orientation training to give them a sense of the nation's culture, history, regime and situation, and the department's role in safeguarding national security.
Louise Ho Pui-shan, commissioner of Customs and Excise of the Hong Kong Special Administrative Region, told China Daily in an interview that those already working at the department will make similar visits.
The mainland visits for both the new hires and veteran employees will take place when the pandemic eases, she said.
Ho said the department has taken a raft of initiatives to enhance national security education in and outside the force since the National Security Law for Hong Kong came into effect in June 2020.
Education on national security has also been included in the training for new hires. A designated website on national security has been set up for employees to learn more about it, Ho said.
National security-related materials, such as President Xi Jinping's speech in Hong Kong on July 1 and materials on the essence of the 20th National Congress of the Communist Party of China, have been uploaded to the website for officers to study. They will have to pass tests related to the materials, Ho said.
The department has also set up a national security "information corner", which is home to books, photos of magazines about the country's culture, politics, scientific and economic development.
Externally, the department is increasing the frequency of Hong Kong Customs College Open Day, to deepen public understanding of national security, as well as the department's duty and jobs.
The open day is on April 15 - the National Security Education Day every year - on which all the disciplinary forces in the city make a joint effort to assist the public in gaining a thorough understanding of the importance of national security.
In addition, Hong Kong Customs is taking advantage of high technology to develop smart customs to fend off crimes and enhance efficiency.
Hong Kong Customs promulgated the "Smart Customs Blueprint" in 2019, aiming to build itself into a data-driven department. In June, the Legislative Council gave the department HK$3.4 billion ($433 million) to construct the infrastructure facilities for smart customs, including cloud-based equipment, big data capabilities, and the means to maintain technological security.
"The National Security Law has stabilized the city overall. However, we need to raise awareness to guard against infiltration of ideology. In particular, we should look out for brainwashing items aiming at the youngsters, to prevent the tragedy from reoccurring," Ho said.
Ho said she believes that overseas anti-China criminals have changed their ways of doing things by resorting to "soft confrontation" tactics, through which they develop propaganda, including books and publications to mislead the city's youth and provoke them to commit crimes.
Combating soft confrontation will require gathering intelligence, Ho said. She pledged that Hong Kong Customs will work closely with other national security-related departments to exchange information. Once anomalies are detected, Hong Kong Customs will take action immediately, Ho added.
Ho also said Hong Kong Customs also pays special attention to the importation of airsoft guns and their accessories, as they may threaten national security after illegal modification.
Hong Kong Customs will strengthen cooperation with the police in this regard. If any suspicious airsoft guns or accessories are found, Hong Kong Customs will ask police to come to the scene and determine whether to take over the investigation, Ho added.
Because of the pandemic, Hong Kong International Airport and the border with the mainland are not fully open, and the number of smuggling cases involving travelers are fewer. Instead, smuggling cases through freight transport have increased, Ho said.
Criminals may take advantage of the spaces in the cargo to hide smuggled goods, Ho said.
On Oct 26, Hong Kong Customs foiled an attempt to smuggle to the mainland goods worth HK$300 million, the city's largest sea smuggling case this year. A batch of food ingredients, table wines, electronic goods, solid waste, and endangered species was seized inside 10 containers of wooden boxes in an oceangoing vessel.
As for money laundering, criminals are becoming more sophisticated in using cryptocurrencies. Hong Kong Customs smashed a suspected money-laundering syndicate that used cryptocurrency to process illegal funds totaling HK$1.2 billion in July 2021.
Most cases involving young people that are of concern to customs relate to the trafficking of illegal drugs and the smuggling of illicit cigarettes. In addition, trends reveal that young people committing crimes are becoming younger and their crimes a becoming more severe, Ho said.
Teenagers are turning to crime at are younger age and are playing increasingly important roles in criminal cases. They may be in charge of a drugs warehouse, distribute drugs, or hand out telephone numbers for ordering illicit cigarettes on public housing estates. In a recent drugs case, one suspect was only 14 years old.