Skipping his way to success
By LIU MINGTAI in Changchun and ZHOU HUIYING | China Daily | Updated: 2022-11-24 09:18
Guinness finally verifies world record set by 17-year-old Jilin student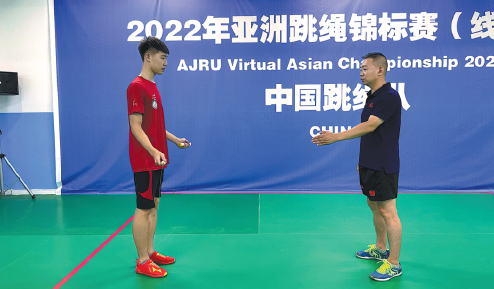 Ma Jiajun and his parents were thrilled to receive a Guinness World Records certificate for his attempt to make the most consecutive jump rope triple unders (male) in August, even though several months had passed since the event.
The 17-year-old senior high school student at Jiangcheng Middle School in Jilin city, Jilin province, took nearly eight minutes to complete the challenge and achieved a result of 701 consecutive jump rope triple unders at a local jump rope club.
The attempt was recorded and the video was sent to Guinness World Records.
Once the approval and verification process was completed, Ma was recognized for his attempt.
The previous record of 423 had been set by a Japanese competitor in 1987.
Ma began to practice jump rope in the third grade at primary school.
"My parents just wanted me to improve my physical strength," he said. "At first, I couldn't do any consecutive jumps."
However, the boy demonstrated talent and an interest in the sport.
Under the instruction of his PE teacher, Ma spent at least two hours a day practicing and later joined the school jump rope team as he improved.
In 2014, he participated in the National Jump Rope Championship in Taiyuan, Shanxi province.
Ma won the gold in the jump rope double unders for children category, breaking a record in the process.
At the suggestion of his PE teacher, Ma decided to become a professional jump rope athlete and joined the Letiao Jump Rope Club in 2019.
At first, he struggled to adapt to the high-intensity training.
"It was completely different from what I'd done before, regardless of my physical strength, endurance, rhythm, flow or anything else. I had to practice for four hours a day," he said.
"Every time I finished, I felt exhausted and sometimes suffered from vomiting, leg cramps and even a lack of oxygen. I slightly regretted my choice and thought about giving up."
Ma's coaches Xu Tianhai and Mang Yong immediately noticed his depressed mood and were more attentive and encouraging after training.
"Thanks to my coaches, I adjusted and rediscovered the fun of jumping rope," he said. "I gradually got used to the high-intensity training, which allowed me to make great progress."
Over the next few years, Ma won several awards at different competitions across the country.
Early last year, he began to specialize in jump rope triple unders training and had the idea of challenging the world record.
"It requires extremely high standards," Xu said of triple unders. "Athletes must have good rhythm, endurance, bounce and coordination. It's difficult to succeed without strength and perseverance."
Ma poured most of his time into practicing after school.
"Sometimes I would spend up to seven hours training, particularly in the months before the challenge in December," he said. "To be honest, sometimes I felt I couldn't bear it anymore, but my desire to win glory for my country kept me going."
Ma is busy preparing for the upcoming 2022 Asian Jump Rope Union Virtual Championship, and has set a new goal of breaking the official record of 530.
"It is not very difficult for me, but I will work hard in every training session," he said. "After the championship, I will put my energy into preparing for college entrance examinations in June."
But attending university won't put him off his beloved sport.
"I hope to continue my studies at a professional sports university and have the chance to promote jump rope to the public to encourage more people to take part in this interesting sport across the country," he added.
Zhang Siyu contributed to this story.