Italy's budget tackles alleged welfare abuse
By JONATHAN POWELL in London | China Daily Global | Updated: 2022-11-25 09:47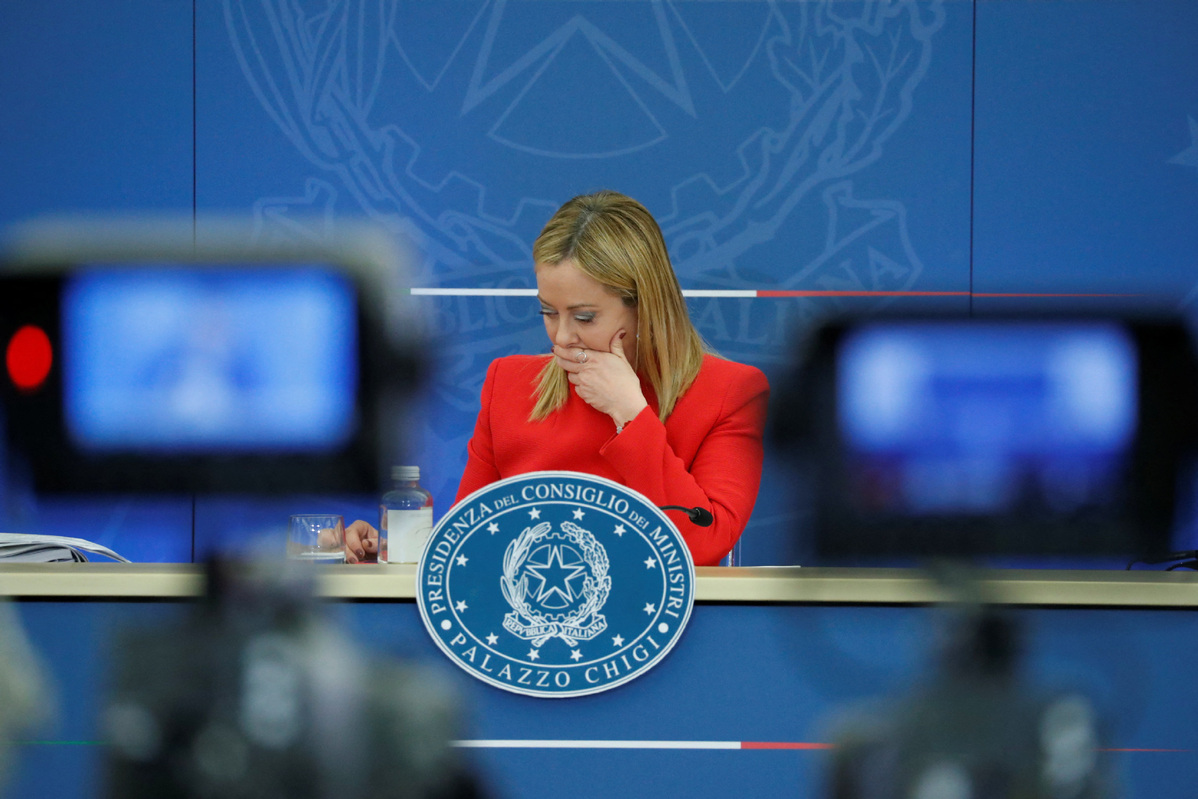 Italy's new hard-right government is facing criticism for its proposed changes to the country's welfare system announced in its 2023 budget this week.
Opponents of Italian Prime Minister Giorgia Meloni say her government's first budget targets the poor and are planning street protests.
Meloni revealed the 2023 budget on Tuesday, describing it as a "courageous" package that will curb soaring energy bills and cut workers' taxes.
On welfare, she said Italians who refuse job offers will lose social benefits, reasoning that the system is being exploited by those not entitled.
Italy has been operating an initiative called citizens' income, which is a poverty-relief aid scheme introduced in 2019 by the Five Star Movement, a populist party that was part of a previous government but is now in opposition.
Meloni argues that the 780-euro ($813) a month payment claimed by 3.5 million Italians, mostly in the south of the country, reduced incentives for people to find jobs and has been widely abused. She said the initiative will be curtailed with an eye to terminating it completely by 2024.
Speaking in a news briefing after the budget announcement, she said: "Faithful to our principles, we'll keep helping those who can't work. For the others it will be abolished," she added.
The central budget policy is a 35-billion-euro spending plan that the government hopes will prompt faster economic recovery and appears to follow a framework proposed by the European Commission, said the Reuters news agency.
It will allocate more than 21-billion euros to assist companies and households to pay gas and electricity bills.
The government aims to fund the spending with extra borrowing, as well as from a windfall tax on energy companies.
Among other measures, the budget lowers the retirement age, encourages Italians to have more children and increases child benefit. It has also revived a controversial plan to connect Sicily to the mainland with a bridge, a project that had been rejected by Parliament 16 years ago.
The budget will now be put to a vote in Parliament, which must pass it by the end of the year. "I consider it a courageous and coherent budget, courageous in the sense that it bets on the future," Meloni told reporters.
Opposition parties said the budget failed to tackle recession and double-digit inflation, reported Reuters.
Former prime minister Enrico Letta said his center-left Democratic Party, or PD, would organize street protests on Dec 17, while Antonio Misiani, the PD's economics spokesman, was quoted as saying the budget was a "war on the poor" and that it favored tax evaders.
Another former prime minister Giuseppe Conte, leader of the left-leaning Five Star Movement, described the cuts to poverty relief as "inhuman".
Federico Santi, a senior analyst with the Eurasia Group political risk consultancy was quoted by The Daily Telegraph describing the budget as prudent and responsible, and suggesting it signaled "a degree of fiscal restraint".