Data trading set to grow despite odds
By SHI JING in Shanghai | CHINA DAILY | Updated: 2022-11-26 07:00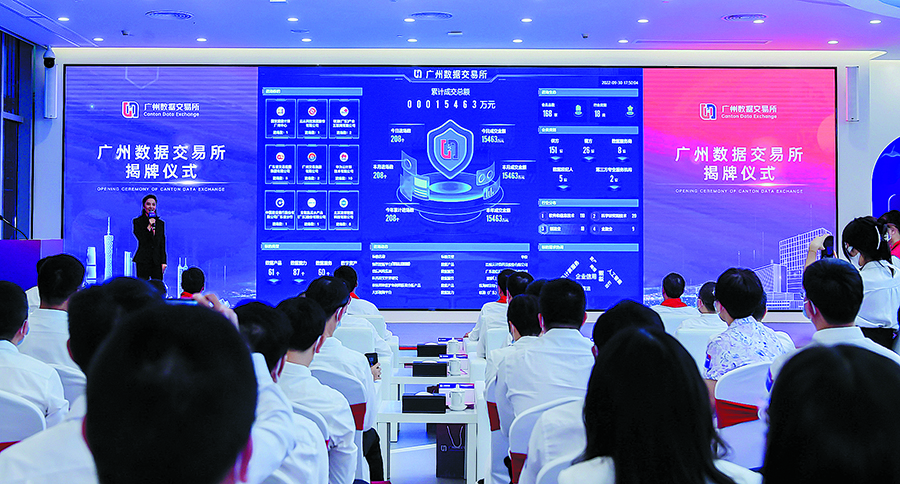 Shanghai exchange eyes bright future as market in China finds foothold
Although data exchanges built nationwide are spurring trading in data, more efforts are needed to establish the basic trading mechanism and construct related infrastructure, experts said on Friday, on the occasion of the anniversary of the Shanghai Data Exchange.
Official trading on the SDE commenced on Nov 25 last year. By the end of this year, total trading value of various data products is expected to exceed 100 million yuan ($14 million), SDE officials said at the Global Data Ecosystem Conference, which was held on Friday to mark the exchange's anniversary.
Typically, data, in the context of trading on specialized exchanges, signify wide-ranging content — research material, analytics, insights and other kinds of actionable information or knowledge — on industries or subjects like finance, transportation, consumer behavior and public utilities.
Only 20 products debuted on the first day of the SDE operations last year. That number is expected to exceed 800 by this year-end.
To date, more than 500 companies from 10 major sectors of consulting, security and compliance rating and data delivery have signed partnership agreements with the exchange, according to data in the public domain.
Efforts will be made to set up an international board at the SDE, exchange officials said.
The Shenzhen Data Exchange was inaugurated on Nov 15 this year, with the total trading value exceeding 1.1 billion yuan so far.
The Beijing International Data Exchange was launched in March 2021, while its counterpart in Guangzhou, Guangdong province, became operational on Sept 30, with turnover on the first day exceeding 1.55 million yuan.
According to the Ministry of Industry and Information Technology, 44 data trading institutions have been built across the country as at the end of August.
Ding Xiaodong, associate professor at the Law School of the Renmin University of China, said that government-backed data exchanges can help companies meet compliance regulations amid reliable trading rules. Necessary risk evaluation and security recognition are also provided at these exchanges.
Although companies are willing to engage in data trading, turnover is relatively small at present. Lack of adequate data with authentic and verifiable ownership has somewhat slowed the pace of development of the market, said Jiang Xiangyu, partner of Co-Effort Law Firm in Shanghai, adding the trading parties concerned are keen to avoid any violations of law during data trading.
Price discovery in traditional commodity and securities exchanges tends to be relatively easier as all the traders concerned perceive the value in the same light, leading to agreement on a price of a commodity or stock. But in data trading, perception of value of a piece of data might, and often does, change from person to person. This factor is hindering the development of large-scale data trading, said Jiang.
"It will take some more time to build and complete the trading mechanism at data exchanges," he said.
To address these challenges, six major documents concerning basic mechanism and infrastructure construction for data trading were released at the conference on Friday.
Among these is a white paper to build a unified data asset registration system nationwide, which pointed out that the same standards for seven major areas, including data registration credentials, registration body and registration process, should be applied throughout the country.
Six major projects kicked off at the conference, including an experimental program for standardized data trading and the launch of a data asset registration platform.