Shanghai, Xiamen marathon runners eligible for 2023 world championships
Share - WeChat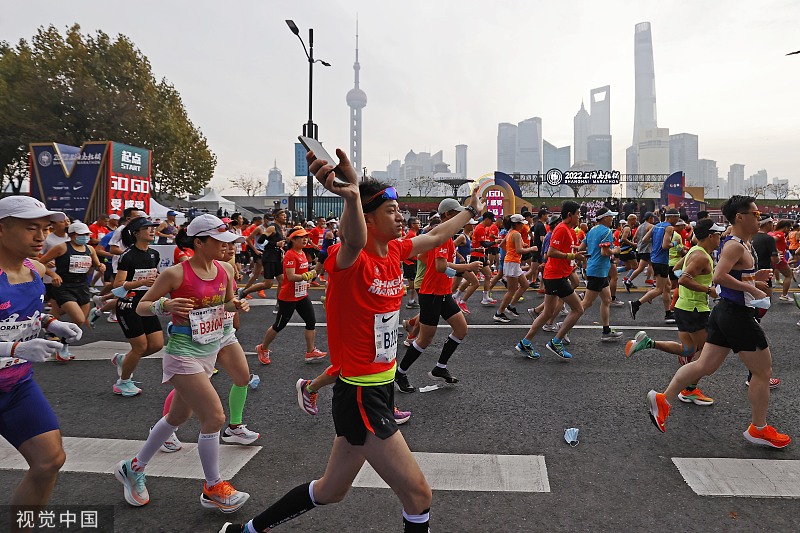 Following the return of the Beijing Marathon earlier this month after a two-year hiatus, the Shanghai and Xiamen marathons were held on Sunday, attracting 18,000 and 28,000 runners respectively.
The Shanghai International Marathon, an annual event held in late autumn since 1996, became the country's first Platinum Label Road Race of World Athletics, formerly known as the International Amateur Athletic Federation and International Association of Athletics Federations, in 2020. The Xiamen Marathon, which was first launched in 2003, gained the same status the following year.
Due to the ongoing COVID-19 epidemic, the 2022 Shanghai International Marathon was restricted to residents of the city only and was subject to stringent epidemic control measures, while the 2022 Xiamen Marathon also served as the 2022 National Marathon Championships, which was originally scheduled for Jan 3 this year.
Both events attracted top domestic runners with the first five male and female runners to finish automatically become eligible for the 2023 World Athletics Championships in Budapest. Although any association, such as China, can generally send up to three athletes to compete in a single category.
Yang Shaohui, the best performer on the Chinese men's marathon team at the Tokyo Olympics, won the men's championship in 2:16:04 during the Shanghai race, which started at the Bund and finished at the riverside West Bund Art Center in Xuhui district.
"I have been suffering from injuries, so the result is not particularly satisfactory, which is a pity," the 30-year-old told Shanghai-based news portal ThePaper.cn.
Yang, who completed the Chicago Marathon in 2:16:11, is looking forward to representing China and making a breakthrough on the international stage with his qualification for the 2023 World Championships.
"I hope that there will be no regrets. Whether it is the World Championships or the Asian Games, I hope to achieve good results," Yang said.
In the women's group, 26-year-old Zhang Deshun topped the time sheet in 2:28:17. Zhang said that being able to return to the race is an encouragement for every runner. "Every race is a challenge, a harvest and an honor."
In Xiamen, Feng Peiyou claimed the men's title in 2:13:53. In the women's race, Li Jingfen crossed the line first in 2:36:14.
"This is my best result ever. The environment is very good and I was warmly welcomed by the crowd," Feng told Xinhua.