UK's foreign policy to take longer-term view
By JONATHAN POWELL in London | China Daily Global | Updated: 2022-11-29 10:07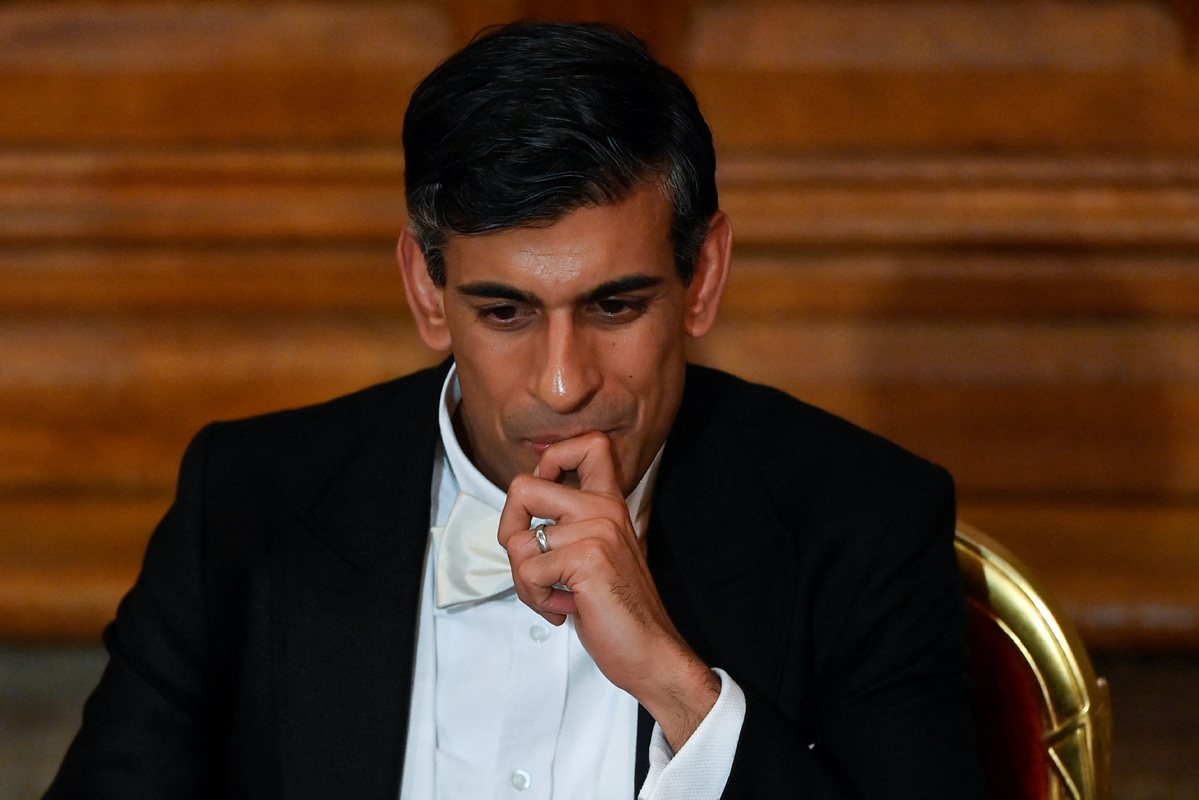 Prime Minister Rishi Sunak expected to adopt more 'pragmatic' stance on China
Britain's Prime Minister Rishi Sunak was expected to outline his vision for an evolutionary, long-term, pragmatic approach to foreign policy, including in relations with China, in a key speech to business leaders and international dignitaries on Monday evening.
In his first major foreign policy speech, to be delivered at the Lord Mayor's Banquet at London's Guildhall, Sunak was expected to say the United Kingdom's strength abroad must be fortified by a strong economy at home as it stands up to competitors with "robust pragmatism".
A government statement released earlier on Monday said the prime minister would share a strategy for foreign policy that would rule out "short-termism "and "wishful thinking" when dealing with global problems.
It said the prime minister forged strong relationships with international partners in his first month in office, at the COP27 and G20 summits, and in a meeting with the head of NATO.
Sunak is expected to argue that states including China plan for the long term and the UK must follow suit, and to also stress the importance of strengthening relationships in Europe while also expanding ties in the Indo-Pacific.
Advance comments from Sunak's speech were provided in the government news release. He said: "Freedom and openness have always been the most powerful forces for progress.
"But they have never been achieved by standing still. Under my leadership, we won't choose the status quo. We will do things differently.
"We will evolve, anchored always by our enduring belief in freedom, openness, and the rule of law, and confident that, in this moment of challenge and competition, our interests will be protected and our values will prevail."
The statement noted that the UK is currently in the process of revising and updating its 2021 integrated review of security, defense, development, and foreign policy to take account of "huge geopolitical shifts we have seen since the review was published, including the sharpening of interstate competition".
"In the face of these challenges, short-termism or wishful thinking will not suffice," Sunak was expected to say. "So, we will make an evolutionary leap in our approach. This means being stronger in defending our values and the openness on which our prosperity depends.
"It means delivering a stronger economy at home — because it is the foundation of our strength abroad.
"And it means standing up to our competitors, not with grand rhetoric but with robust pragmatism."
The Lord Mayor's Banquet is an annual event where the prime minister has the opportunity to address business leaders on the subject of foreign policy.
Unlike his predecessors, Sunak has made economic growth, instead of global diplomacy, his top priority, said Zhang Min, a researcher at the Institute of European Studies, China Academy of Social Sciences.
"With current domestic economic challenges such as inflation, putting the economy at the center of his foreign policy can help solve domestic issues and lay a key foundation for diplomatic relations," she said.