UC academic workers reach tentative deal, but strike continues
By LIA ZHU in San Francisco | chinadaily.com.cn | Updated: 2022-12-01 12:47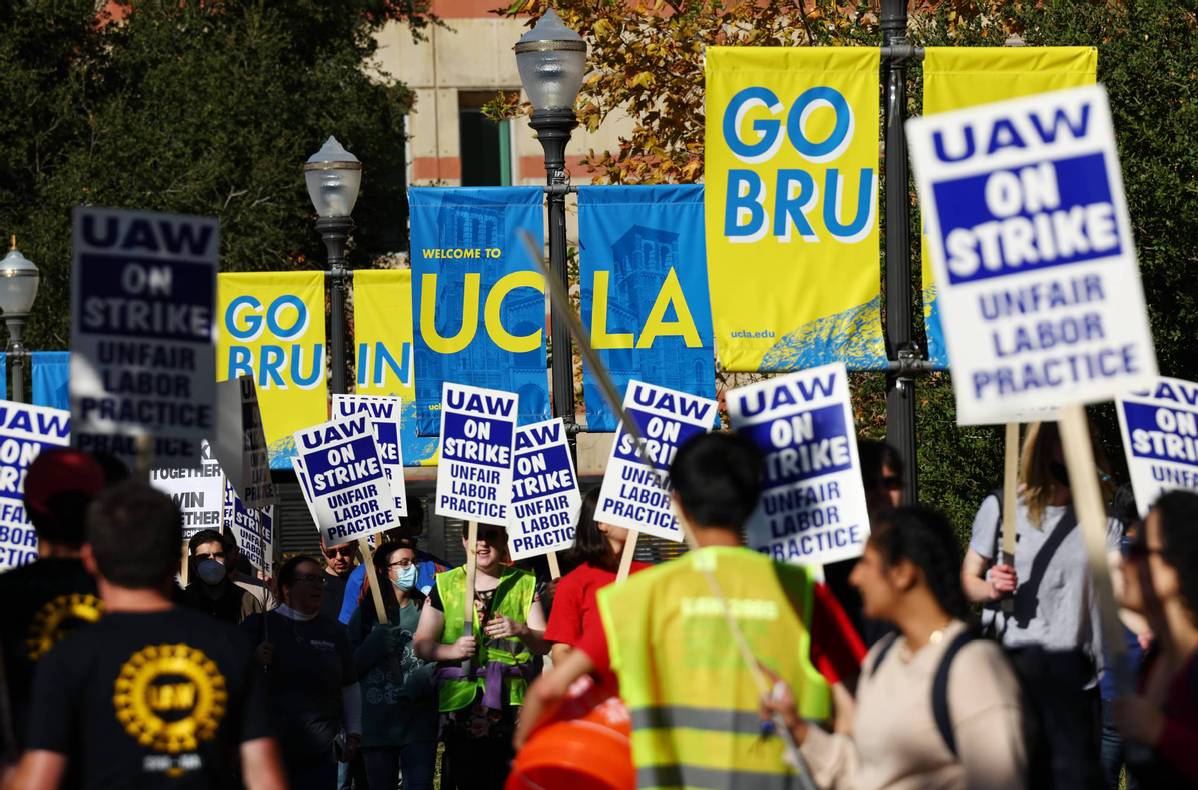 Three weeks after nearly 48,000 academic workers at the University of California walked off their jobs, the university reached a tentative agreement with a quarter of the staff with the rest still on strike.

The postdoctoral scholars and academic researchers, who make up about 12,000 of those workers, agreed to the university's proposal but won't return to campus in solidarity with about 36,000 graduate student employees whose wage demand remains far apart from the university's proposal.

They have been bargaining for months and launched the nation's largest-ever strike of academic workers in higher education to address what they said are high rents, lack of job security and support for working parents and international scholars.

Participants included teaching assistants, researchers, postdoctoral scholars, tutors and graders across the UC system's 10 campuses. The strike threatened to disrupt classroom and laboratory instruction shortly before final exams.

However, the tentative deal won't settle the uncertainty over how to handle grading and final exams because the workers who do such hands-on work with students are graduate student teaching assistants and researchers.

The postdoctoral scholars agreed to a roughly 20 percent increase in the annual minimum salary — from about $55,000 to $66,000. For academic researchers, the agreement includes an average 29 percent salary increase over the five-year contract.

The tentative deal would elevate UC postdoctoral scholars' pay to among the highest in the nation.

"We are proud to have reached agreements that address the soaring cost of living, and reflect the value of our contributions at UC," Neal Sweeney, president of United Auto Workers 5810, said in a statement.

Union members still need to ratify the agreement but once that happens, they will be contractually obligated to return to work — even if others are still on strike, said Sweeney.

Before the tentative deal was reached, UC had offered a salary scale increase of 7 percent in the first year and 3 percent in each subsequent year, but workers rejected the offer.

The graduate students are demanding a 145 percent hike from $22,000 to $54,000. The university administrators and graduate students remain far apart on wage proposals. The university has asked for a neutral mediator to step in, which the union opposes.

The workers complained about rising rents, saying they spend more than half of their salary on rents.
According to a report issued by the University of California student group United for a Fair Workplace, 92 percent of graduate-student workers and 61 percent of postdocs felt burdened by their rents.

This means they spend more than the federally established affordability limit, or 30 percent of their gross income, on housing. The average graduate student workers spend more than 52 percent of their salary on rent.