Needed: A new mindset for more skillful hands
Share - WeChat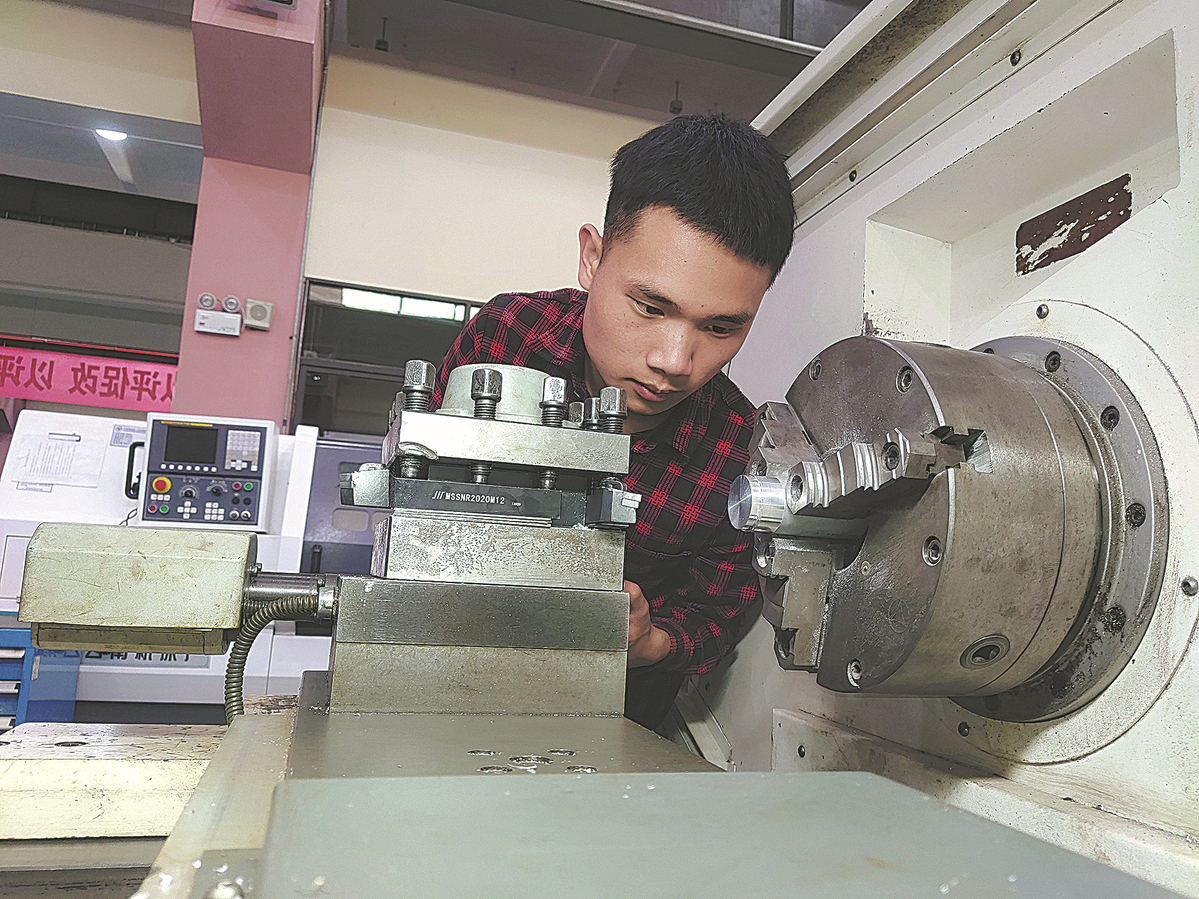 Editor's note: China has established the world's largest vocational education system and made efforts to promote the development of its vocational education system, aiming to expand the nation's employment channels while cultivating more targeted talent for emerging high-tech industries, writes a veteran journalist with China Daily.
In the past decade, China has been giving priority to the development of vocational education to meet the needs of its fast-growing high-tech manufacturing sector. Many regions have chosen high-tech manufacturing as a new pillar for growth while getting rid of the labor-intensive, highly-polluting and less-efficient traditional industries.
But the authorities have realized that they are running short of skilled labor to prop up such a pillar. A recent survey showed that job vacancies in the high-tech manufacturing sector rose by 28.2 percent year-on-year compared with 8.4 percent in other sectors. Another report revealed that the country now has 10 million vacancies for skilled workers in the digital sector alone.
As a result, vocational graduates are enjoying better employment prospects and in many cases, even, better pay. For instance, about 98 percent of students from the Yunnan Technician College found jobs upon graduating and their average salary is twice as much as other university graduates in the province.
However, even the bright employment prospects have failed to persuade parents to send their children to vocational schools and colleges. Most parents think that they should do all they can to send their children to universities so that they get an office job on graduating. Many of them do not want to see their children laboring in a workshop.
China now operates more than 10,000 vocational institutions, which are divided into two categories. The first is academic-oriented under the supervision of the Ministry of Education, which enrolls students from among senior high school graduates. The other category is under the supervision of the Ministry of Human Resources and Social Security, which mostly enrolls students from among junior high school graduates. Together they enroll more than 30 million vocational students, with 10 million students graduating each year.
Vocational education has played a big role in boosting the country's economy in the past decades — surveys show that more than 70 percent of skilled laborers in modern manufacturing and service sectors have done a vocational course. However, despite its contribution, vocational education has failed to get the deserved attention and many institutes offering vocational courses are actually fighting for survival.
Insufficient investment, poor teaching facilities, unqualified teachers and the prospect of training students for blue-collar jobs have all contributed to make the sector less attractive to both the students and their parents, unlike academic universities and schools.
Most of the vocational schools are poorly equipped, and thus overshadowed by other schools and universities, which usually boast bigger libraries and beautiful campuses. Without necessary teaching equipment, many vocational schools cannot impart skills that employers look for in the people they are hiring. Also, most teachers of vocational schools lack practical working experience or even the required passion because of comparatively low pay and poor social status.
Realizing that shortage of skilled workers will eventually hinder the country's efforts to upgrade its manufacturing sector, in the past decades the central government has been taking measures to invigorate vocational education. The State Conference of the Vocational Education, the first of its kind, was held last year. The central authorities announced that vocational education has the same importance as other forms of education and pledged to remarkably increase input into the sector.
In fact, even before the conference, government investment has been increasing. In 2019, 502 billion yuan ($71.02 billion) was poured into the sector, 8.8 percent more than what it was a year ago. And in 2020, 563 billion yuan was invested, up 12.2 percent year-on-year.
Thanks to the rising investment momentum, we are optimistic that it won't take too long before vocational training facilities improve greatly. However, it may need more publicity and preferential policies to eventually change people's mindset, which makes them think that being a researcher or an office clerk is superior to being a skilled worker.
China's national rejuvenation requires both smart brains and skillful hands.
The author is former deputy editor-in-chief of China Daily. kangbing@chinadaily.com.cn
Most Viewed in 24 Hours
China Views