Computing powers up in China
By MA SI | China Daily | Updated: 2022-12-08 09:16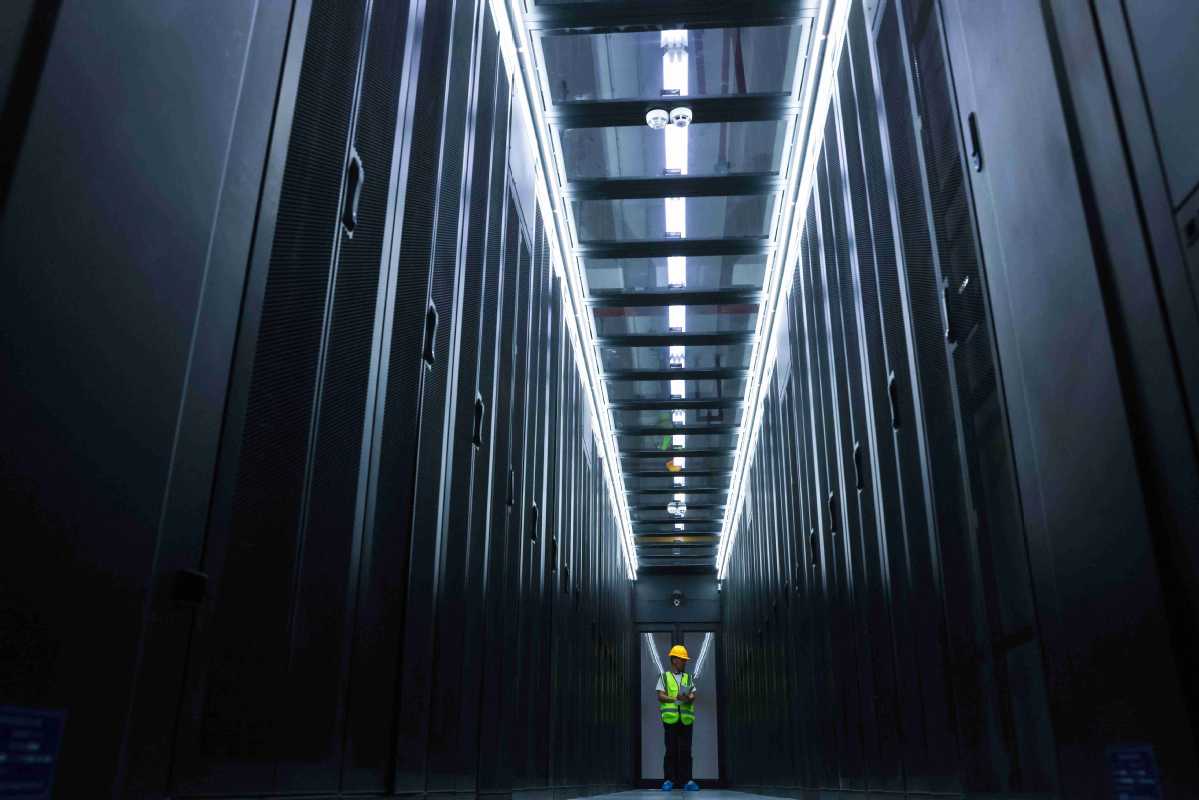 Experts call for more innovative efforts to enhance 'new engine of digital economy'
As digital technologies become more widely used in more sectors and by companies to accelerate their digital transformation, there are new challenges and demands for the computing industry, experts said.
The comments came after China's computing scale ranked second in the world, after the United States. By the end of June, the number of data center racks in use topped 5.9 million in China, and that of servers reached nearly 20 million, according to the Ministry of Industry and Information Technology.
A data center rack is a steel and electronic framework that is designed to house servers.
Xu Run'an, vice-president of H3C, a leading Chinese digital solutions provider, said: "Computing power is a new type of productivity that integrates information computing power, data storage power and network capacity. With the development of the digital economy, computing power is constantly changing. Correspondingly, our infrastructure to support it should also evolve."
Xu said the computing power industry in China has already gone through several stages from a lack of computing power to meeting growing demand. This is due to the further penetration of digital technology into all corners of society, and the digital and intelligent transformation of businesses that promote applications such as smart cities and smart manufacturing.
As the second-largest manufacturer of servers and storage products in China, H3C is stepping up to lead and adapt to the shift, Xu said. "Computing products need to be highly efficient, low-carbon and smart in the future." The company unveiled a string of server products including the H3C Uni-Server G6 last week to meet such demand.
Wu Hequan, an academician at the Chinese Academy of Engineering, said computing power is the new engine of the digital economy, which, driven by innovation, is a major growth point of China's economic strength.
China ranked second in the world in terms of scale in computing power last year with the nation accounting for 27 percent of global computing power. In comparison, the number for the US was 31 percent, Wu said.
"China already surpassed the US in artificial intelligence computing power last year. I believe in less than a year or two, China's overall computing power will exceed that of the US," Wu said.
Last year, the market size of China's computing power industry exceeded 1.5 trillion yuan ($214 billion), with cloud computing exceeding 300 billion yuan, internet data center services over 150 billion yuan and artificial intelligence over 400 billion yuan, according to the China Academy of Information and Communications Technology, a Beijing-based government think tank.
At a conference earlier this year, Zhang Yunming, vice-minister of the Ministry of Industry and Information Technology, said: "Computing power has become a new productive force after thermal power and electricity.
"We will accelerate the research and development of key computing power technologies such as high-end chips and core computer algorithms."
China is promoting an east-data-west-computing project, which refers to sending data gathered from the more prosperous eastern regions of China to the less developed but resource-rich western regions for storage, calculation and feedback, as well as establishing more data centers in western China.
China's investment in big data centers is expected to grow by more than 20 percent annually during the 14th Five-Year Plan period (2021-25) and the cumulative investment in related fields is set to exceed 3 trillion yuan, according to a forecast by the National Development and Reform Commission.
Li Zhengmao, former general manager of China Telecom, said, "For every yuan invested in building computing power, 3 to 4 yuan of GDP could be generated."
Data generated by China is expected to account for 27.8 percent of global data by 2025, according to a forecast by market research company International Data Corp.