Guangdong, Liaoning pocket landslide victories
Share - WeChat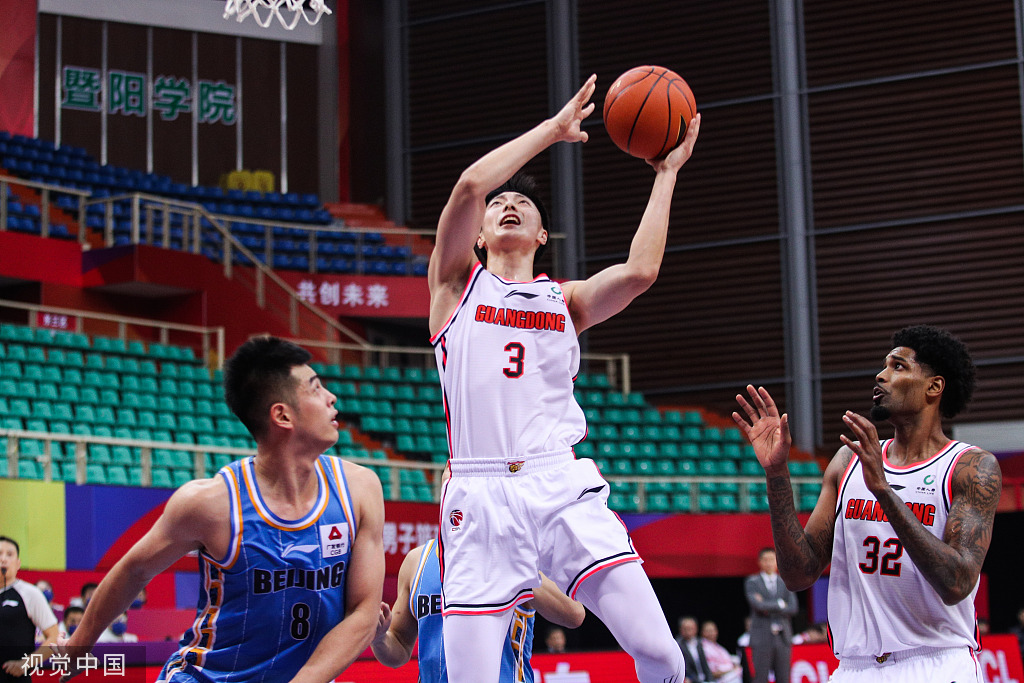 ZHUJI, China - The first day of the second phase of the 2022-2023 Chinese Basketball Association (CBA) regular season saw the Guangdong Southern Tigers beat their old rivals the Beijing Ducks 91-74 on Wednesday in their first clash of this season.
Every time that the two sides meet draws much attention with their storied history in the finals and playoffs. This time powerhouse Guangdong was even more in need of a victory as they only ranked the 12th after five wins and four losses in the previous nine rounds.
The game started as Guangdong had wished as they led 29-14 in the first quarter. As coach Du Feng sent four substitutes onto the court within four minutes after the game started, Guangdong stormed to a 19-4 run in less than six minutes, extending the advantage to 29-11 before Zeng Fanbo managed to nail a three-pointer for Beijing.
The second quarter saw a back-and-forth match as Guangdong trailed 18-15 in the single quarter, but the Tigers took away the game right after getting back from the locker, enlarging the gap to 67-44 before the final quarter which saw no comeback from Beijing.
All the 12 players on Guangdong's roster scored, with Marshon Brooks scoring the game's highest 19 points.
The win also lifted Guangdong to the seventh place just behind Beijing on the table.
Defending champions Liaoning Flying Leopards also had an overwhelming victory as they trounced the Beijing Royal Fighters 103-63 despite the absence of star guard Guo Ailun.
The game virtually ended after the third quarter when Liaoning led 80-57. They confined their opponents to only six points in the fourth quarter, sealing their fourth victory out of the last five games.
Zhang Zhenlin put up a game-high 23 points, while four of his teammates scored double digits.
In other games on Wednesday, both the Sichuan Blue Whales and the Qingdao Eagles earned narrow wins by one point, as Sichuan edged the Tianjin Pioneers 89-88 and Qingdao saw off the Shandong Heroes 98-97. The Zhejiang Lions defeated the Ningbo Rockets 107-84.
The Nanjing Monkey Kings was ruled to lose the game 20-0 against the Jilin Northeast Tigers for its absence according to COVID-related regulations of the league.