England, Wales record surge in 'excess deaths'
By EARLE GALE in London | China Daily Global | Updated: 2023-01-12 10:15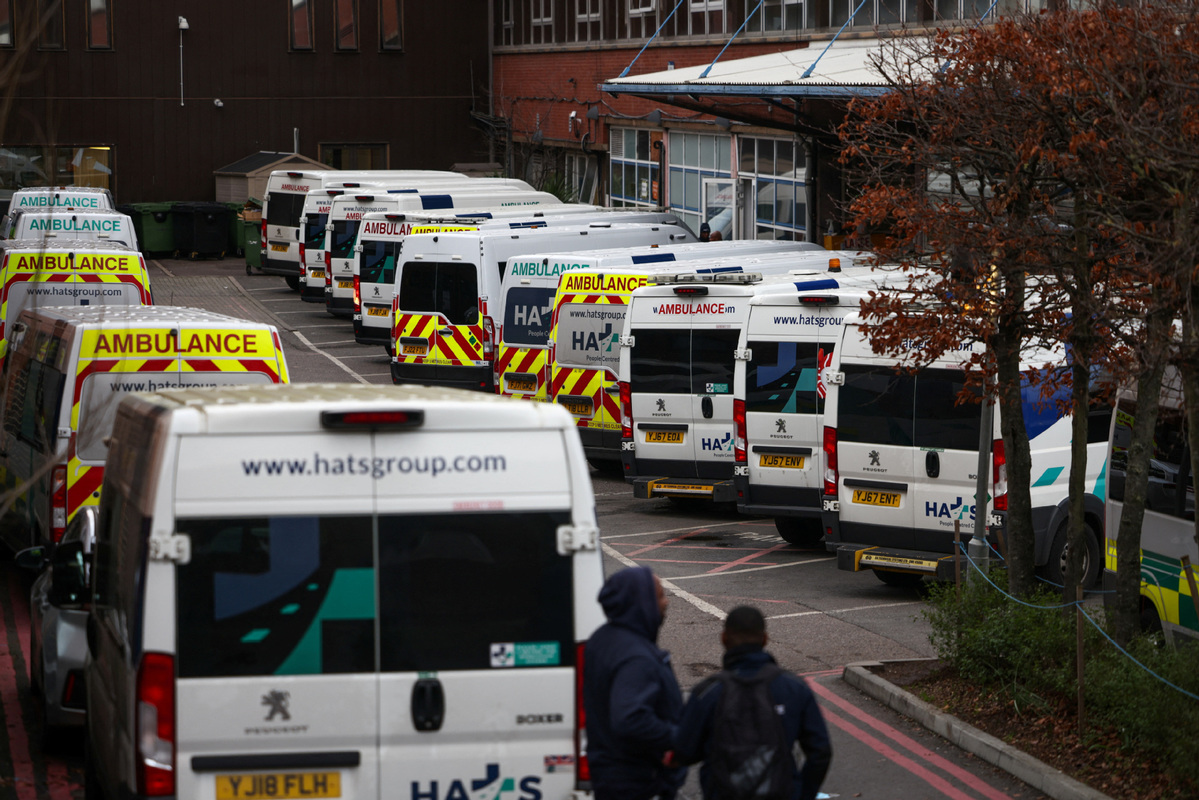 England and Wales had one of their deadliest years on record in 2022, with a staggering 25,000 "excess deaths" registered between the end of summer and Dec 31.
Most of the extra deaths happened at the end of the year, as cold weather combined with an outbreak of influenza and difficulties accessing hospital services due to delays, staff and equipment shortages, and strikes.
The total number of deaths during the week ending Dec 30 was 20 percent higher than the five-year average, the Office for National Statistics, or ONS, reported.
Veena Raleigh, a senior fellow at health charity The King's Fund, told ITV News there had clearly been a "trend of as-yet-unexplained high numbers of deaths".
"The numbers of deaths will be affected by a range of other factors, including the cold weather spell in December, the availability of services, including emergency care, and the continued effects of some patients' healthcare needs going unmet during the pandemic," she added, explaining that pressure created during the peak of the COVID-19 pandemic is still having a knock-on effect on wait times.
She said the ONS, the Office for Health Improvement and Disparities, NHS England, and others will analyze the data to better understand the causes, and any action that should be taken.
Most of the excess deaths happened in people's homes, the ONS said, with the rate rocketing up during the week ending Dec 30 by 37 percent. During the same week, excess deaths in care homes were 20 percent higher than normal, and deaths in hospitals were 15 percent higher.
The ONS said COVID-19 was not a major direct cause of excess deaths, with only 26 attributed to the disease in the final week of 2022 out of 684 excess deaths.
The flu was a big factor, killing 22 percent of people who died in England and Wales in the week ending Dec 30.
Martin Carkett, from the Future of Britain project at the Tony Blair Institute, told the Press Association many excess deaths could have been avoided.
"This is the human cost of government inaction in the face of an entirely foreseeable crisis," he said, noting that his organization made 12 largely unheeded recommendations for improvements to health services, including the setting up of a winter crisis task force.
"There is more that must be done now, if we're going to turn the tide, including extending free COVID-19 and flu vaccination to all over-18s," he said.
The Evening Standard newspaper noted that excess deaths were also at record highs in 2020 and 2021, but that COVID-19 was clearly the cause in those years. COVID-19 killed 38,000 people in the UK during 2022, which was significantly fewer than the 95,000 who perished in 2020.
In total, more than 650,000 deaths were registered in the UK in 2022, which was 9 percent more than in 2019.