Water guardian's tide of progress
By Yang Feiyue and Yuan Hui | China Daily | Updated: 2023-01-17 07:57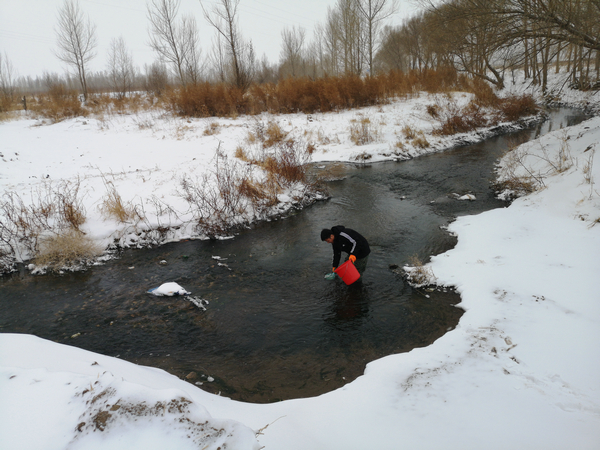 Hulun Lake resembles a snowfield as winter grips the country's northern area.
Yet, the pretty lake scene in Hulunbuir in the north of the Inner Mongolia autonomous region hides a multitude of hazards and difficulties for Xie Zhilei as he takes sample of its water in January.
"It's the biggest lake in North China, so we have to set up multiple checkpoints to get the big picture of its water conditions, from the banks all the way to the center," says the 35-year-old, director of a water environment monitoring division in Hohhot that is affiliated to the region's general environment monitoring station.
"Things are easier in the summer, when we can just take a boat," he says.
The lake usually freezes from November to April, so Xie and his colleagues would have to drive on the ice to reach the lake's deeper ends.
"The surface is rugged and sharp here and there, so it might slice open the tires," Xie says.
"You also have to be careful and circumvent the 'green ditch'," Xie adds as he keeps a fully opened eye on the ice surface.
Locals refer to precarious ice surface as the "green ditch".
"It's not thoroughly frozen, but is just a thin layer of ice, and you can clearly see the water underneath," Xie says.
"Once you drive on it, you'll run a big risk of dropping into the lake."
Years of work experience have enabled Xie to navigate potential dangers and get the water sampling done.
"The ditches are mostly formed because of the spring mouths at the bottom of the lake, as the temperature of spring water is relatively high," Xie explains.
But as their positions can be surveyed, the "green ditches" can thus be predicted after Xie and his team work with the lake's management committee.
"Another safe bet is to follow the existing skid marks," he says.
Despite the rich experiences of Xie and his team, precautionary measures have been taken in case of emergencies.
The team is divided in two cars that run at least 200 meters apart, so once an accident happens, rescue work from the other vehicle can be carried out immediately.