Shopping galas prove effective for recovery
By FAN FEIFEI | China Daily Global | Updated: 2023-01-19 07:17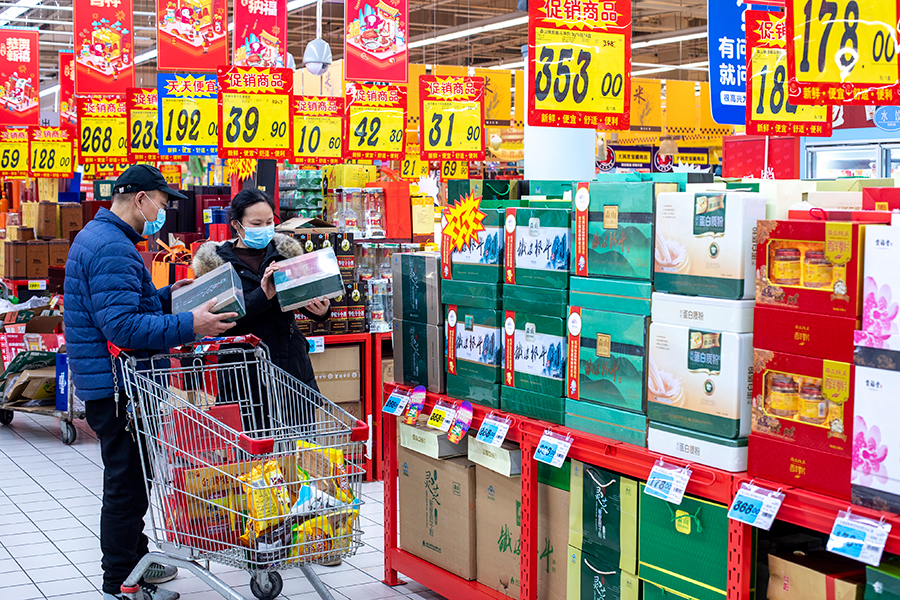 Nation's buying power ramped up amid optimization of COVID-19 measures
Wang Zhen, 28, a white-collar worker in Shenzhen, Guangdong province, just placed an order online with her mobile phone. Gift boxes of protein powder, multivitamins, mineral tablets and nutrition supplements like wolfberry honey and collagen will be delivered to her home in the next few days.
"I bought these commodities as Chinese New Year presents for my parents. I will go back to my hometown in Changsha, Hunan province, during the upcoming Spring Festival holiday this year for a family reunion," Wang said.
"My parents were infected with COVID-19 a month ago and recovered after taking medicine. I hope the nutritional goods will boost their immunity."
Apart from health-related products, she also purchased a robotic vacuum cleaner and an automated dishwasher to free her parents from tedious and repetitive daily housework. "Online shopping is very convenient and more discounts are available during some promotions in the run-up to the holiday," she added.
Healthcare products, smart home appliances and pet products have gained popularity among Chinese shoppers who have started stocking up ahead of the Lunar New Year, which falls on Sunday.
Data from Tmall, Alibaba's business-to-customer platform, showed that the demand for medical supplies, including thermometers, disinfectants, antigen test kits and pulse oximeters that measure oxygen concentration in arterial blood, has grown exponentially in recent weeks.
Sales of health and nutritional products to boost immune systems surged 400 percent month-on-month in the first half of January, with protein powder, vitamin C and probiotics increasingly favored by Chinese consumers, according to AliHealth, the health and medical unit of Alibaba.
Young consumers have shown rising enthusiasm for keeping pets and increased their spending on smart pet products. According to Tmall, the transaction volume of automatic pet feeders soared nearly 100 percent year-on-year in 2022, while the turnover of smart water dispensaries and pet drying boxes increased about 50 percent and 40 percent, respectively.
In addition, small home appliances and intelligent home equipment have seen robust growth in sales during the Spring Festival promotional gala. In particular, large-screen televisions, air fryers, floor-cleaning machines, dishwashers, blenders and other kitchen appliances have enjoyed rising popularity among Chinese consumers.
Online retailer Suning.com said the turnover of dishwashers at its brick-and-mortar stores skyrocketed 325 percent year-on-year from Jan 4 to Jan 11, while the transaction volume of 65-inch to 75-inch TVs and floor-cleaning products skyrocketed 190 percent and 56 percent, respectively, from a year earlier.
Hong Yong, an associate research fellow at the e-commerce research department of the Ministry of Commerce, said major Chinese online retailers have launched promotional events ahead of the weeklong Spring Festival holiday, the most important holiday for Chinese people, in an effort to promote the recovery of consumption.