Laotians trained in China will cultivate rail specialists
By LI YINGQING in Kunming and ALEXIS HOOI in Beijing | China Daily Global | Updated: 2023-01-19 09:43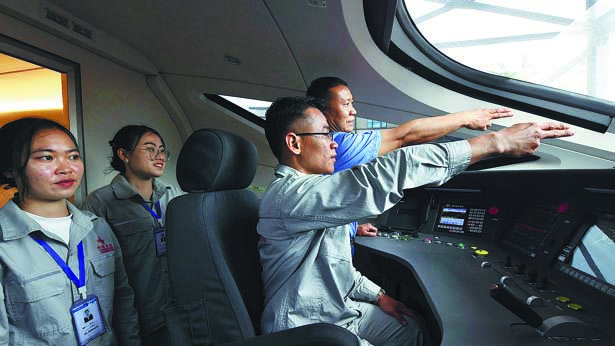 When Laotian teacher Thammavongsa Sengaloun heard about a railway trainee program in China, he signed up immediately.
Thammavongsa, 38, who used to teach electronics at a vocational technical college in Laos, said: "Learning Chinese is tough, and I have to spend six hours a day on just the language alone, but I'm determined to study hard. I cherish the opportunity to be in China very much."
He is among a pioneer group of 40 Laotian trainees who arrived in Kunming, the capital of Southwest China's Yunnan province, in March under a program to train railway specialists and educators to develop the pillar transportation sector in their home country.
The trainees will learn from Chinese instructors and industry professionals in a two-year course before returning to Laos, where they are then expected to spend at least five years helping to build an education system for the country's railway professionals.
The exchange is part of an arrangement between the two sides under which Chinese assistance to Laos in developing a vocational and technical institution will help with the maintenance and operation of the new China-Laos Railway. The rail line, a landmark project of the Belt and Road Initiative and a flagship project for the bilateral friendship, was rolled out in late 2021 to connect landlocked Laos with China's railway networks and enhance Laos' access to global markets.
The 1,035-kilometer railway runs between Kunming and the Laotian capital, Vientiane. The trip between the two cities takes about 10 hours at speeds reaching 200 km/h.
With the rollout of the railway and supporting projects, Yunnan is poised to become a talent training hub for South and Southeast Asia.
Duan Yubo, director of academic affairs at the Kunming Railway Vocational and Technical College, where the Laotian trainees are studying, said the course material covers six railway majors ranging from locomotives and engineering to power supply and communication signals.
"Through simulation training, they can better master the latest technology of Chinese railways, and they can bring this knowledge back to Laos," he said.
In addition to learning the Chinese language and railway-related vocational skills, the 40 trainees, with the help of Chinese teachers and technicians, will learn how to establish professional standards regarding teaching methods, curriculum and textbooks, for later application in Laos, Duan added.
Li Weiguo, dean of continuing education at the Kunming college, said the 40 Laotian trainees, who range in age from 22 to 40, will become the first teachers of a planned Laos railway vocational and technical college.
"Before the Laotian students came to China, our college hired a professional international Chinese teaching team to start online language teaching," he said.
"After the students arrived, the college also connected them with Chinese students and teachers who speak Laotian to help them integrate into the Chinese learning environment."
According to plans for the training program, Chinese railway standards will be shared and applied in combination with the situation in Laos, with the additional goal of cultivating vocational talent who understand Chinese culture, can master Chinese technology and can help build cross-border ties.
Yang Guowen, deputy general manager of Yunnan Construction and Investment Holding Group, said the Laos railway college, with Chinese government support, will be able to accommodate 1,000 full-time students and meet the needs of 300 employees for short-term skills training each year.
Thammavongsa, the Laotian trainee, said, "We want to work hard to acquire the requisite knowledge and return to Laos as soon as possible to participate in the development of the Laos railway."
Like many other fellow trainees, Soulisak Vongphachan, 23, said his family has also been very supportive of his choice to learn as much as he can in China.
"I would also like my 19-year-old brother to study in this school and learn about railways," he said. "After the opening of the China-Laos Railway, the life of the people of Laos has improved a lot."
From December 2021 to October last year, the total volume of cross-border cargo transportation on the rail line exceeded 1.72 million metric tons, with an average of more than 5,000 tons a day, accounting for 52 percent of land transportation volume in Laos, according to the country's railway authorities.
Cun Min, deputy director of the Yunnan provincial commerce department, said the authorities are committed to improving the efficiency of passenger and cargo transportation on the railway, speeding up domestic and cross-border connections, and maintaining the safety and efficiency of logistics networks.
The convenience of customs clearance has also continuously improved, she said. Goods delivered via the rail link have expanded to more than 1,200 varieties, including electronics, photovoltaics and cold-chain fruit.
"These achievements are due to the joint efforts of China and Laos, as well as the focus and participation of many groups and people," Cun said. "I hope that we will continue to work hard together to achieve greater success."
Khampheng Latmany, deputy director of the general office of the Laos-China cooperation committee, said the peoples of Laos and China have a long history of friendly exchanges, with important projects like the railway and its related programs making positive contributions to the economic and social development of Laos and improving people's lives.
"This project is not only one of the important achievements of the Belt and Road Initiative, but also an important step for Laos to realize the strategy of turning a landlocked country into a land-linked country," he said.
Laotian railway trainee Phonvilai Weobaiudib, 30, said he hoped the Laos railway network will eventually stretch to places like Thailand, Vietnam and Cambodia.
Regarding the training program, he said that there "are still many 'blanks' in the Laotian language for professional railway terms".
"Only by studying hard can we undertake the important task of cultivating railway talent for Laos."