West's tank shipments to Ukraine ratchet up global war risk
By HENG WEILI in New York | chinadaily.com.cn | Updated: 2023-01-27 09:55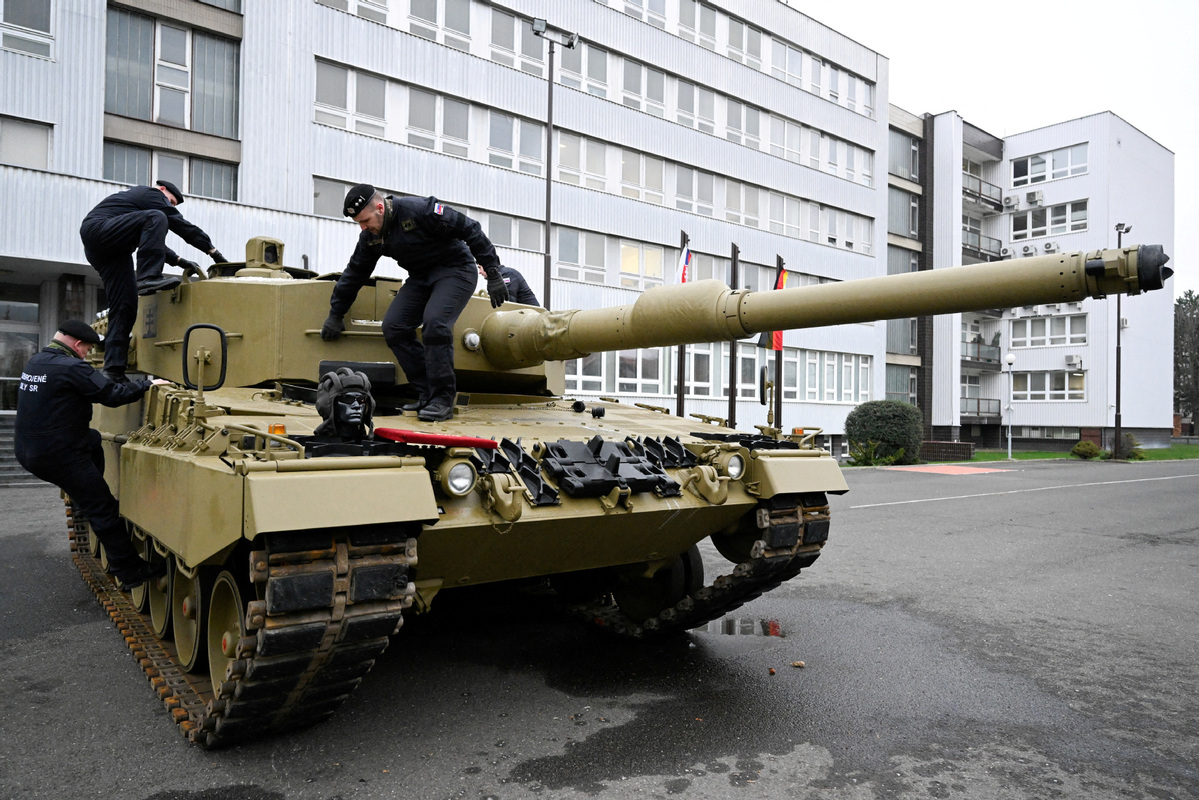 The supplying of tanks by the US and Germany to Ukraine in its conflict with Russia has raised the stakes in a war scenario that could become increasingly perilous for the world.

Ted Galen Carpenter, in a post Thursday on antiwar.com, wrote: "A dramatic escalation of US and NATO involvement in the Ukraine war is taking place — and that move is yet another reckless provocation toward Russia.

"The Biden administration and NATO are playing a very dangerous game by engaging in such an escalation of its assistance to one side in an increasingly emotional and destructive conflict," wrote Carpenter, who is a senior fellow in defense and foreign policy studies at the Cato Institute in Washington.

"Washington's approach is to use Ukraine as a pawn (a proxy) … without NATO ending up in a direct war with Russia. It is a replication of the strategy Washington used in Afghanistan, providing military aid to the rebel mujahidin to harass, bleed, and eventually force the Soviet Union to execute a humiliating withdrawal."

Carpenter wrote, however, that "using the same strategy in Ukraine is vastly more dangerous. By virtue of its greater size and more important location, Ukraine is a crucial strategic stake for Moscow in ways that Afghanistan never was.

"Washington and its allies have sought to maintain such an impossibly precarious status, but they are now careening toward becoming full-fledged belligerents, regardless of attempts to preserve the legal fiction to the contrary," Carpenter wrote. "One cannot overstate the danger of that strategy."

Former US president Donald Trump, in a post Thursday on his Truth Social site, wrote: "FIRST COME THE TANKS, THEN COME THE NUKES. Get this crazy war ended, NOW. So easy to do!"
Americans also took to Twitter to express concern over a seeming escalation of the conflict in Ukraine.

US Representative Eli Crane, a newly elected Republican from Arizona and a former US Navy SEAL, wrote on Wednesday: "This is so foolish. We are over 31 Trillion in debt, escalating a war that could quickly turn nuclear, and depleting our own weapon stockpiles."

Clint Ehrlich, a foreign-policy analyst and lawyer, wrote on Thursday: "The American people have no idea that the White House is gambling with their lives. Sending M1 tanks to Ukraine puts us on a path towards fighting a nuclear war with Russia."

Medea Benjamin, co-founder of US peace group CODEPINK, wrote on Wednesday: "If you think sending tanks is going to give Ukraine the ability to take back all of Donbas and Crimea, you are unrealistic. The escalation makes nuclear war--not victory--more likely. And that is a lose-lose for all of humanity."

Journalist Michael Tracey posted on Tuesday: "If deploying a huge squadron of the US military's main battle tanks to Ukraine doesn't constitute an act of war, would the deployment of *any* armament constitute an act of war? How about nuclear warheads? Anything?"

In a statement Thursday, Kremlin spokesman Dmitry Peskov said: "There are constant statements from European capitals, from Washington, that the sending of various weapons systems, including tanks, to Ukraine in no way means the involvement of these countries or the alliance [NATO] in the hostilities that are taking place in Ukraine.

"We categorically disagree with this ... everything that the alliance I mentioned and the capital (Washington) does is perceived as direct involvement in the conflict, and we see that it is growing," Peskov said.
Meanwhile, any countries that are prepared to provide Kyiv with F-16 fighter jets would face no shortage of supply, US weapons manufacturer Lockheed Martin has said, adding that it is able to meet new demand.

In an interview with the Financial Times on Wednesday, Chief Operating Officer Frank St. John said there is "a lot of conversation about third party transfer of F-16s".

Although Lockheed, which is based in Bethesda, Maryland, is not directly involved in any talks regarding potential deliveries of military aircraft to Kyiv, St. John said that the company plans to increase production so it will be able to "backfill pretty capably any countries that choose to do third-party transfers to help with the current conflict", the FT reported.

Lockheed Martin CEO Jim Taiclet told investors in a Wednesday earnings call that a backlog of weapons contracts grew to $150 billion from $135 billion in 2021, "driven by all-time record orders".

General Dynamics, based in Reston, Virginia, makes the tanks that Ukraine will be getting from the US. Its backlog of contracts has reached an all-time high of $91.1 billion, reported responsiblestatecraft.com.

The missile and defense sector for Raytheon Technologies, which is based in Arlington, Virginia, had a record backlog of $34 billion in 2022, the website reported.

Germany and the United States made the announcement Wednesday that they will send advanced battle tanks to Ukraine to help Kyiv break combat stalemates as the conflict approaches the one-year mark.

US President Joe Biden said the US will send 31 M1 Abrams tanks, following
Germany's agreement to send 14 Leopard 2 A6 tanks from its own stocks.
"There is no offensive threat to Russia (itself)," Biden said.

Germany had refused to send the Leopards unless the US offered the Abrams tanks, not wanting to anger Russia without the United States making a similar commitment.

Biden said European allies have agreed to send enough tanks to equip two Ukrainian tank battalions, or a total of 62 tanks.

"Simply because of technological aspects, this is a rather disastrous plan," Peskov said, citing "a completely obvious overestimation of the potential" the tanks would add to the Ukrainian military. "It is yet another fallacy, a rather profound one."
Peskov predicted that the tanks "will burn down just like all the other ones. ... Except they cost a lot, and this will fall on the shoulders of European taxpayers."

Senior US officials said it would take months for the tanks to be delivered.
Anatoly Antonov, Russia's ambassador in Washington, said delivery of the tanks would be "another blatant provocation."

And on Thursday, Canada said it will send four Leopard 2 battle tanks to Ukraine, Defense Minister Anita Anand said, after Germany this week allowed other countries to re-export the German-built tank.

Anatol Lieven, director of the Eurasia Program at the Quincy Institute for Responsible Statecraft, in a piece on the institute's website Thursday, wrote: "Supposing the United States were fighting a war close to its own borders, with stakes that many members of the US government and political elites believed — right or wrong — were existential for America's survival as a great power or even as a united country; and supposing a hostile great power were massively and increasingly arming America's enemy, leading to the deaths of tens of thousands of American troops and the risk of complete defeat.

"Would Washington refrain permanently from some form of harsh retaliation? Perhaps it would — but I really would not like to bet on it, least of all if the stakes risked being raised and raised until in the end human civilization itself were on the table.

Agencies contributed to this story.