Exporters to get help in expanding order books
By ZHONG NAN | China Daily | Updated: 2023-02-03 09:05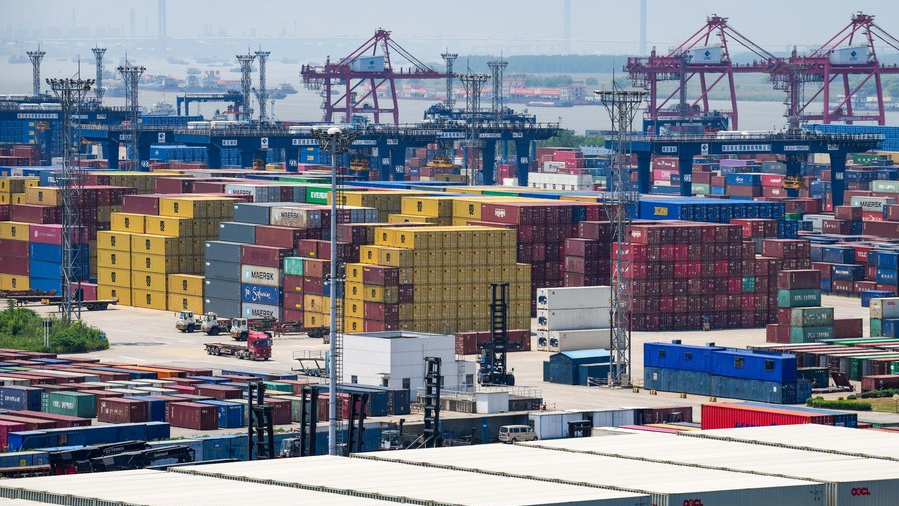 China will support its exporters to participate in various business exhibitions abroad and closely cooperate with trading partners to put its foreign trade growth on a firmer footing in 2023, government officials said on Thursday.
Against external headwinds including cooling prospects for overseas demand and lingering geopolitical conflicts, these activities will create more opportunities for China's export-oriented companies, and a series of offline domestic trade fairs, like the China Import and Export Fair, or Canton Fair, in Guangzhou, Guangdong province, will be fully resumed this year, they said.
Addressing a news conference in Beijing, Li Xingqian, director-general of the department of foreign trade at the Ministry of Commerce, said the government will support the innovation of new foreign trade formats like cross-border e-commerce and overseas warehouses, to reinforce the competitiveness of the country's foreign trade.
China's goods trade surged 7.7 percent year-on-year to a record 42.07 trillion yuan ($6.26 trillion) in 2022, making the country the world's largest trader in goods for the sixth successive year, said the General Administration of Customs.
After years of upgrading and growth, Li said that high-tech, high value-added and green transformation-related products have become new growth engines for Chinese exports.
For example, China saw exports of electric vehicles and photovoltaic products soar 131.8 percent and 67.8 percent on a yearly basis, respectively, in 2022, while its exports of lithium batteries jumped 86.7 percent from the previous year.
With China entering a new era of green and innovation-led growth, Chinese manufacturers from many industries have begun to export more high-end products ranging from electric buses to liquefied natural gas carriers and regional passenger jets, said Wang Xia, vice-president of the China Machinery Industry Federation in Beijing.
Wang said that compared with countries in Southeast Asia or other parts of the world, China has a complete supply chain support system. The country, backed by its capacity scale advantages, is capable of delivering goods within a short period and meeting overseas clients' demand for short-term replenishment of inventories.
Guo Tingting, vice-minister of commerce, said the government will continue to ensure the smooth implementation of the Regional Comprehensive Economic Partnership agreement, promote the continued benefits of the agreement, highlight the positive role of the pact in stabilizing foreign trade and foreign investment, as well as strengthen supply chain cooperation with related parties in the next stage.
With the pact coming into force on Jan 1, 2022, the RCEP comprises 15 Asia-Pacific countries, namely 10 member economies of the Association of Southeast Asian Nations and five other trading partners — China, Japan, South Korea, Australia and New Zealand.
Yang Tao, director-general of the comprehensive affairs department under the Ministry of Commerce, said that to expand cooperation, manage differences and push bilateral economic and trade cooperation forward, Commerce Minister Wang Wentao and Australian Trade and Tourism Minister Don Farrell will hold talks via video link next week.
The two sides will discuss China-Australia economic and trade relations and business issues of mutual interest, said Yang.