Mega project diverts 60b cubic meters of water north
By Hou Liqiang | China Daily | Updated: 2023-02-07 08:51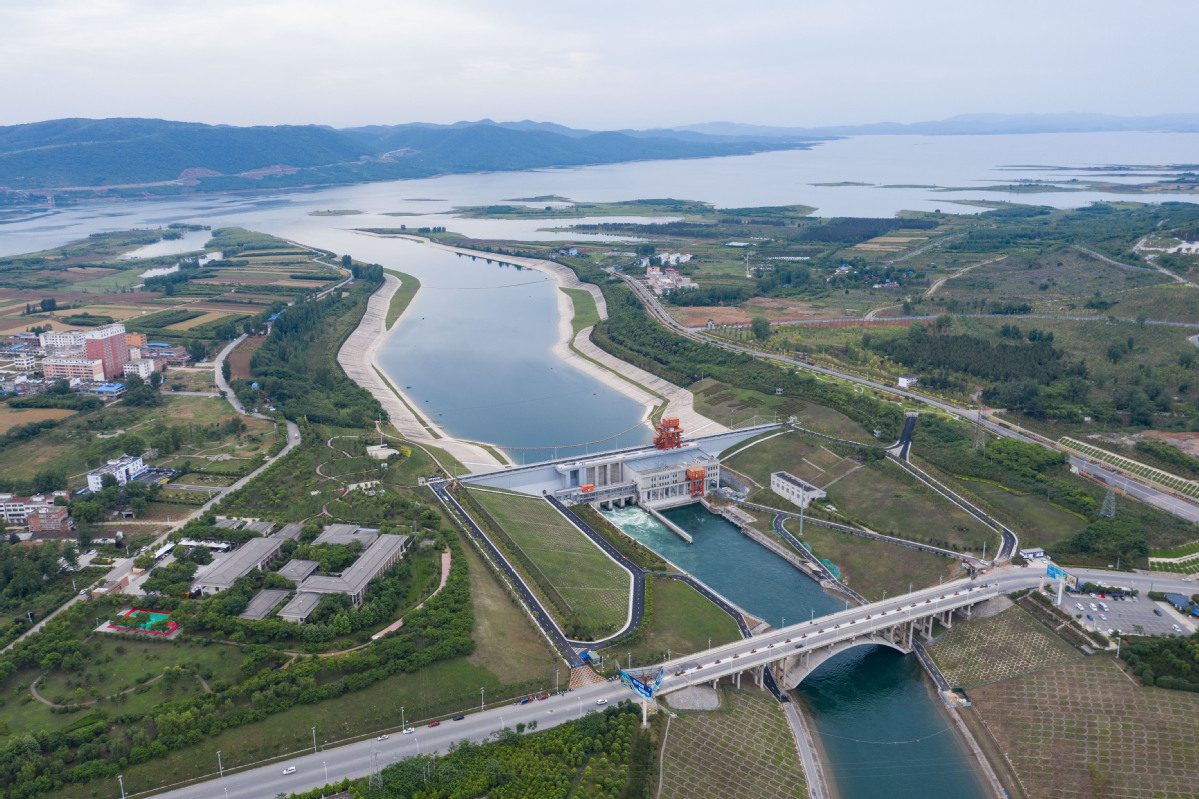 China's decadeslong mega water diversion project, channeling water from the Yangtze River Basin to the drought-prone north, has diverted over 60 billion cubic meters of water since its first section became operational in 2013, according to the China South-to-North Water Diversion Corporation.
The amount has gone beyond the average annual volume the Yellow River carries, which stands at 58 billion cubic meters, the company said in a media release on Sunday.
"The project has directly benefited over 150 million people," it said.
To date, the project has supplemented over 9 billion cubic meters of water to over 50 water bodies.
Aside from reversing the declining trend of the shallow groundwater levels in North China, the supplementation operation is restoring environments and ecosystems in these water bodies, which were jeopardized because of water shortages.
Significant changes, for example, have taken place in Baiyangdian, northern China's largest freshwater wetland in Hebei province.
Thanks to water supplementation that started in 2018, the quality of water in the lake has improved from below Grade V to Grade III, according to the local environmental authority.
China has a five-tier water quality system for surface water, with Grade I the best quality. Below Grade V ratings are used to describe extremely polluted areas.
Before the supplementation operation, the average water level of Baiyangdian stayed below 6.5 meters. Now the level has increased to 6.5 to 7 meters, said Sheng Lixin, an official with the ecology and environment bureau of Xiong'an New Area, where the lake is located.
The area of the lake has expanded from 220 square kilometers to 290 sq km, he was quoted as saying by broadcaster China Central Television.
"To date, 248 bird species have been sighted in Baiyangdian, up by 42 from 2017," the official said.
Living near a reservoir fed by the Puhe River, Dai Keshan from Baoding, Hebei province, said the reservoir had been dried up for many years before water was supplemented to Puhe around 2018.
"Now, the reservoir and river have been restored to the state they were when I was a child," the 67-year-old was quoted as saying by Economic Daily newspaper.
The South-North Water Diversion Project was designed with eastern, middle and western routes.
The operation of the middle route, which benefits Henan and Hebei provinces as well as Beijing and Tianjin municipalities, started in December 2014. The first phase of the eastern route, which serves Jiangsu and Shandong provinces, started operation in November 2013.
The western route is still in the planning stage and has yet to be built.