Valentine's Day meaningless, but not harmful
Share - WeChat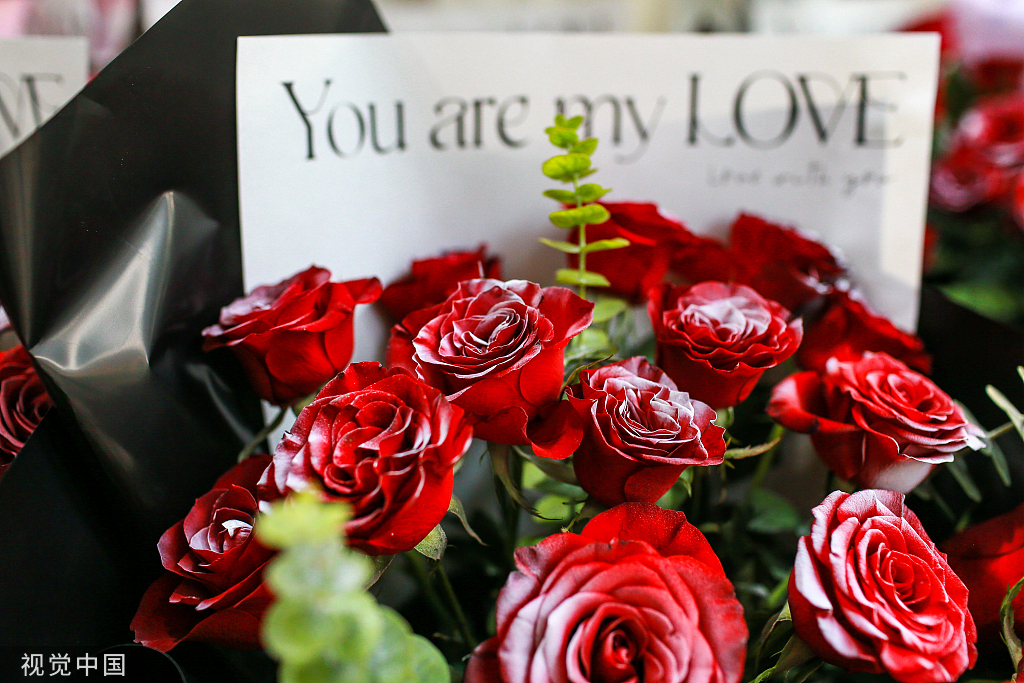 Editor's note: Young people celebrate Valentine's Day by sending flowers to their beloved ones as a new culture in the country. Marking Valentine's Day as a new culture has gradually mixed into traditions among the young generation in China, writes a veteran journalist with China Daily.
Back to work after the weeklong Spring Festival holiday, many young Chinese people are making preparations for a romantic Valentine's Day on Feb 14. Given the younger generation's propensity to celebrate festivals with gusto, middle-aged and aged people would do well to not visit restaurants, bars, cinemas, dance halls and shops on Valentine's Day, because they are likely to be packed with young lovers.
Plus, many things will cost a lot more on Feb 14 than on normal days. For example, flowers, especially roses, could cost many times more.
People in China have been celebrating some Western festivals such as Valentine's Day and Christmas for some years now, even though many may not know why these festivals are celebrated. To many, Valentine's Day is similar to Qixi — the traditional lovers' day in China that falls on the seventh day of the seventh month on the lunar calendar — and Christmas is like Spring Festival.
Some Western festivals started becoming popular in China about 30 years ago when many Chinese employees joined their foreign colleagues in the joint-ventures or foreign companies to celebrate Christmas or New Year. Young Chinese people found some foreign cultures and customs attractive, as many of the Westerners working in China were amiable and outwardly affectionate. At that time, Qixi was not as widely celebrated in China.
Many young Chinese people embraced Western festivals, which made their life more colorful. But they couldn't see the invisible hand at work to make the Western festivals popular in the country.
The invisible hand is that of the business community which, by popularizing Western festivals, is boosting sales across different fields. During Christmas and Valentine's Day, outlets in shopping malls are decorated with, among other things, balloons, banners, cutouts of Santa Claus and lovers locked in a kiss. The festive atmosphere is palpable — with large, yellow billboards screaming "On Sale" outside many outlets.
E-commerce enterprises have played a big role in promoting Western festivals, by offering good bargains during the festivals. In fact, much before the festivals, they use all means possible to make their retail arrangements public in order to draw more and more consumers.
To be sure, e-commerce platforms' efforts have paid off, because during last year's Valentine's Day alone, Jingdong sold 10 times more cosmetic products of 553 brands compared with normal days. Jingdong is one of China's biggest e-commerce platforms with more than 400 million customers.
According to an online survey by iiMedia Research, 72 percent of the people said Valentine's Day helps bring young lovers closer and strengthen their bond, with only 16 percent saying the festival is used by shrewd businesspeople to boost their sales and make higher profits.
I guess that most of those surveyed must be young people, because people of my age might generally vote with the 16 percent, although they may not be opposed to the festival as such. To me, the festival may be meaningless, but it is not harmful.
While China has been making efforts to highlight the importance of traditional culture and festivals, both the government and society seem tolerant toward the increasing popularity of Western festivals.
Governments at different levels see Valentine's Day as a festival that helps boost domestic consumption, something they have been trying to do, while the younger generation views it as a special day meant for celebration. And parents in general are glad to see their young children bring their boyfriend or girlfriend home on that day.
Not all foreign festivals are welcome, though. Last year, a shopping mall in a western Chinese city invited severe criticisms from netizens for planning a shopping gala based on Japanese culture. Some netizens even accused the organizers of forgetting the atrocities committed by the Japanese invaders in China from 1931 to 1945, including the rape of innumerable women and slaughtering of about 300,000 Chinese people in Nanjing in the six weeks since Dec 13, 1937.
Following the criticism, the organizers cancelled the shopping gala.
This year's Valentine's Day is round the corner. I'll try to stay at home that day and profess my love to my wife, though being married for nearly four decades both of us know how much we love each other.
The author is former deputy editor-in-chief of China Daily.
Most Viewed in 24 Hours
China Views