Earthquake death toll passes 5,000 as aid pours in
Share - WeChat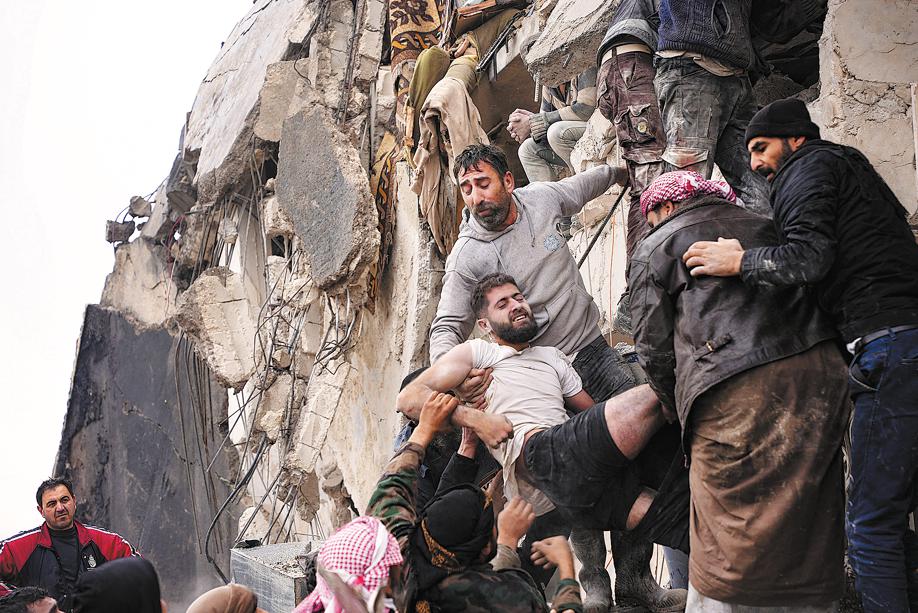 Quake: Nation sends rescue team to Turkiye
As the death toll from the devastating earthquakes in Turkiye and Syria continues to rise, rescue teams and aid materials from China and other nations are arriving in the quake-hit areas to help the two countries deal with the challenging humanitarian relief effort.
The support is arriving as a frantic race against time takes place in near-freezing temperatures to pull survivors from the rubble after a magnitude-7.8 earthquake caused devastation in Turkiye and neighboring Syria at 4:17 am local time on Monday and was followed by a magnitude-7.5 quake at 1:24 pm and hundreds of aftershocks.
The total number of deaths in the two countries had exceeded 5,000 as of Tuesday afternoon.
China's assistance is coming in a number of ways, including sending a first tranche of 40 million yuan ($5.9 million) in emergency aid to Turkiye, said Deng Boqing, vice-chairman of the China International Development Cooperation Agency, on Tuesday.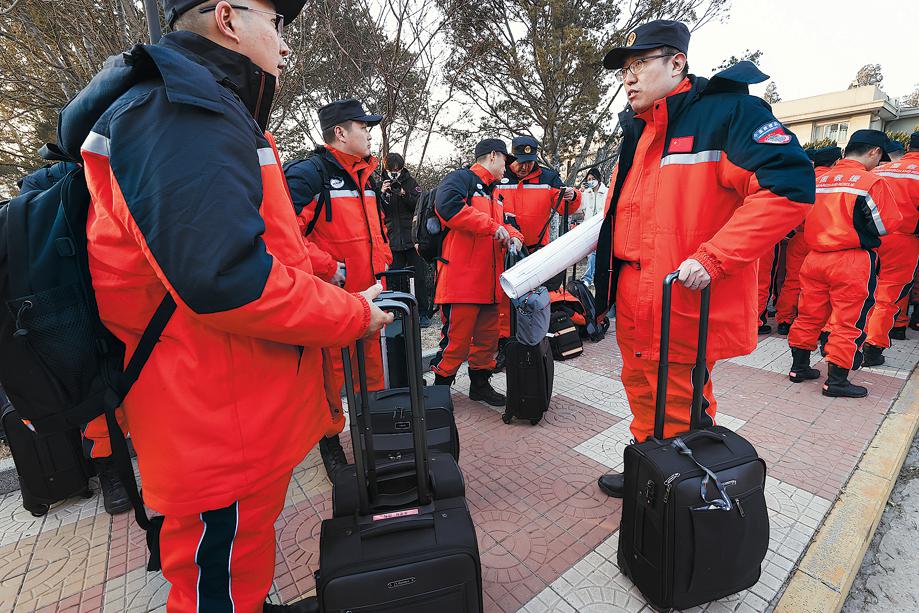 A medical team will be sent to Turkiye as quickly as possible, and disaster relief supplies urgently needed by the country will also be provided, Deng added.
"We are also coordinating the work to provide disaster relief materials urgently needed in Syria, and accelerating the implementation of an ongoing food aid program in the country," he said.
The Chinese government will continue to provide assistance to Turkiye and Syria according to the development of the situation and the two nations' needs, Deng said.
The Red Cross Society of China will send its sister organizations in Turkiye and Syria $200,000 each to help with disaster relief and rescue operations, while Chinese communities in the two nations are collecting relief supplies such as tents and blankets.
At the request of the Turkish government, China has sent its official rescue team to the country, according to the Ministry of Emergency Management. The 82-member team left Beijing Capital International Airport for Turkiye at around 4 pm on Tuesday.
A civilian rescue NGO from Hangzhou, Zhejiang province, has sent a team of eight experts who are highly experienced in international rescue missions.
The Zhejiang Rescue Team of Ramunion is expected to arrive in the affected areas of Turkiye on Wednesday afternoon, according to a media release issued on Tuesday.
The rescuers, equipped with life detectors, tools for dismantling operations and a rescue dog, will head to the worst-hit locations, the release said.
The rescue team said its overseas operation got approval from Chinese authorities and the Turkish consulate-general in Shanghai, adding that it initiated an international emergency response early on Monday at its headquarters in Hangzhou.
On Tuesday, Reuters quoted Turkish Vice-President Fuat Oktay as saying that severe weather is making it difficult to bring aid to the affected regions.
In the Turkish city of Antakya near the Syrian border, where 10-story buildings had crumbled onto the streets, Reuters journalists saw rescuers at work in one of the dozens of mounds of rubble.
The temperature was close to freezing as the rain came down, and there was no electricity or fuel in the city, it said.
Earlier media reports said tremors affected some 13.5 million people in the country.
The European Union has mobilized search and rescue teams to help Turkiye, and the United States is coordinating assistance to the country, including teams to support search and rescue efforts. The Israeli army also sent a search and rescue team of 150 engineers, medical personnel and aid workers to Turkiye.
Russia has sent rescue teams to Syria, and Russian military forces in Syria sent 300 personnel to help with search and rescue work.
India and South Korea were also among the long and growing list of nations to send rescuers and supplies to Turkiye and Syria.
India will send a rescue team of 100 from its National Disaster Response Force, as well as specially trained dog squads and equipment to Turkiye, according to the Indian Ministry of External Affairs.
South Korea said it will offer $5 million in emergency humanitarian assistance to Turkiye. A total of 110 workers will be sent to support search and rescue operations, and medical supplies will be offered, according to South Korea's Yonhap News Agency.
After the earthquake, Chinese embassies and consulates in Turkiye and Syria immediately activated their emergency response mechanisms to comprehensively verify the security situation of Chinese compatriots, Chinese-funded institutions and personnel, Foreign Ministry spokeswoman Mao Ning said on Tuesday.
"So far, no Chinese casualties have been reported," Mao said at a daily news briefing, adding that China will continue to remind its citizens in the two countries to guard against post-earthquake secondary disasters.
Wang Qingyun, Wang Xiaoyu, Zhao Jia, Zou Shuo and agencies contributed to this story.