Beijing improves conditions for cyclists
Share - WeChat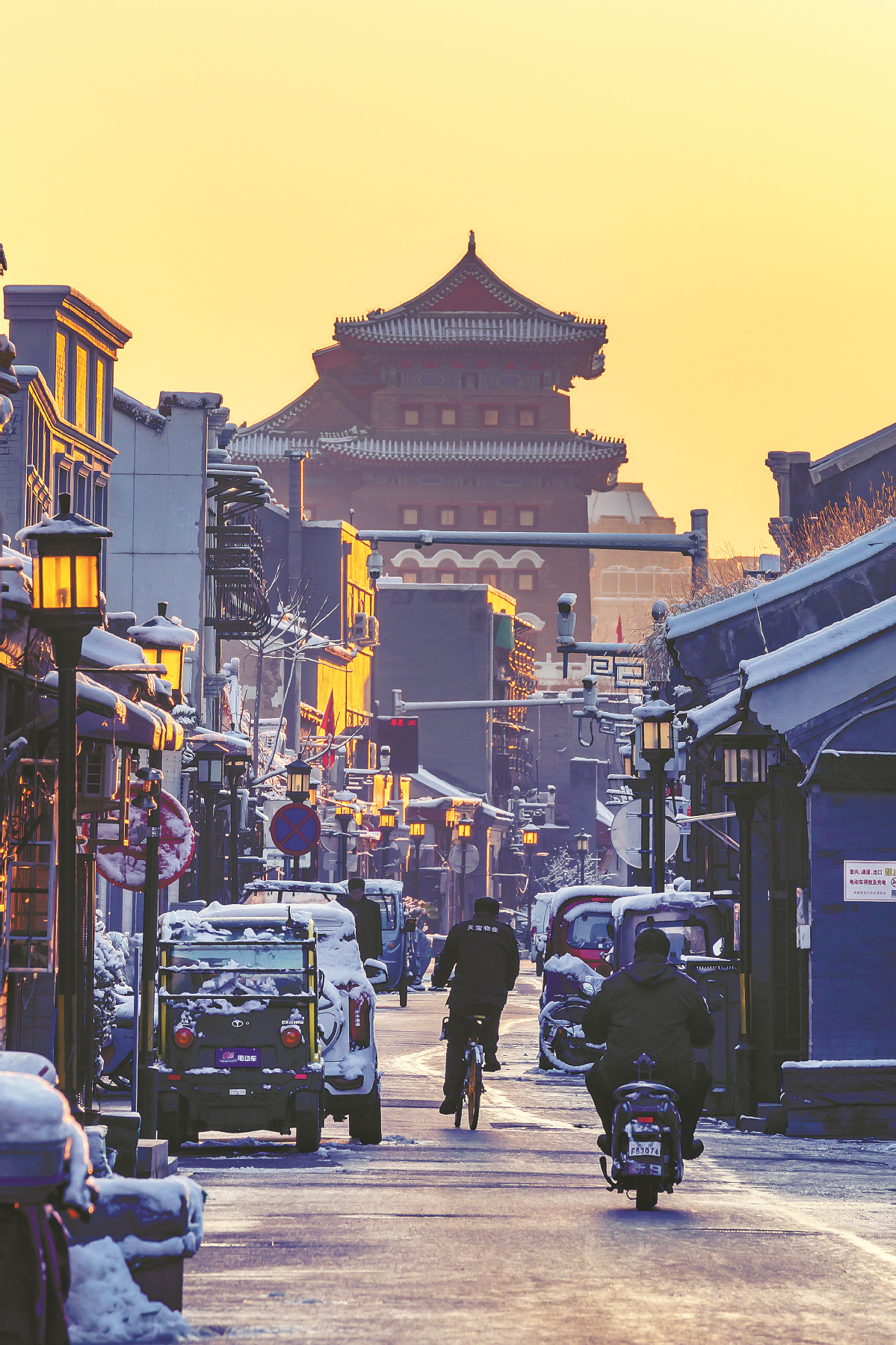 More designated lanes make life easier for urban riders
Crowds of customers gather on Huguosi Street in Beijing's Xicheng district on a sunny winter afternoon, lining up outside snack shops in the ancient alleyway for a taste of flaky pastries or toasted soybean rice cakes.
A group of cyclists wearing colored helmets stands out among the patrons. The riders had stopped to grab a bite to eat on their way to completing a 40-kilometer tour of the city.
Zhao Lu, 30, a white-collar worker in the Chinese capital who is a keen cyclist, said, "It's not easy for an office worker like me to come here for the street food, as the journey takes time.
"A few weeks ago, I saw a promotion on a social media platform for a pastry shop on this street, but I never got the chance to taste the food. However, by cycling to the store for exercise, I can buy the food I want."
Zhao said such a situation is common in Beijing, as the city's myriad hutong, or alleyways, require nonmotorized forms of transportation for convenient access.
"The alleyways used to be full of parked cars, and there wasn't enough space for people such as myself to stop and buy goods," she said.
Traffic congestion, which has long plagued Beijing, stems in part from the rising number of cars in the city. As part of efforts to address this problem, the municipal government announced a plan last year to develop slower forms of transportation to build a pedestrian- and bicycle-friendly city by 2035.
By the end of October, 21 themed cycling routes with a total length of 730.8 kilometers had been introduced by the Beijing Culture and Tourism Bureau. These routes have four cross-district cycle lanes connecting the city's major scenic spots, and 16 such lanes featuring tourist attractions in each district.
Riders using the routes enjoy the scenery while benefiting from exercise.
Liu Daizong, China sustainable cities program director at the World Resources Institute, or WRI, said the new cycle routes have helped the city establish a more inclusive and diverse culture.
"Beijing is a large urban city with distinct neighborhoods where diverse lifestyles coexist. It is good to use alternative modes of transportation, because in many places attractive views of the city cannot be seen from a car traveling at speed. On the other hand, cyclists proceeding more slowly are able to enjoy what the city has to offer," Liu said.
While the cycle lanes require investment and human resources to maintain them, they are cost-effective in terms of promoting green living.