China, Iran to enhance cooperation
Share - WeChat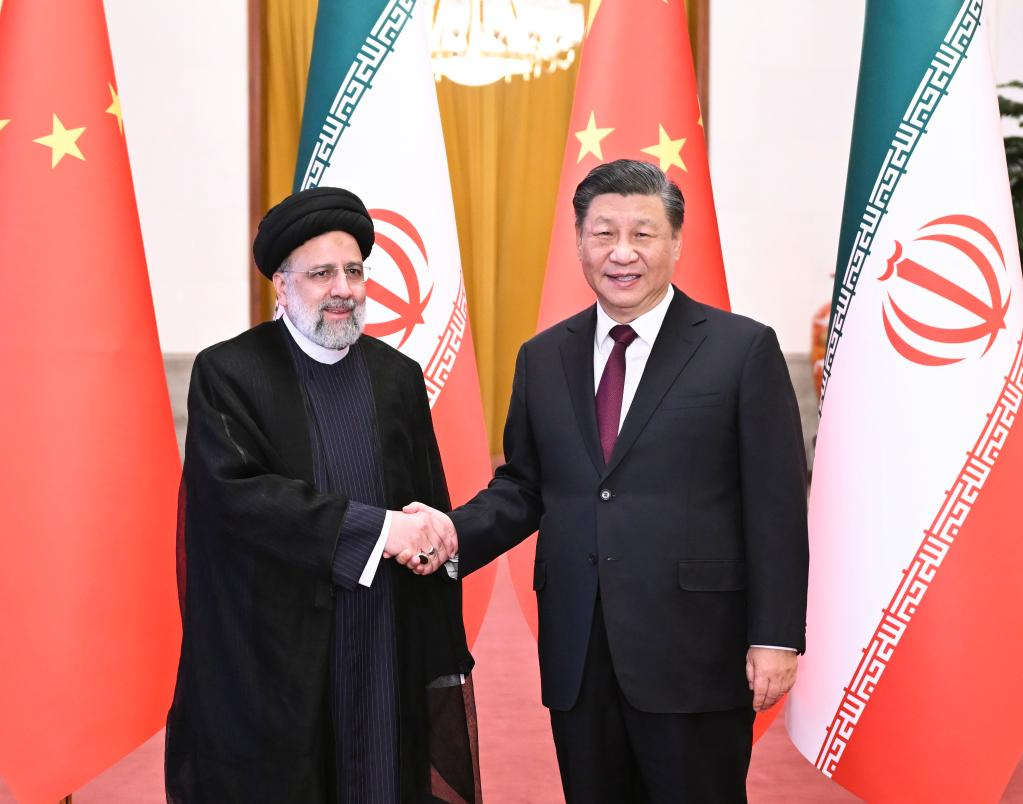 China will unswervingly develop friendly cooperation with Iran no matter how the international and regional situations evolve, President Xi Jinping said on Tuesday.
Xi made the remark in talks with Ebrahim Raisi, president of the Islamic Republic of Iran, at the Great Hall of the People in Beijing. Raisi started a three-day state visit to China on Tuesday, his first since taking office in August 2021.
The two presidents pledged to enhance comprehensive cooperation between China and Iran, while hailing the countries' traditional friendship and the sound development of bilateral ties.
They agreed that the two countries should support each other on issues concerning their own core interests, strengthen communication on international and regional affairs and jointly oppose hegemony and bullying.
During the talks, Xi said that amid the profound changes in the international situation, China and Iran have constantly consolidated their strategic mutual trust and steadily advanced pragmatic co­operation. They have promoted their common interests and upheld international fairness and justice, writing a new chapter for China-Iran friendship, he added.
China supports Iran in safeguarding its sovereignty, independence, territorial integrity and national dignity as well as resisting unilateralism and hegemony, and opposes attempts by external forces to interfere in Iran's domestic affairs and undermine its security and stability, Xi said.
He expressed China's willingness to implement the agreement on the China-Iran comprehensive cooperation plan, which was signed by the two countries in March 2021, and deepen pragmatic cooperation in trade, agriculture, industry and infrastructure.
China stands ready to continue promoting the joint building of the Belt and Road with Iran to enhance mutual connectivity, and the country is willing to increase imports of high-quality Iranian agricultural produce, Xi said.
He highlighted the importance of stability in the Middle East, saying that upholding stability matters to the well-being of the countries and people in the region and also has great relevance to world peace, global economic development and the stability of energy supplies.
Noting that China appreciates Iran's willingness to actively improve relations with neighboring countries, Xi said that China supports countries in the region in resolving their differences through dialogue and consultation to realize good neighborliness.
China is willing to continue to play a constructive role in promoting regional peace and stability, he added.
Xi also called for strengthening communication and coordination between China and Iran within multilateral frameworks, including the United Nations and the Shanghai Cooperation Organization, practicing true multilateralism and jointly safeguarding the common interests of developing countries.
China will continue to participate in the negotiations on resuming the implementation of the Joint Comprehensive Plan of Action on the Iran nuclear issue, support Iran in upholding its legitimate and lawful rights and interests, and advance the proper settlement of the Iran nuclear issue at an early date, he said.
Raisi said that Iran-China relations are based on the spirit of mutual respect, and the two counties are sincere strategic partners who trust each other.
Iran remains firmly committed to deepening and improving the comprehensive strategic partnership with China, and its resolve in this regard will not be affected by any change in the international and regional situations, said the Iranian president.
He said he appreciated China's assistance in fighting COVID-19 and its impartial position on the Iran nuclear issue, and said that Iran firmly supports and will actively participate in the China-proposed Belt and Road Initiative, the Global Development Initiative and the Global Security Initiative.
The Iranian president assured Xi that Iran resolutely supports China in upholding its national sovereignty and territorial integrity, and stands ready to work with China in upholding regional and global peace and security.
Before the talks, Xi held a grand welcoming ceremony for Raisi.
On Tuesday, Raisi also met with Premier Li Keqiang and Li Zhanshu, chairman of the Standing Committee of the National People's Congress, China's top legislature.