Demand for Chinese stories turns a page at Italian book fair
XINHUA | Updated: 2023-03-15 08:29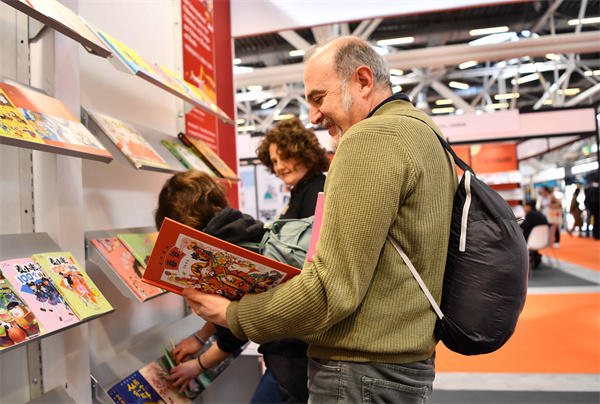 A picture book series titled Palace Cats, depicting a few of the furry occupants of the Palace Museum, the huge national museum complex housed in the Forbidden City in the heart of Beijing, caught the eyes of nearly all visitors to the exhibition area of a Chinese publishing house at the Bologna Children's Book Fair, which ran from March 6-9 in the central Italian city.
In its 60th edition, the annual book fair is a major international forum for publishers, authors and illustrators of children's literature to exchange ideas, forge bonds and select partners.
At the 32-square-meter stand of China Science and Technology Press, hundreds of Chinese story books and science books for children were on display. Audrey Lorenzini, an independent publisher from Padova, Italy, discussed copyright issues with the Chinese exhibitors.
"It's very difficult for children in Italy to access books about Chinese culture," she said while looking for books for Italians who want to learn about China.
Publishers and licensing professionals were also drawn to the exhibition booths of other Chinese publishers, such as Beijing-based UTOP publishing house and China Children's Press and Publication Group, to seek deals for cooperation.
Popular selections from these industry insiders included Palace Cats, which tactfully integrates information about the 24 solar terms of the Chinese lunar calendar and the imperial palace into stories, as well as My Hillside, My Fallen Leaves, an educational tale.
"I like the style of the illustration. It's bright, simple but impressive," Christina Wu, principal consultant with Wellread and Boekenreis Agency, comments. She says she wants to publish My Hillside, My Fallen Leaves in Dutch for Dutch readers. "I am also impressed by the core message the book conveys — support and help between friends foster their mental growth."