All at once embracing multiculturalism in films
By Sun Jiashan and Zhang Yaoyue | chinadaily.com.cn | Updated: 2023-03-17 12:00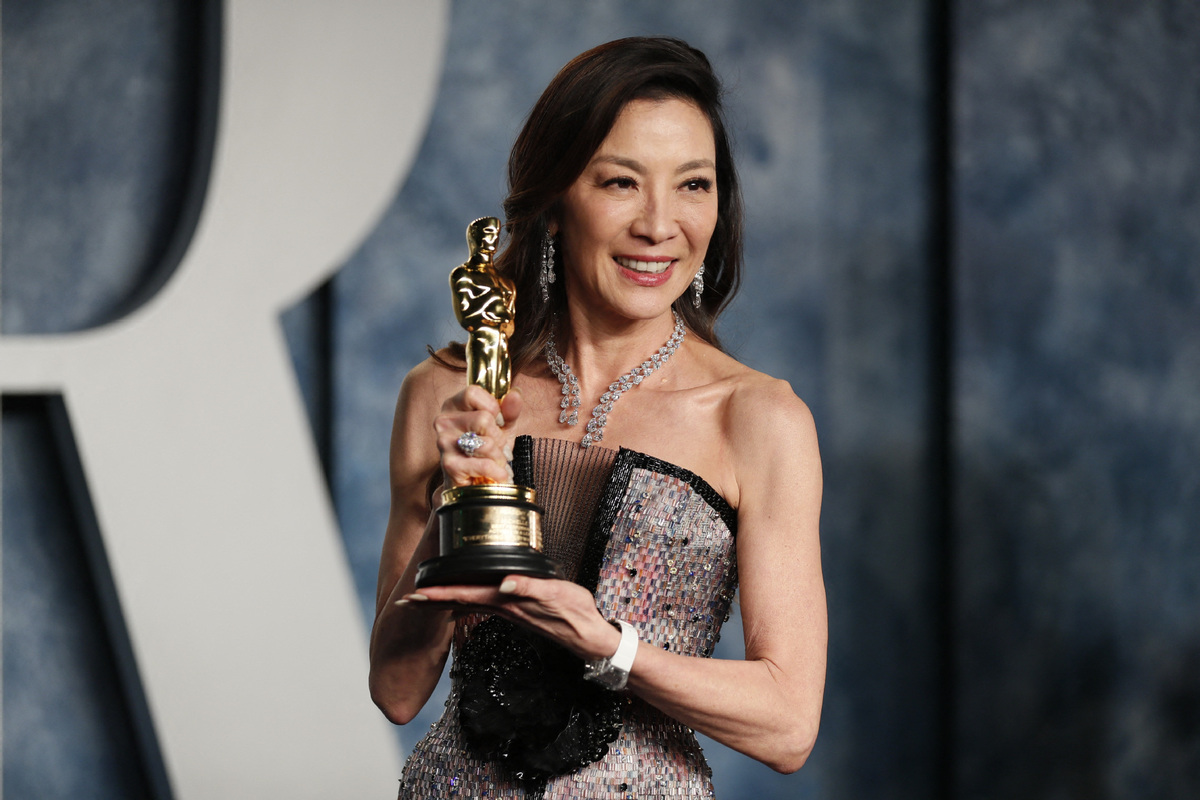 The 95th Academy Awards saw Michelle Yeoh, a Malaysian of Chinese origin, becoming the first Asian woman to win the Best Actress award for her role in Everything Everywhere All at Once. The film won six more awards, including Best Picture, Best Director, Best Supporting Actress and Best Supporting Actor, making it a phenomenon at this year's Oscars.
The film uses the mother-daughter relationship in an Asian-American family to weave a sci-fi multiverse tale of a woman trying to save her family's failing laundromat, struggling with a disintegrating marriage and dealing with her always disapproving father. But it's the widening gulf between the mother (Evelyn, played by Yeoh) and her daughter that threatens to unravel the fabric of existence as she learns that she is just one Evelyn in a vast multiverse of Evelyns, and the only one who can save it.

The movie uses sci-fi elements to address a range of issues, including ethnic cultural identity, social conflict, and even the LGBTQ community, all representative of US society. This explains why a politically correct award like the Oscars would honor a movie seemingly closely related to traditional Chinese culture.
In the beginning, Everything Everywhere All at Once almost forcibly incorporates scientific and philosophical concepts such as quantum mechanics and multiverse into its narrative. The film is indeed a successful example of packaging artistic concepts and formal explorations together into a commercial feature. Thanks to the high-speed editing and a pastiche of old tropes, one can find almost every related prototype throughout the film.
The film with typical postmodern features was controversial from the outset due to its too flashy collages, "copying of old tropes", and forced incorporation of scientific and philosophical concepts.
The film was criticized even before it won any award for being too consumerist about Chinese traditional culture. Some cultural symbols, such as the Hong Kong and Chinatown elements and Asian actors in the film, seem closely related to China, but that does not mean Hollywood is carrying out an in-depth study of a Chinese family. The problem with Hollywood (or the Academy Awards for that matter) is that only movies that don't have too many "provocative" attributes can win so many awards.
Indeed, the real reason why such a commercial film has received so many honors at the Oscars is not simply about the United States seeking reconciliation with Asian Americans. The deep-seated contradictions in US society are symbolically addressed through multiverse to highlight intimate relationships and reconciliation. This is the inner logic of the film.
Therefore, this seemingly radical, avant-garde film is actually a typical US cultural trope consistent with Hollywood's evaluation standards.
Unlike the three major film festivals in Europe, the Academy of Motion Picture Arts and Sciences does not consider art to be the highest criterion in evaluating a film. It has always had a realistic rather materialistic view of creative works and valued social representation in movies. No wonder its criteria for an award include the values portrayed by a film and its ideological attributes.
Looking back at the Oscar winners since 2010, we can see its award criteria and orientation have become increasingly conservative.
Although the Oscar officials repeatedly claimed that all winning works must be sufficiently representative and inclusive, even animation films based on adaptations represented by Marvel, which made a killing at the global box office till recently are no longer as popular because of the spread of US conservative values.
In this sense, Everything Everywhere All at Once explores an attitude that comes from the melting pot of different cultures, making it a significant and noteworthy moment in the history of the Oscars. Although the film fits in with the established values and ideological framework of the Oscars, the US cultural industry represented by the Oscars is actively promoting the expression of cultural diversity, including multiculturalism.
This is a relatively positive cultural signal from the increasingly conservative and unilateralist US, which serves the overall goal of "America first" by disrupting the global supply and industry chains.
Sun Jiashan is an associate researcher at the Chinese National Academy of Arts, and Zhang Yaoyue is a postgraduate student at the China Film Archive. The views don't necessarily reflect those of China Daily.
If you have a specific expertise, or would like to share your thought about our stories, then send us your writings at opinion@chinadaily.com.cn, and comment@chinadaily.com.cn.