Women prove they have the talent for management
By Chen Hong in Shanghai | China Daily | Updated: 2023-03-18 07:46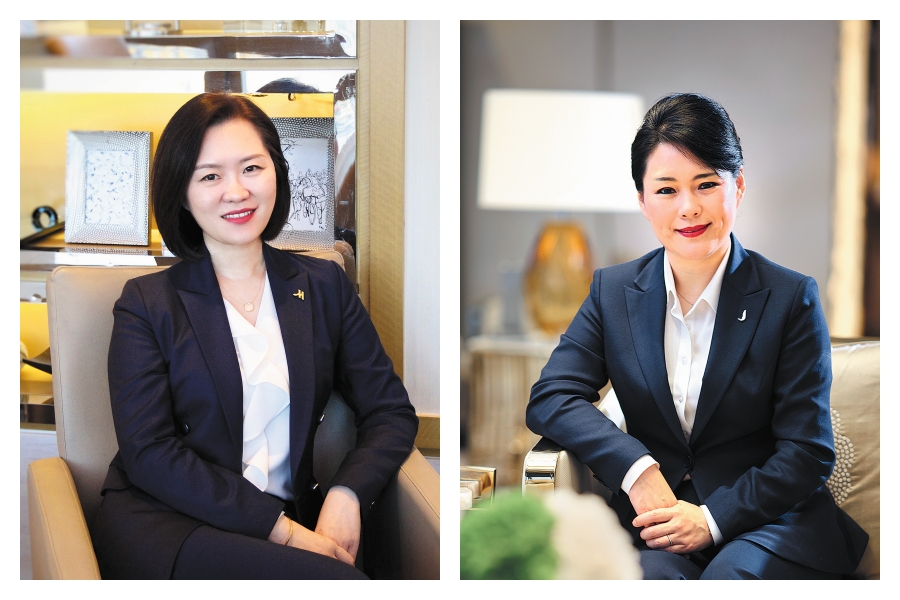 From a receptionist to a general manager, Zhang Xin finds great appeal in the hospitality industry in which she has worked for more than 25 years.
"We can meet and chat with different people every day who are from different countries in different careers with different traveling purposes. Every day is a fresh day and the hotel is a window for us to discover the world," said Zhang, GM of Shanghai Marriott Hotel Pudong East, which is located in an international community in Jinqiao of Shanghai.
She keeps those positive experiences in mind and tries to pass them on to every employee in the hotel.
"At Marriott, we want to give associates opportunities to grow and succeed. My job is to create an environment where my associates have a sense of belonging and trust, collaborate and support each other," Zhang said. "What I have done is to catch their outstanding sides and inspire them to do their best."
She took the position of GM in September 2021, becoming the first female general manager of the hotel since its debut in early 2013.
Despite the COVID-19 pandemic, Zhang's hotel recorded a year-on-year increase in local market share of nearly 25 percent in 2022, which was measured by a comprehensive index including occupancy and hotel rates.
In the people-oriented hospitality industry, Zhang said female characteristics, including sensibility, perseverance, accountability, a service spirit, empathy and tending to cooperate, enable them to excel in leadership roles.
Data from Marriott International Greater China Region showed 45 percent of the management positions were taken by women on properties in the region while more than one in five GMs are women.
"I feel lucky choosing this industry. No matter the hotels, the property owners and the whole society in China are becoming more inclusive and equal in gender," Zhang said.
Jenny Zhang, GM of the J Hotel Shanghai Tower, also encouraged women in the industry to keep pursuing their dreams and to be authentically themselves.
After working for a few international hotel brands and several major luxury hotels, she joined J Hotel, a homegrown ultraluxury hotel by Jinjiang International Holdings, one of China's leading travel and hospitality conglomerates based in Shanghai, in July 2021.
"I grew up in China, studied in the top hotel management schools and managed hotels in three continents … I was lucky to have accrued such a wealth of experience in the hospitality industry. It's my dream to cultivate a Chinese luxury hotel brand and make it a top world brand," Jenny Zhang said.
With its lobby located on the 101st floor of Shanghai Tower, the highest building in China, J Hotel provides one-to-one butler services with guests.
"We train the employees with Chinese culture and traditional skills, such as the tea ceremony. Guests, especially those from foreign countries and regions, can feel the hospitality of China. Meanwhile, it's a hotel with international luxury travel and lodging practices," Jenny Zhang said.
As a leader, she said she upholds the principles of respect, kindness, honesty and fairness. A perfect team must deliver good business performance, she added.
She devotes 100 percent to the job during working hours, which usually end at 7 pm, and then spends time with her family. Usually she gets up before 5 am and practices yoga and meditation for about one hour.
"Just be simple, focused and healthy," Jenny Zhang noted.
Sowon Kim, an associate professor at EHL, a world leading hospitality university, said the role of women is getting stronger in the industry, but gender inclusivity should be cultivated.
"In the C-suite, the representation of women is about 5 percent or less and middle management is about 20-30 percent," she noted.
She expressed her hope that more women could have confidence in their lives so that they could seize and create opportunities that are good for them and the business of their environment.