Energy plays bigger role in bilateral trade
By Zheng Xin | chinadaily.com.cn | Updated: 2023-03-21 22:03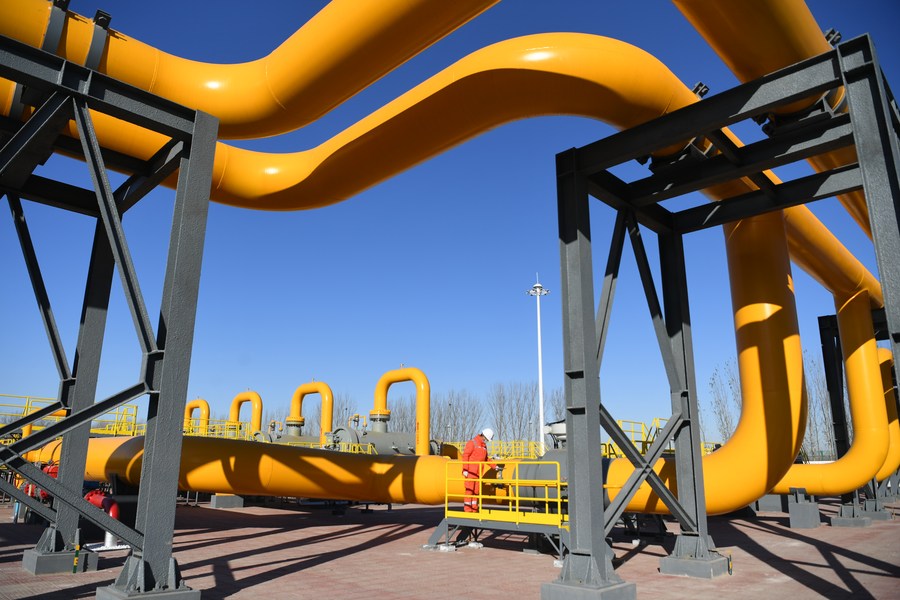 China and Russia are expected to increase energy cooperation in the years to come as trade between the two countries keeps growing and energy remains a major focus, industry analysts and market observers said.
Oil and gas trade between China and Russia is expected to be further enhanced this year with energy as the cornerstone of the cooperation, said Luo Zuoxian, head of intelligence and research at Sinopec Economics and Development Research Institute.
"Energy cooperation between the two countries is complementary, as Russia is a major oil and gas exporter while China is a major energy importer," he said.
Luo said that China's demand for natural gas is expected to last for a long time and bilateral cooperation is set to be further enhanced as a result.
As China is expected to import a record amount of crude oil and increase its liquefied natural gas imports in 2023 due to increasing demand for fuel as COVID-related disruptions have waned, the country is expected to have strong demand for Russian energy this year, according to global research, analytics and consultancy company Wood Mackenzie.
China has a large appetite to import more Russian crude in 2023 and Russian crude exports may increase in the short term, it said.
Latest data from the General Administration of Customs showed that in the first two months of 2023, Russia overtook Saudi Arabia to become the top supplier of oil to China, with imports of Russian crude reaching 1.94 million barrels per day. Russia's total crude exports to China soared to 15.68 million metric tons, up 24 percent year-on-year.
According to the administration, Saudi Arabia had been China's top oil supplier since 2019, with imports totaling 87.49 million metric tons last year, or 1.76 million barrels a day. China's crude oil imports from Saudi Arabia in the first two months this year fell 4.7 percent from a year earlier to 13.92 million tons, or 1.73 million barrels a day, Chinese customs data shows.
China's imports of Russian crude oil increased 8 percent year-on-year in 2022, the equivalent of 1.72 million barrels per day, according to Chinese customs data, making Russia China's second-biggest supplier. Meanwhile, China's imports of Russian pipeline gas and liquefied natural gas last year soared 2.6 times and 2.4 times, respectively, to $3.98 billion and $6.75 billion.
Construction of the eastern route of the China-Russia natural gas pipeline was completed in December, a new milestone in their energy cooperation that allows natural gas from Russia to cross nine provinces, municipalities and autonomous regions to reach Shanghai, ensuring energy supplies for China's eastern regions.
By 2025, the pipeline is expected to supply 38 billion cubic meters of natural gas per year to regions including the three provinces in Northeast China, the Beijing-Tianjin-Hebei region and the Yangtze River Delta region, which will help reduce carbon dioxide emissions by 164 million tons and sulfur dioxide emissions by 1.82 million tons per year.
"The route is the first gas pipeline between the two countries. More pipelines are expected to be commissioned as China and Russia deepen energy cooperation on the Power of Siberia 2 Pipeline under negotiation and other projects," said Li Ziyue, an analyst at BloombergNEF.
Bilateral trade in the first two months of this year surged 36.4 percent to hit 232.5 billion yuan ($33.8 billion), Chinese customs data showed, demonstrating the continuous strong growth momentum of bilateral economic cooperation.
Song Kui, president of the Contemporary China-Russia Regional Economy Research Institute, said that Russia has ramped up exports of its energy products, including natural gas, oil and coal, as well as its agricultural products, to China, while at the same time China-made goods, including new-energy vehicles, are very popular in the Russian market.