Team China's new dawn off to dour start
Share - WeChat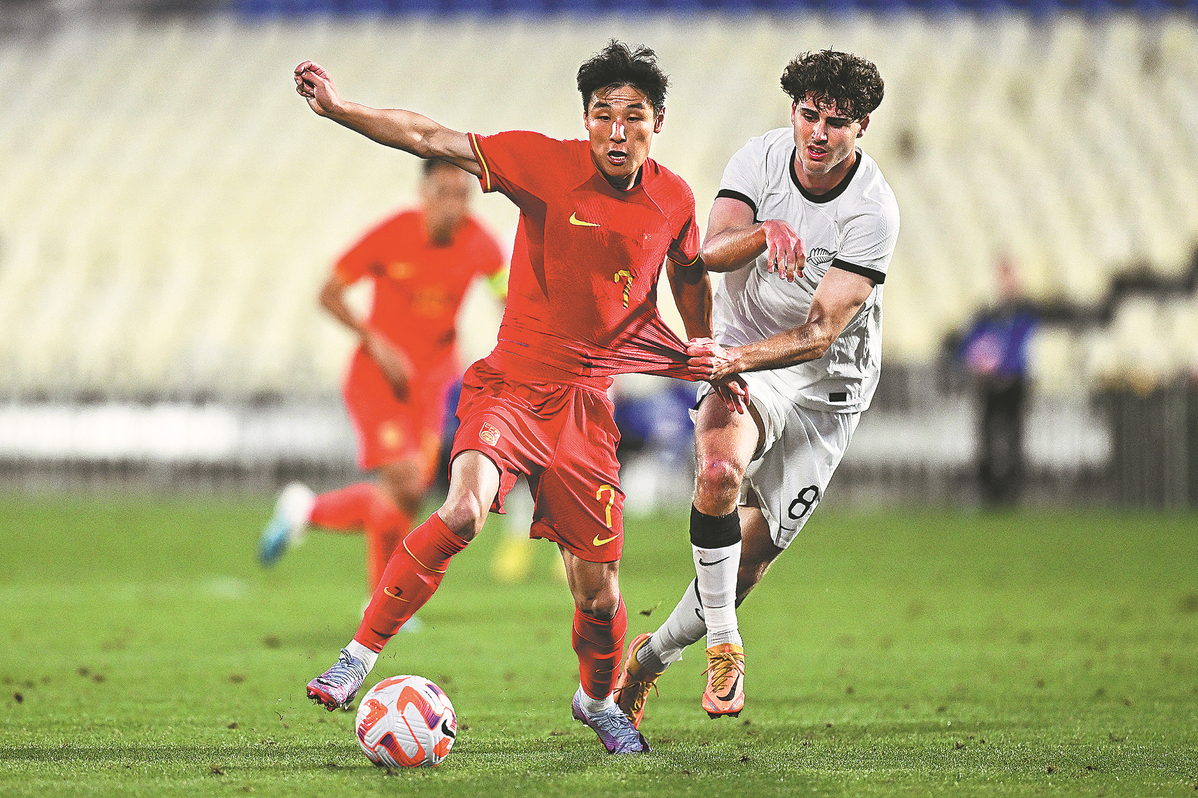 Coach Jankovic kicks off reign with goalless draw against 10-man Kiwis
Aleksandar Jankovic's reign as Team China head coach got off to a lackluster start in a 0-0 draw with New Zealand in Auckland on Thursday.
Tasked with reviving the beleaguered national team's fortunes after being appointed last month, the Serbian was aiming for victory in his first match in charge to get the new era off to a positive start.
However, it was a familiar tale of a lack of guile and composure up front for Team China as the visitor failed to capitalize on the 63rd-minute sending-off of New Zealand stalwart Tommy Smith. China's struggles to retain possession in midfield, even with its second-half numerical advantage, also did not inspire confidence.
"We withstood huge pressure in the first half, and the red card presented us with a great opportunity to win. It's such a pity that we failed to convert our chances," said Team China captain Wu Xi.
"Actually it was a great atmosphere here. We haven't played a game like this for a long time. I really want to thank the fans for their support. We need to review where we went wrong and prepare better for the next friendly."
Jankovic's squad will take on New Zealand again on Sunday, and Thursday's performance has kept any expectations of a Team China win in check.
The match generated a number of trending topics on Chinese social media. The hashtag "Team China vs New Zealand" was viewed over 12 million times within two hours of kickoff as curious fans watched to see if Jankovic could make any difference to the struggling squad.
Fans were at least happy to see Team China display some fighting spirit on Thursday, however the players' lack of quality on the ball was again glaringly obvious, with some supporters also questioning the team's fitness levels.
It's clear that Jankovic will not be able to transform this squad overnight.
"In terms of the world rankings, Team China is currently at No 80, while New Zealand is at 105. However, New Zealand looked a stronger outfit than the Chinese squad. Many of the current New Zealand internationals play in major European leagues," read a commentary by ThePaper.cn.
After Team China's failure to qualify for the 2022 World Cup in Qatar, this was the first appearance on the international stage since then for many of the Chinese squad's core players.
And while a win again proved elusive, some fans took consolation in avoiding a defeat.
According to Titan Sports, the Team China fans in New Zealand created a passionate atmosphere for the friendly. The four sections dedicated to visiting supporters in the 30,000-capacity stadium were all sold out.
Under-23s lose
Earlier in the day, China's Under-23s lost 2-0 to their New Zealand counterparts in another friendly played in Auckland.
The Chinese came into the game with high hopes of a win, however the host took advantage of the visitor's sluggish attack and leaky defense to prevail.
Like the senior squads, both sides will face off again on Sunday.
"I think the biggest problem is that we are not confident enough, and we failed to reproduce what we'd done in training. We should have delivered a better performance," said China Under-23 defender Wu Shaocong.
"And we are still not so familiar with the coach. It will take time for us to gel. On the pitch, I felt that our players weren't at 100 percent. We were not brave enough, and didn't show what we can do, and eventually we ran out of time and options on the pitch."
The under-23 squad, which will represent China at the Asian Games in Hangzhou this summer, was coached by Jankovic before the 50-year-old took the senior reins in February. Another Serbian, Dejan Djurdjevic, is now in charge of the under-23s.
"The two head coaches are both very passionate, and they both emphasize the details. Off the pitch, they are strict with us. But each has a different tactical approach, so we are still adjusting," said under-23 goalkeeper Han Jiaqi.
"We still need to improve in attack, which we have prioritized in training. Hopefully in the next friendly we can show the detailed work we've done on this.
"I also met our old coach Jankovic in the hotel. We said hello to each other. And I just want to wish him the best of luck with the national team in the future."