Chinese aces master Miami rivals
Share - WeChat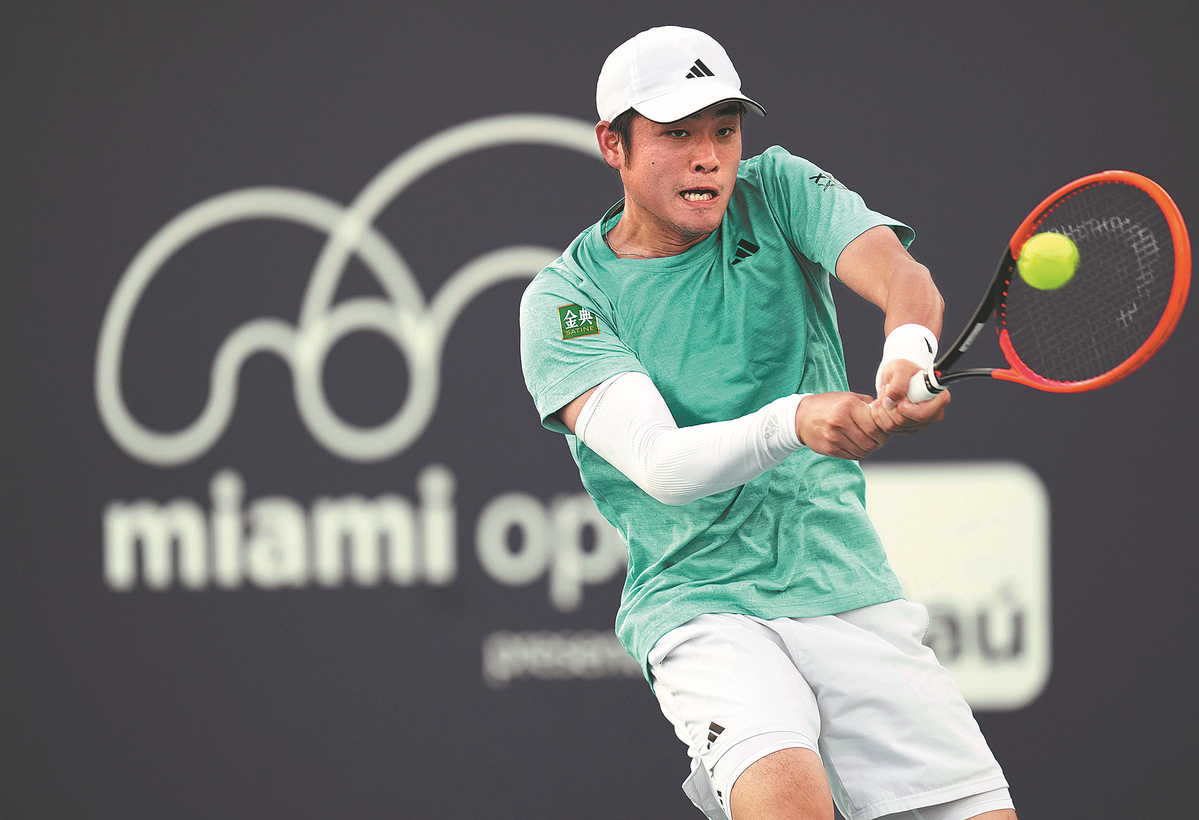 The resurgence of Chinese tennis continued on the elite global stage on Wednesday, with Wu Yibing and Wang Xinyu registering notable wins in the men's and women's draws respectively at the Miami Open.
Six years since his debut at the event as a 17-year-old qualifier, China's top men's player Wu celebrated his return to the ATP Masters tournament with his first main-draw win in Miami. The gutsy victory over Britain's Kyle Edmund was even more commendable considering Wu overcame some sloppy play at the tail end of both sets.
It was Wu's third career singles triumph at a top-flight 1000 tournament, extending his record as the winningest Chinese man at that level.
"I started well in both sets, trying to attack more on his backhand, hitting returns deep to that side knowing that his forehand is the weapon. I did a good job trying to dictate the play as much as I could," Wu said after his 7-5, 7-5 win over Edmund, who reached a career-high ranking of No 14 in 2018.
Riding the momentum of his first ATP Tour title at last month's Dallas Open, Wu broke the South African-born Briton four times to race into a 5-2 lead, in both sets. However, serving at 5-3 in the second, he let slip an opportunity to close out the match, resulting in a string of unforced errors as Edmund tied the set. Wu later attributed those wobbles to being "overhasty".
"I was in too much of a rush to finish well, trying too hard to win as quickly as possible, so I lost focus and it affected my shots, resulting in bad serves, combined with rushed second shots one after another," Wu said.
Wu's poise and ability to adjust, though, have improved massively over the last year, with the 23-year-old baseliner able to step up his game on clutch points and fend off a resurgent Edmund in one hour and 35 minutes.
"Hopefully, I can do better mentally next time," said Wu, who has secured seven wins out of eight tour-level matches this season.
Next up for Wu is a second-round meeting with Argentina's Diego Schwartzman. A former world No 8, Schwartzman has been struggling to find top form this year but is still a major obstacle to Wu's hopes of reaching the third round at this level for the first time.
"Maybe he is not at his best recently but anyone who has made it here shouldn't be taken lightly," Wu said of his encounter against the 31st seed on Friday. "He is a very special player, playing at an incredibly fast pace. He's been around the top of the tour for so many years for a reason. I will prepare for him as thoroughly as possible."
Earning 25 points for his first-round win, Wu has climbed to a career-high singles ranking of No 57 in the world — a remarkable feat considering this time last year he was No 1,869.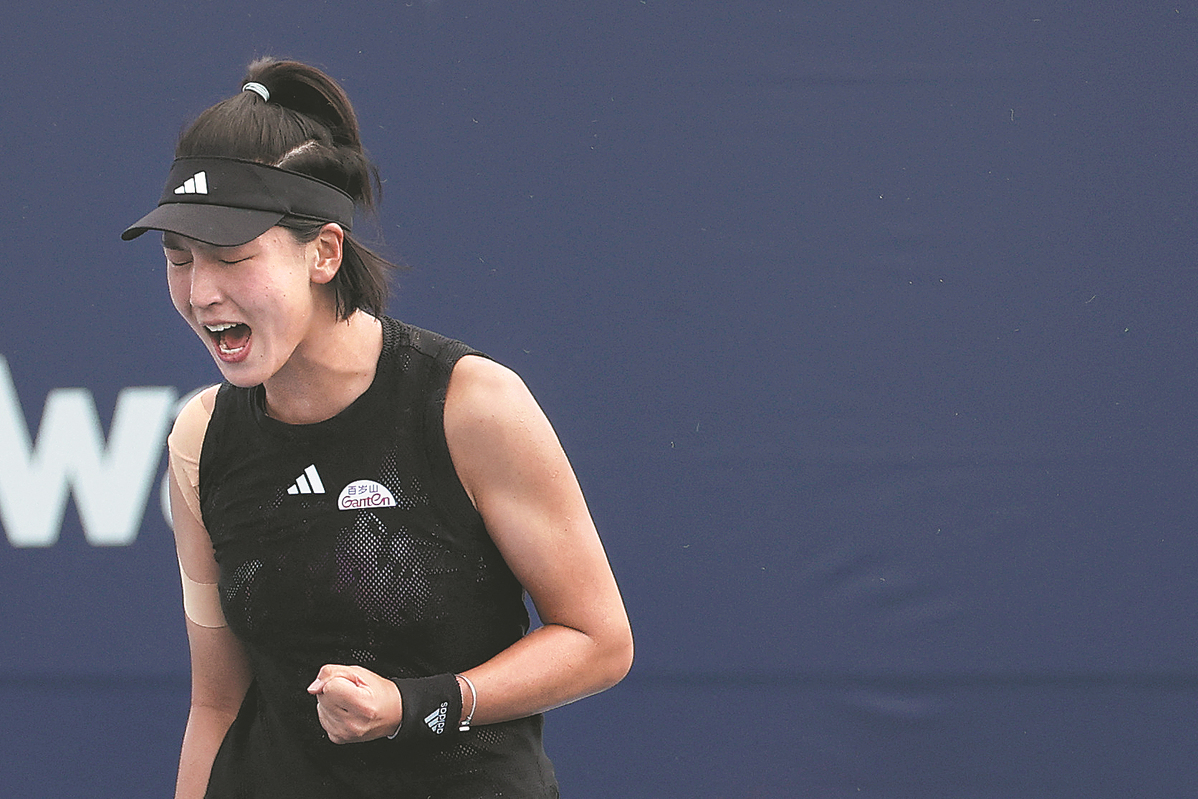 Earlier, in the women's draw, rising Chinese star Wang Xinyu fought back from a set down to defeat Anna-Lena Friedsam of Germany, 3-6, 6-4, 6-2.
Wang, who is making her debut at the WTA 1000 tournament, set up a second-round clash with Czech former world No 1 Karolina Pliskova on Friday.
For the first time in its history, the premier WTA event in Miami will feature five Chinese women in the second round, including another first-round winner, Wang Xiyu, who beat Brenda Fruhvirtova in straight sets on Tuesday. Three higher-ranked Chinese players — Zheng Qinwen, Zhang Shuai and Zhu Lin — were all awarded first-round byes.
The flurry of successes has revived fond memories of the so-called "Golden Flower" era over a decade ago, when Chinese fans witnessed major breakthroughs by the likes of two-time Grand Slam singles winner Li Na and major doubles champions Zheng Jie and Yan Zi.
"I think we have a better understanding of professional tennis and more resources to lean on than the previous generation, thanks to their efforts. We are committed to picking up the baton to keep producing surprises," Zhu said last month after winning her maiden WTA title in Thailand.