Lula's visit to strengthen Sino-Brazilian trade ties
Share - WeChat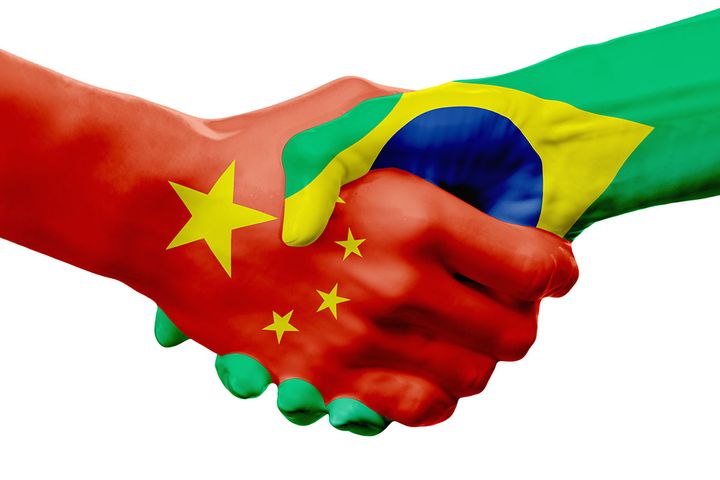 Brazilian President Luiz Inácio Lula da Silva's state visit to China is not his first trip to China, as he has visited the country more than once during his previous presidential terms. The remarkable thing about this visit, however, is that he is bringing with him a number of ministers and high-ranking government officials, including the president of the Senate, and more than 200 entrepreneurs. As such, more than 20 agreements are likely to be signed by the two countries during the visit.
But greater importance is being attached to — and there are higher expectations from — his meeting with Chinese President Xi Jinping.
After being sworn in as Brazilian president in January, Lula first visited the partner countries in Mercosur, or the Southern Common Market, before paying a visit to the United States. That China is his third foreign destination shows the importance of Sino-Brazilian ties for the Brazilian government.
First, bilateral economic relations have been deepening, as China has been the main trade partner of Brazil for some years now. With the Chinese economy showing signs of a steady recovery, Beijing might import an increasing amount of Brazil's record grain harvest this year. Although meat remains an unsettled issue, China could import more minerals including iron ore from Brazil. And the fact that a large number of big entrepreneurs are accompanying Lula on his visit is a strong sign that more deals could be struck.
Brazil is the main destination of Chinese direct investment in Latin America. Yet the demand for investment, especially in infrastructure, remains high. And China's interest in transportation, energy, healthcare, sustainable agriculture and telecommunication might increase with a significant inflow of resources into Brazil.
Second, Lula's visit could consolidate bilateral links for technological cooperation. For instance, it is likely that the two sides will take initiatives to launch a sixth joint China-Brazil satellite, and discuss the construction of the seventh. This is a remarkable example of a successful partnership in a quite sensitive area.
Brazil could also attract Chinese investment to produce some technology-intensive goods, such as semiconductors and medical equipment, at home, not least because China is now recognized as a leader in many technological fields.
Third, Lula's visit is diplomatically important. According to the Brazilian media, government officials expected far more concrete commitments from the US during Lula's talks with US President Joe Biden. In this sense, the visit to China could be seen as a sign of the Brazilian government's search for potential alternative for concrete support.
That the Brazilian president is visiting China less than one and a half months after paying a visit to the US is to be seen as Brazil recovering its traditional posture of diplomacy, that is, to maintain good relations with all countries even if there is pressure to take sides in bilateral conflicts.
The visit also indicates "Brazil is back", after the low profile adopted by Brazilian diplomats in recent years.
And fourth, Lula's visit is also related to his statements on the Russia-Ukraine conflict. He has emphasized time and again that it is very difficult for Moscow and Kyiv to find a way out of the conflict. Not only is the scenario far more complex than initially believed, but also the respective positions taken by the two sides leave little margin to negotiate a peaceful end to the conflict.
Given the impacts of the conflict on many other countries, Lula has often said that something needs to be done to help end the conflict. And if the two sides cannot reach an agreement, the international community should help them peacefully end the conflict. This could be done by a group of countries acting as intermediaries between Moscow and Kyiv. Brazil and China are BRICS members, so is Russia. Therefore, China and Brazil should be considered natural candidates for being part of such a group of peacemakers.
The Ukraine crisis may not be raised during the bilateral conversations. But considering that Lula has talked about the crisis, and also the fact that President Xi just paid a state visit to Russia, it does not seem unrealistic to expect that the issue will somehow be discussed by the two leaders.
The views don't necessarily reflect those of China Daily.
The author is an economist at the Institute of Applied Economic Research in Brazil.
Most Viewed in 24 Hours
China Views