Liu brothers join the ranks
Share - WeChat Pair to race as Chinese athletes for first time at national championships
Hungarian-born short-track speed skaters Sandor Liu Shaolin and Liu Shaoang are set to make their debuts as Chinese athletes at this week's national championships representing Tianjin, according to the municipality's sports authority.
Born in Budapest to a Chinese father and a Hungarian mother, the Liu brothers will compete in an official race for the first time since their application to skate for China was approved by the sport's Hungarian national governing body last November.
According to Zhang Zhongquan, director of Tianjin's municipal winter sports administration, the brothers have completed all the paperwork to officially become Chinese citizens and have settled down as registered residents in Tianjin, a northern port city near Beijing where their father studied at the Tianjin Academy of Fine Arts before moving to Hungary in the mid-1990s.
During a program aired on Saturday on TJTV-5, Zhang showed the brothers' certificates of naturalization and confirmed that they will skate at the national championships as Tianjin athletes.
However, they need to take at least a 12-month break from racing after the completion of the naturalization process before they are eligible to represent their adopted home country at an international event, according to International Skating Union rules.
The Liu brothers, who have represented their native nation at the Olympics twice (Pyeongchang 2018 and Beijing 2022), said in their initial naturalization application that they had decided to move to China because they want to continue working with their longtime mentor Zhang Jing, a former Chinese national team skater.
Zhang, known as Lina in Hungary, guided the Liu brothers to international stardom in the sport during her 10-year tenure as head coach of the Hungarian national team. She accepted an offer last August to return home to coach Team China for the 2026 Winter Olympics in Italy.
At a board meeting on Dec 20, the Hungarian National Skating Association (MOKSZ) approved the Liu brothers' naturalization request and waived its claim for compensation from the brothers to cover its investment in their development.
"We are regretful about the Liu brothers' decision to change their nationalities, yet had to say goodbye to them with a heavy heart," read a translated statement from MOKSZ.
And despite being reluctant to see them leave, the association paid tribute to the brothers' indelible contribution to the sport and wished them well in their careers.
With Zhang as coach, the Liu brothers led Hungary to the men's 5,000m relay title at the 2018 Pyeongchang Winter Olympics. It was the country's first-ever gold medal at the Winter Games. Liu Shaoang, the younger brother, carried on that momentum to top the podium in the men's 500m at Beijing 2022.
Having trained frequently with the Chinese team since their youth and stayed with their father in China during holidays, the Liu brothers speak fluent Mandarin, enjoy huge fan bases on Chinese social media and have signed multiple endorsement deals in China, including a contract with sportswear brand Li-Ning.
"We've been training in China since we were little. We knew a lot about the Chinese team and get along well with veterans like Wu Dajing and Han Tianyu. We practically grew up together. We are all good friends," Liu Shaolin said.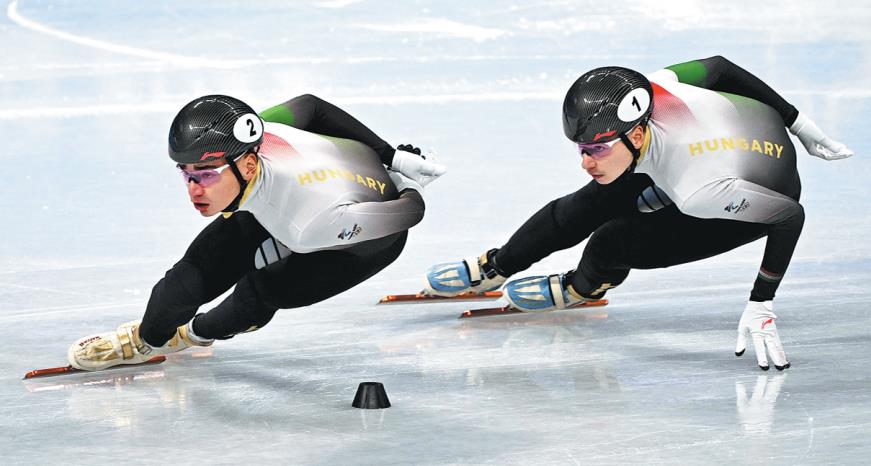 The 2022-23 Chinese National Championships will feature about 120 athletes over three days at the Capital Indoor Stadium, Beijing 2022's official venue for short-track speed skating.
Another naturalized skater, South Korean-born Lin Xiaojun, is also expected to compete at the domestic meet representing his affiliated provincial team Hebei.
Lin, aka Lim Hyo-jun, first represented China internationally in the 2022-23 ISU World Cup series after completing a naturalization process in 2021. He won back-to-back 500m finals at the series' last two legs in Dresden, Germany and Dutch city Dordrecht last month in a strong return to international competition. He last raced for South Korea at the 2019 world championships.
The Liu brothers, Lin and homegrown star Ren Ziwei will likely form an all-Olympic champion team in the men's 5,000m relay at the 2026 Winter Games in Italy, giving China a major shot at gold. Ren topped the podium in the 1,000m at Beijing 2022.
Most Popular
Highlights
What's Hot